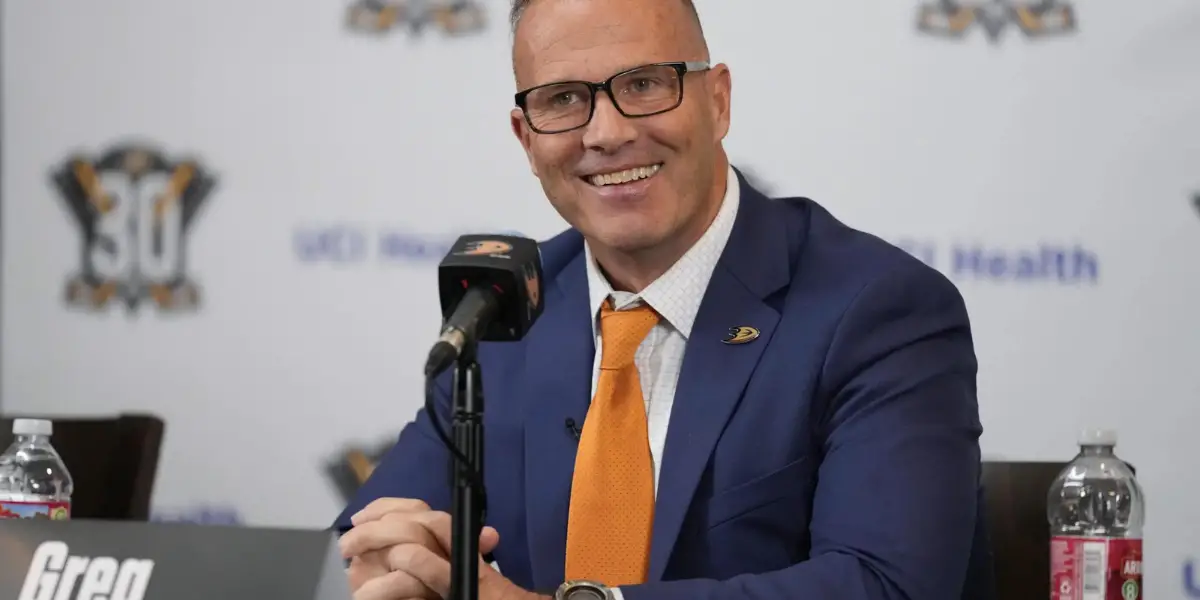 On Monday, the Anaheim Ducks announced that Greg Cronin was hired to be the Ducks' 11th head coach in franchise history. Cronin, 60, will take on his first NHL head coaching job with 36 years of coaching experience, including NCAA, AHL, and NHL.
Cronin has been the bench boss for the Colorado Avalanche AHL affiliate Colorado Eagles for the past five seasons, where he had a 164-104-30 record with four trips to the Calder Cup Playoffs (the 2019-2020 season did not have playoffs due to the pandemic).
Per the team release, Ducks general manager, Pat Verbeek, wanted to focus on the development of young players and Cronin is the right man for the job. 
Verbeek: "Being a young team, I felt we needed a teacher of the finer points of the game and someone who has worked extensively over time with talented young players, helping them develop into successful NHL players. Greg has done all that and more."
Cronin's experience in player development extends through 17 seasons in the NCAA, seven seasons in the AHL, two seasons in the NAHL, and four seasons as a Director of Player Development, three of them for the New York Islanders.
Verbeek's thought process of focusing on player development throughout the head coaching search should bode well for the Ducks, considering the Ducks had 13 players this past season that were 25 years old or younger, and they have one of the best prospect pools in the league with high-end prospects like Olen Zellweger and Pavel Mintyukov looking like they are ready to crack the NHL roster soon. Not to mention that the Ducks will likely be adding Adam Fantilli to the mix with the second overall pick in the draft in a few weeks.
Numerous times this past season, the Ducks showed their growing pains with their young players in many different situations, which led to their worst season in franchise history. The Ducks were at the bottom of just about every statistic that you could come up with. Turnovers, bad penalties, and losing puck battles illuminated the Ducks' immaturity.
These are all things that should improve, given Cronin's coaching philosophies. By many accounts, Cronin is a hard-nosed coach who is tough on his players but also holds strong relationships with them. His attention to detail, on top of the trust that his players have in him, has allowed Cronin to get the most out of his teams and should noticeably improve the Ducks' style of play.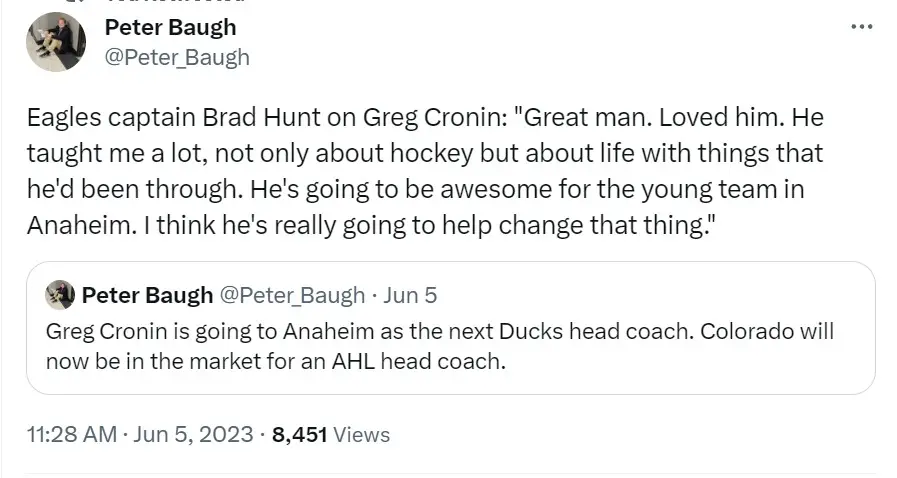 It is not going to be a complete 180 from last year, though. The Ducks finished in last place for a reason. This team is young, with more young talent on the way. Cronin's job is not to make the Ducks Stanley Cup contenders out of the gate but to instill those good habits that will allow these young players to mature faster so they can be contenders in a couple of years.
With young star power in the likes of Trevor Zegras, Mason McTavish, Troy Terry, Jamie Drysdale, Olen Zellweger, Pavel Mintyukov, and most likely Adam Fantilli, Cronin could flourish as a head coach in Anaheim with his player development expertise.
Nothing is ever guaranteed, and we need to watch games to really get a good judgment, but it appears as though there are bright days ahead for this young Anaheim Ducks team.