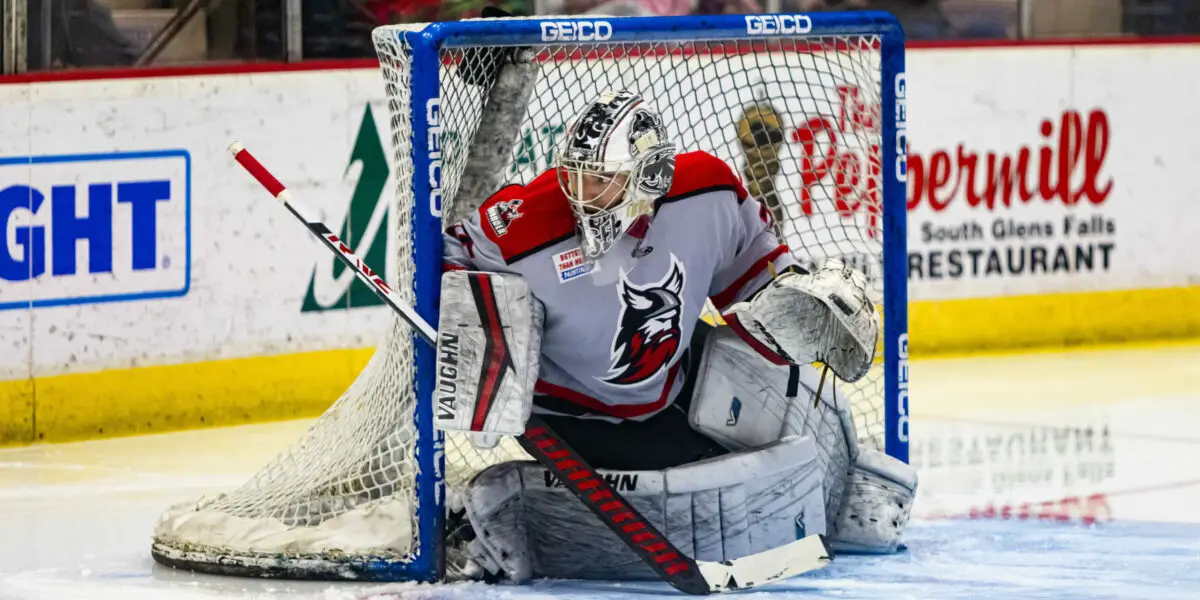 The goaltending situation in Adirondack has always been a question coming into each season. However, this season's situation seems a lot more promising, at least for now. Looking at the Devil's organization, they want to have more depth at the goaltending position. With that, they want to have three goaltenders at all three levels, which is probably a smart idea knowing how quickly a guy can get called up or hurt at anytime. With that being said, the Thunder will likely get handed Isaac Poulter from Utica. Along with Poulter, I would expect to see Jake Theut, Mareks Mitens, and Brandon Kasel in the net at some point for the Thunder. Let's break down each goaltender and what their roles could be with the Thunder.
Jake Theut
Barring anything crazy, Theut will be the backup for the Thunder to start the year behind Poulter. Theut spent last season with the Wichita Thunder, putting up a record of 9-11-4 with a 3.62 GAA and .903 SV %. Wichita had a similar season to Adirondack last year as they were giving up an average of 37.40 shots a game, as where the Thunder gave up 33.39 shots per game, so he's no stranger to seeing a lot of pucks. Theut will also be the most experienced goaltender for the Thunder, coming in with a whopping 44 career games in the ECHL.
Mareks Mitens
During the 2021-22 season, Mitens split his time between the Thunder and Comets, as he spent the last month of the season with Utica due to the Devils keeping Nico Daws. His numbers in the A and the E would be very similar as he went 7-8-3 with a .888 SV% and 3.31 GAA in 17 games with the Comets. In Adirondack, he would post a 9-7-1 record with a .894 SV% and 3.50 GAA in 18 games. With the Thunder, he was easily their most consistent goalie and the only goalie who finished the season with a winning record. I expect Mitens to be the third in Utica, as well as seeing some time with the Thunder at some points. However, I expect him to see more playing time in Utica than with the Thunder. As of right now, the Thunder have only one ECHL goalie signed, and if that stays the case, he'll start the season with Adirondack.
Isaac Poulter
The Adirondack Thunder will again have a new starter in Isaac Poulter, who signed with the Comets this Summer. Poulter spent the last four seasons in the WHL with the Swift Current Broncos. Last year he had a record of 20-23-6 with a 3.00 GAA, .911 SV%, and five shutouts. The 21-year-old goaltender already has one goalie fight under his belt as he fought Brock Gould in 2020, who was playing for the Moose Jaw Warriors at the time. It seems as if the WHL is becoming a popular scouting spot for the Devils as their first fourth-round pick goaltender Tyler Brennan is also currently playing in the WHL with the Prince George Cougars. The goal is to get Poulter playing time, and the easiest place for him to get it will be in Adirondack, as the Comets already have Akira Schmid and Nico Daws.
Brandon Kasel
The Thunder are likely only going to be getting one goalie from Utica. As I mentioned earlier, it doesn't hurt to carry three in the E, so I wouldn't be surprised if the Thunder announced that they are bringing back Brandon Kasel for next season. Kasel came into last season as the third goalie behind Alex Sakellaropoulos and Mareks Mitens. The Skidmore graduate looked extremely promising in his first two games with the Thunder, where he stopped 59 of 60 shots while picking up two wins. However, that hot streak would end up cooling down as he lost his next five starts. Kasel would finish the year with an 8-15-2 record with a 3.56 GAA, .895 SV%, and one shutout. Kasel was also lucky enough to get PTOs from three AHL teams last season (Providence Bruins, Hartford Wolfpack, and Utica Comets).
As we all know, goalies are voodoo, and anything can happen, especially in a feeder league like the ECHL. Adirondack has always been known for having a revolving door at the goaltending position, and only time will tell how it works out for them this upcoming season.
The boys are back after a long break but have plenty to talk about as the playoffs are in full swing. We go series by series, looking at how teams have fared so far and who will come out on top. Thanks for listening! Please rate and review our show on your favorite listening platform. Check out our partner's website at www.insidetherink.com for all your latest hockey news.