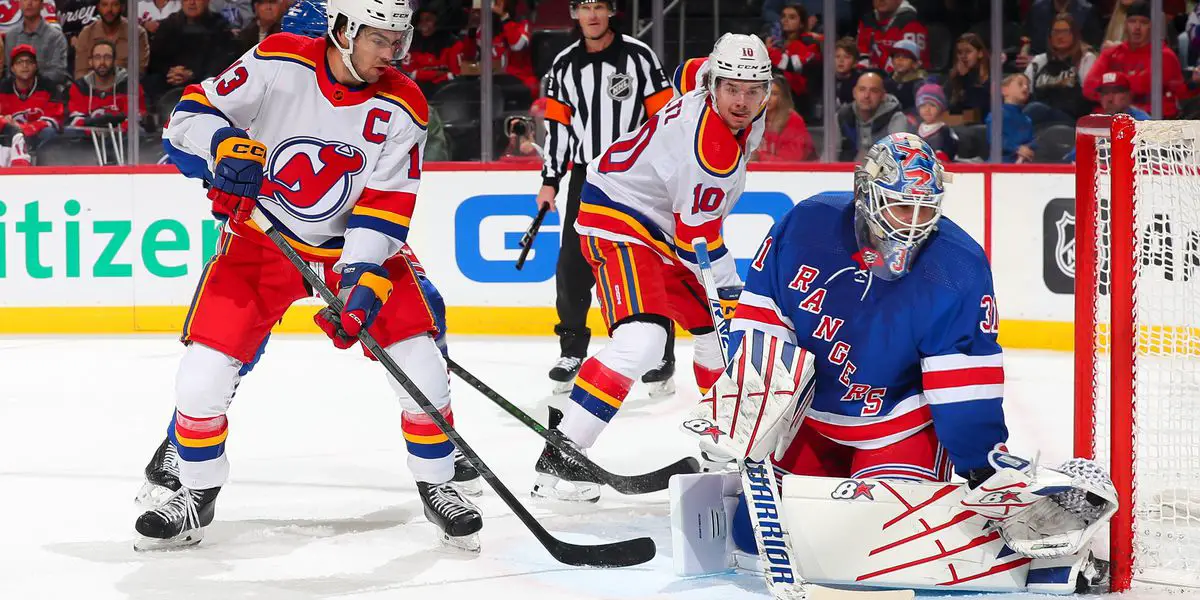 As we sit here on the precipice of the postseason, it's pretty crazy (and very cool) that it will take the last (full) day of the regular season to determine who the NY Rangers' first-round opponent will be.
It's entirely out of the Rangers' control, of course. All we know is that it will either be the Devils or the Hurricanes, and we won't have a home-ice advantage.
Now this won't be a deep dive statistically, and the analysis will not result in a "Bring on the (Insert Team Here)" outcome. I've learned to be "careful about what you wish for cause you might get it." That being said, Devils or Hurricanes? Who would you rather face?
STYLE OF PLAY
Regarding the style of play, both teams have given the Rangers fits in the past. Both teams are FAST and quick to the puck and puck handler. Decisions need to be swift and effective, something the Rangers have struggled with.
If we're looking for differences, Carolina is probably tougher on the forecheck to gain possession, while the Devils use their intense speed more than muscle to do the same.
However, the main chasm between the two is that the Devils are more of a lethal scoring team. Carolina might even be better at possessing the puck but doesn't have nearly the firepower that New Jersey does, so they might not make you pay as much.
One factor to also consider is goaltending, of course. Vanecek has been good for the Devils, but playoffs can be a unique beast. Barring another injury, the Rangers would have to face Frederick Anderson for Carolina this time. That gives a slight edge to Carolina, for sure. Either way, this should be an advantage for the Rangers as long as Igor is Igor. Shesterkin is the one true "X" factor with both clubs, but it might be the more decided factor against the Devils.
It's not a wide chasm, but factoring everything, I still think we match up better with Carolina from a style and personnel perspective. Recent history also supports this theory, although it is by no means a sure thing.
EXPERIENCE
Clearly, at first glance, there is no comparison here. Carolina has been a perennial playoff team for a while now, while the Devils have surged into the playoffs for the first time in recent years. So for this category, Carolina has a decided advantage.
However, I put less credence into experience in playoffs than others might. Does it become a factor if a team gets down or is not used to the extra intensity? Sure, but it's not as pronounced as one might think.
You only have to look at our NY Rangers last year as a precedent. We faced a very experienced Pittsburgh team in the first round, followed by these same Hurricanes. We faced adversity in each and overcame it all for victories despite being less experienced. In addition, the Devils are new to the postseason but have established vets like Dougie Hamilton, Tomas Tatar, and Ondrej Palat, that have extensive playoff exposure.
My point is that fresh off last year's run, we would have the edge in experience over the Devils, but at the end of the day, talent can quickly outweigh that. If this is your parameter, you may choose the Devils, but that's a risky proposition.
INTANGIBLES, AS WELL AS MY SANITY
Let me be clear, we could be facing a Pee Wee team from Nova Scotia, and I would be a basket case watching the playoffs. So, while nothing can be tangibly supported, this plays a massive role in the journey.
Simply put, as much as this rivalry with Carolina has emerged and my distaste for them has grown, that is no match for my deep-seated aversion to the New Jersey Devils.
My hockey DNA was forged in the 90s, where the Isles were an afterthought and Brodeur and the Devils were Public Enemy #1. Plus, I do not know any Hurricanes fans. So we lose to them, and I won't be reminded of it in any way, shape, or form on local broadcasts or anywhere in the city.
For that reason, there is great reward but also a significant risk in playing the Devils. Both teams have eliminated us in the past. So we've lived in both worlds, and I can say with certainty it's a darker one when it's New Jersey.
That's why I think that series would be SIGNIFICANTLY more intense than a Carolina matchup. It would probably be more scintillating too. From a pure entertainment standpoint, there's no question; the Devils are the marquee choice. Just know it will make the first round feel like it's for all the marbles, and it's just the beginning.
So, if you're reading between the lines, I still feel Carolina is the better matchup for us. That statement would have seemed bonkers even as late as last season. Yet, here we are.
As I said, it's out of our control, and we will know very shortly. Whoever the opponent is, buckle up. It's going to be a hell of a ride.
In this weeks episode we have on Nick Morgan from Locked on Predators pod to discuss coaches Hynes and Laviolette.Thanks for listening! Please rate and review our show on your favorite listening platform. Check out our partner's website at www.insidetherink.com for all your latest hockey news.