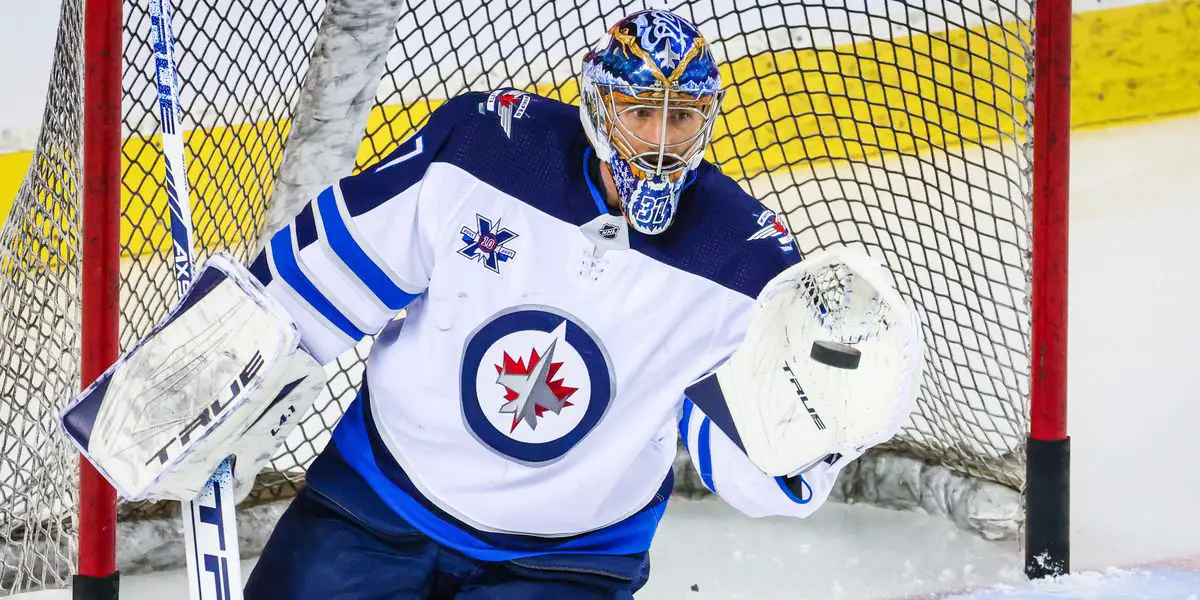 When it comes to looking at the best goaltenders in the NHL this season, it is not a surprise that Boston Bruins netminder Linus Ullmark is the first name that gets mentioned.
Ullmark, 29, is currently (Sunday, January 8) 22-1-0-1 with a 1.87 goals-against average, a .938 save percentage, and two shutouts. He has clearly been the league's top netminder this season and is the leading candidate to win the Vezina Trophy as the league's top masked man in the regular season.
With that said, there is another masked man that is almost equally as deserving of winning the Vezina this season. That would be Winnipeg Jets goaltender Connor Hellbuyck.
Not too long ago, Hellebuyck, 29, won the Vezina back during the 2019-20 season. For the two following seasons, however, Hellebuyck was about average as he posted the following numbers:
2020-21: 24-17-0-3 with a 2.58 goals-against average, a .916 save percentage, and four shutouts
2021-22: 29-27-0-10 with a 2.97 goals-against average, a .910 save percentage, and four shutouts
Fast forward to now, and Hellebuyck is playing otherworldly. In fact, he is the main reason why his team is second in the Central Division and eighth in the entire league, with a 25-13-1 record for 51 points.
Hellebuyck is playing with an abundance of confidence this season. He has been challenging shooters by playing at the top of his crease, has done a great job of controlling rebounds, has come up with many big saves, and he is playing like a man on a mission.
His statistics clearly reflect that. Hellebuyck is 20-9-0-1 with a 2.30 goals-against average, a .928 save percentage, and three shutouts.
In an article in early December by Adam Kimelman of NHL.com, Hellebuyck mentioned just how great he feels about his game this season.
"Getting better every year, and this is probably the best I've been," he said earlier this month. "Hopefully I keep growing it."
His teammates are also signing his praises. In the same article linked above, Jets defenseman Josh Morrissey, who is having a great season in his own right, shared just how great Hellebuyck has been.
"He's unbelievable," Jets defenseman Josh Morrissey said. "He's looked fantastic this year. He's looked sharp from the first day of [training] camp….If he's playing like that and feeling that way and confident, that gives our team a ton of confidence. He's been our rock back there for a long time now and it's great to hear him feeling it like that."  
If Hellebuyck continues to play this way, not only will the Jets make the Stanley Cup playoffs, but they will also be a tough out because they have Hellebuyck backstopping them.
The boys are back after a long break but have plenty to talk about as the playoffs are in full swing. We go series by series, looking at how teams have fared so far and who will come out on top. Thanks for listening! Please rate and review our show on your favorite listening platform. Check out our partner's website at www.insidetherink.com for all your latest hockey news.