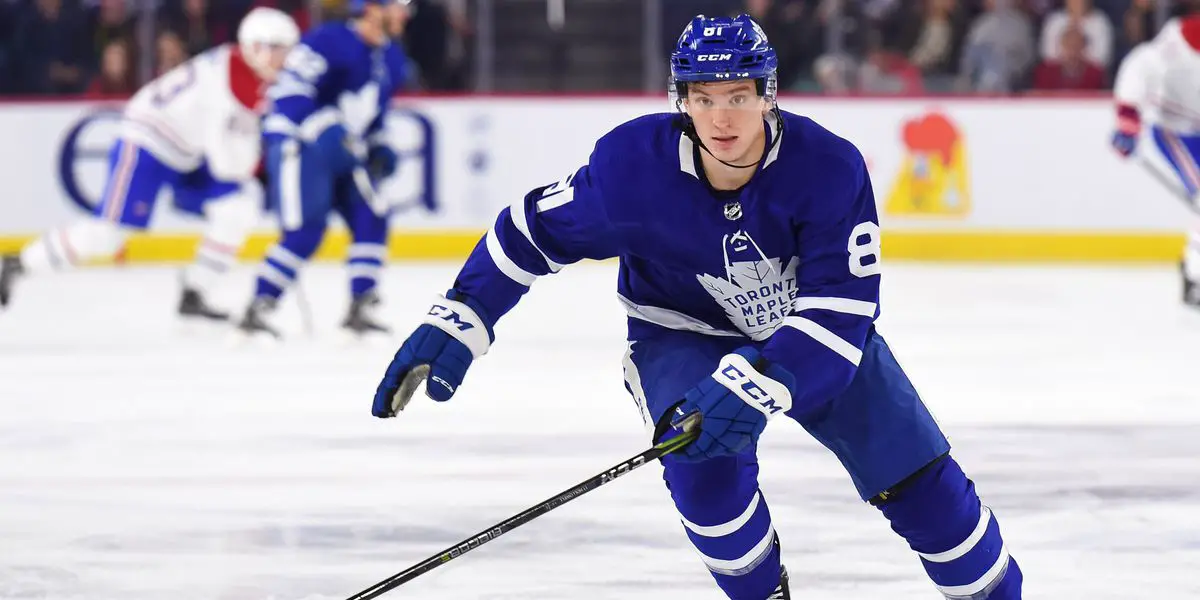 There's no denying the fact that the injury bug has hit the Leafs since the 2022/23 season started essentially. Timothy Liljegren had sports hernia surgery and missed all of training camp. Pierre Engvall suffered an ankle injury while training in Sweden and missed all of training camp. Captain John Tavares sustained an oblique injury during training camp and missed three weeks. Thankfully the injury didn't slow Tavares down, as he has been fantastic through 20 games this season. Goaltender Matt Murray was injured after just one game. Jake Muzzin, unfortunately, took another hit to the head just four games into the season, and it looks like we may have seen the last of Muzzin in the NHL. Ilya Samsonov injured his knee against the Boston Bruins and has been recovering for two weeks. T.J. Brodie suffered an oblique injury, the same injury Tavares had. It was originally determined that Brodie would miss a total of two weeks. Unfortunately, Brodie suffered a setback in his recovery, and head coach Sheldon Keefe mentioned Brodie might be out longer than originally expected. This brings us to our latest guy to be hit by the injury bug on the Leafs, defenceman Morgan Rielly. On Monday night against the Islanders, Rielly collided with Nick Palmieri in the neutral zone, and both players, unfortunately, ended up leaving the game. The Leafs elected to keep Rielly out for the rest of the game, and it was determined that he sustained a knee injury, and the team was forced to place the blue liner on the long-term injured reserve list (LTIR). It was determined that Rielly could be out up to 4-6 weeks which means the Leafs could be without Rielly till the calendar turns to 2023. For those keeping track, that's now Muzzin, Brodie, and Rielly, who are injured on the Leafs blue line. 
On Tuesday, November 22nd, the Leafs announced they recalled a pair of defencemen from the Toronto Marlies of the AHL; Victor Mete and Mac Hollowell. Mete has played 241 NHL games, 5 of which have been with the Leafs this season. Mac Hollowell, however, has yet to see any time in the NHL. Hollowell, a fourth-round selection (118th overall) by the Leafs in 2018, is smaller in stature in terms of defencemen. He is 5'9 and 170lbs but don't let his size fool you, he doesn't shy away from net front battles, and he isn't afraid to get in the corners to battle or take a hit to make a play. He is also a right-shot defenceman so that automatically doubles his value, as we all know how much NHL GM's value right-shot defenceman. This will not be a shock to anyone who has followed the Leafs and how they have drafted since Dubas has been GM; Hollowell is indeed a former Soo Greyhound.
Hollowell spent five seasons with the Greyhounds organization, where he skated in 259 regular season games. During that time, he scored 42 goals; 24 of those 42 were scored in his final season with the team. He also added 141 assists giving him a total of 183 points. That's 0.71 points per game, very respectable numbers from a defenceman, to say the least. We all know Dubas absolutely loves drafting and hiring guys from within the Greyhounds organization. Hollowell is in his fourth season with the Toronto Marlies this season. During that span, Hollowell has skated in 117 games where he's scored 10 goals and added 47 assists for a total of 57 points. During his time with the Marlies, he has earned more trust from the coaching staff each year and has turned into a steady presence on the Marlies blue line. It is believed that Hollowell will make his long-awaited NHL debut tonight as the Leafs are in New Jersey to take on the Devils. I don't expect him to get a ton of ice time if he does make his debut, and that's due to several reasons. The biggest being it's a road game, and Sheldon Keefe is not going to want to put Hollowell in situations where he may feel Hollowell might not succeed as well or may feel incredibly overwhelmed. In saying that, in each game, he's played during preseason over the past couple of training camps, I've noticed several things within Hollowell's game that I like, so I am excited to see him hopefully make his NHL debut tomorrow night. He is a smooth skater, has a good first pass, and can transition the puck up ice fairly quickly. He seems to be very well-liked by his teammates, and if he can get off to a good start at the NHL level, I can see him becoming a fan favorite over time; he just seems to be an all-around good guy, given what people have said about him. 
We all know Muzzin is likely done for the year, but if the Leafs are without Brodie and Rielly for a substantial amount of time, Dubas may have no choice but to try and acquire a defenceman. With the trio previously stated out of the lineup, here's what the Leafs blue line could potentially look like: 
Giordano – Liljegren
Benn – Holl 
Sandin – Hollowell 
Mete 
Safe to say it is not an ideal situation to be in, especially if it's long-term. It will definitely be interesting to see how this version of the Leafs blue line handles themselves in an NHL regular season game. With the Leafs kicking off a four-game road trip in New Jersey tonight and I am definitely intrigued to see how this group of defensemen perform. Who knows, maybe they will surprise us all, this is why they play the games!
WELCOME BACK TO LEAFS LATE NIGHT! Presented by Inside The RinkRoscoe, Biehner, & Mikey D of TheBeLeafersTonight's Topics Can you BeLeaf Mitch is at 17? Another November to Remember Murray – Elite or Cheat?  BOILS MY BIEHNS Sidney Sassy Pants MERCH IS AVAILABLE!Borje ShirtsRemember to follow us on Twitter @LeafsLateNight & IG @LeafsLateNightCheck out Mike, Josh, and Nathan's articles on the Leafs + many more! insidetherink.com