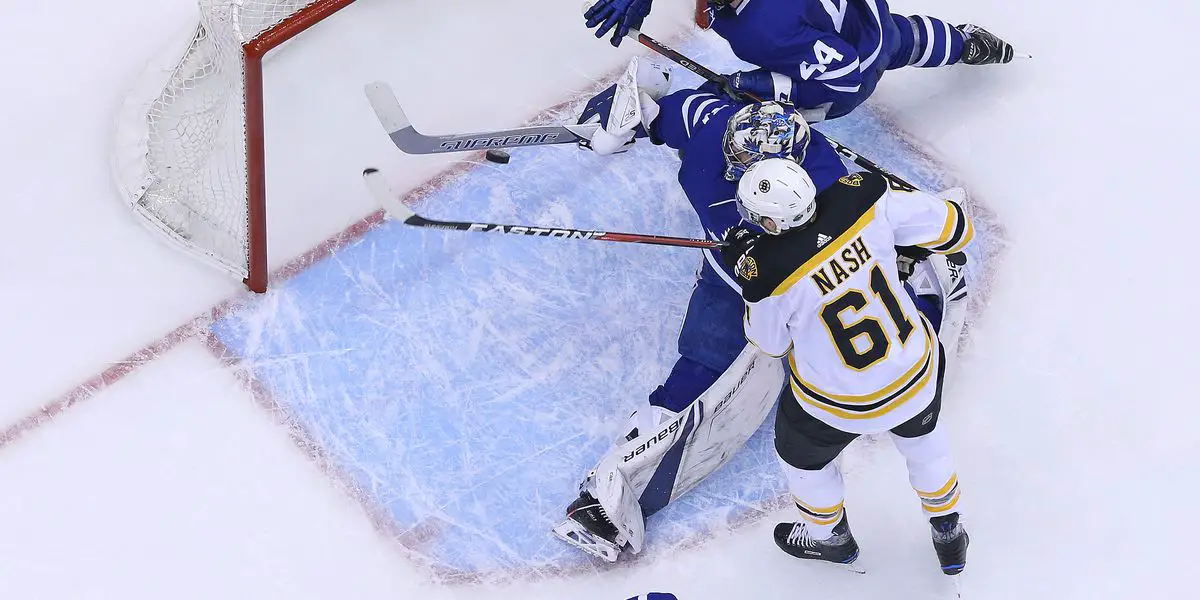 With the Bruins heading to what seems to be a rebuild or retooling with all the news surrounding the injuries, their core players just went under the knife to repair, and the firing of head coach Bruce Cassidy. It's time to revisit a trade that could have changed the path the Bruins seem to be heading down. All fans know that general manager Don Sweeney is known for his big splash trade deadline deals, and while some pay off like his two most recent acquisitions in Taylor Hall and Hampus Lindholm, some fizzle out and leave the Bruins in worse shape.
The deal that Bruins fans would love to have back is when Boston traded for Rick Nash one day before the NHL Trade Deadline on February 25th, 2018.
New York Secured the Bag
The Bruins acquired Nash from the New York Rangers in exchange for Ryan Spooner, Matt Beleskey, prospect Ryan Lindgren, a 2018 first-round pick, and a 2019 seventh-round pick.
The one piece the Bruins would love to have back from this trade is Ryan Lindgren, who has turned into a top-four defenseman who has been great on a pair with Adam Fox. The 24-year-old left-shot defenseman has had a great start in his New York career as he has six goals and 39 assists for 45 points across 194 regular-season games. What stands out the most with Lindgren is he has a plus 48 rating showing the positive impact he brings to this rangers team. For a Bruins team that has lacked high-end left-side depth and took trading for Hampus Lindholm to give Charlie McAvoy a true top pairing partner, fans can only imagine what a Lindgren and McAvoy pairing would have brought to this team.
With the 2018 first-round pick, the Rangers selected K'Andre Miller, who is a valuable piece of New York's top four on the back end as well. Well, it's no guarantee the Bruins would have made the same selection with the pick; the thought of Boston potentially having given up another top-four defenseman haunts fans. The one area of struggle over the years could have been solidified if this trade had never happened. At 22 years old, the sky is the limit for the 6'4″ left-shot defenseman who would be a vast upgrade over Matt Grzelcyk.
The Rangers would also trade Ryan Spooner to the Edmonton Oilers for Ryan Strome, who has since become a top-six center for the team. This part of the deal doesn't hurt as much as one can't say if Sweeney would have been able to pull the trade-off if he had kept Spooner. But the thought of potentially adding Bergeron's heir apparent does leave many to wonder should Sweeney of done more due diligence in finding better value for Spooner. Since joining the Rangers, the now 28-year-old Strome has 71 goals and 124 assists for 198 points across 263 regular-season games in four seasons.
Nash's Short Career in Boston
Rick Nash was no more than a rental for Boston as the 33-year-old who only had 28 points in 60 games with the Rangers at the 2018 deadline did nothing to help the Bruins push the needle in the playoffs.
Nash would play 11 regular-season games with the Bruins, recording three goals and three assists. In 12 postseason games, Nash collected three goals and two assists before Boston was eliminated in five games in the second round by the Tampa Bay Lightning. While Nash was elite in his prime, the Bruins were obviously getting nothing more than an aging player who was past his prime.
Nash would never play another NHL game. On January 11th, 2019, at age 34, due to unresolved symptoms from a concussion sustained in March 2018, Nash was forced to retire from professional hockey after playing 1,060 career games spanning over 15 seasons. If the Bruins had indeed won the Stanley Cup that year and Nash didn't have to retire due to health issues, this trade may be looked at differently. But since that wasn't the case, this trade will go down as a complete failure for Don Sweeney and shows that going all-in at the trade deadline isn't always the answer.
The boys are back after a long break but have plenty to talk about as the playoffs are in full swing. We go series by series, looking at how teams have fared so far and who will come out on top. Thanks for listening! Please rate and review our show on your favorite listening platform. Check out our partner's website at www.insidetherink.com for all your latest hockey news.