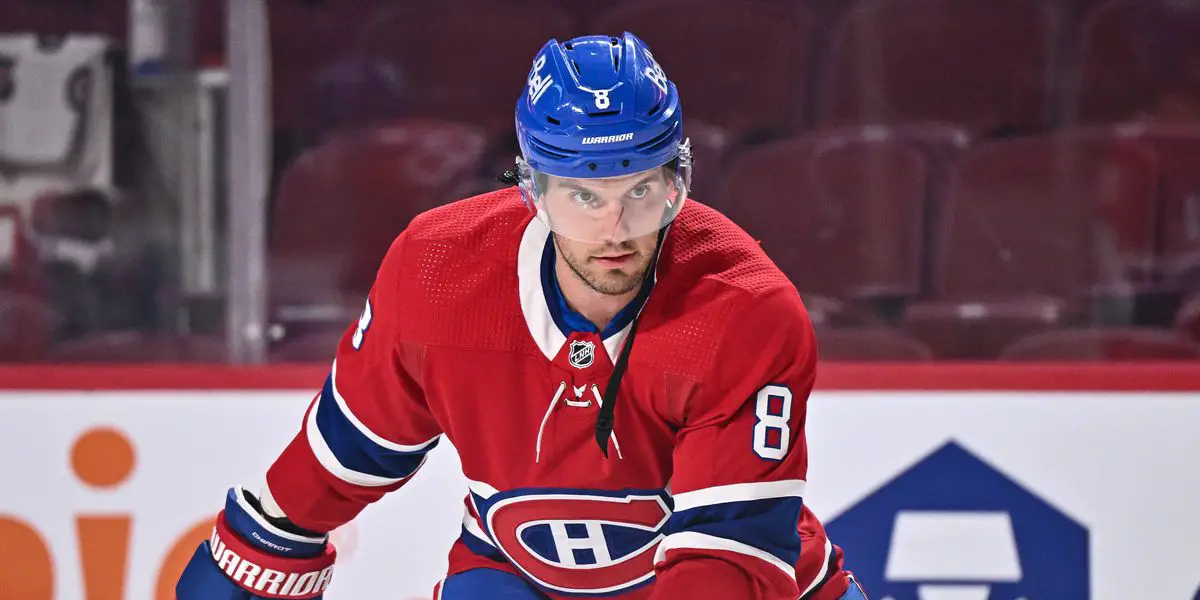 After the 2021-22 season, Steve Yzerman made it clear in his end-of-season press conference that improvement needed to happen, especially defensively. The Red Wings allowed 310 goals against, good for 31st in the NHL and only seven fewer than the last place Montreal Canadiens. 
With an abundance of cap space in the modern NHL, this allowed Detroit to be aggressive and target veteran players to surround the team's young core. The Red Wings' right side is positioned for the future, with Moritz Seider, Filip Hronek, and Gustav Lindstrom all under 24. The left side was another story, with only Jordan Oesterle under contract heading into free agency.
Throughout last season, there was constant debate from game to game about which left-side defenseman should flank Moritz Seider. Aside from a short stint paired with Nick Leddy, Seider never had a partner whose caliber was that of a top-four defenseman. While Seider handled himself just fine, playing number one defensive minutes and taking home the Calder Memorial Trophy, it's unrealistic to expect a 21-year-old to carry his pairing for an 82-game-season. Before Day 1 of free agency concluded, the Red Wings came to terms with two left-handed defensemen, Ben Chiarot and Olli Maatta, who could fit alongside Seider or Hronek.
Ben Chiarot
Chiarot has played a consistent top-pair role since 2019 when he joined the Montreal Canadiens and continued playing 20-plus minutes a game after he was traded to the Florida Panthers. How good Chiarot is has been an ongoing debate between the public analytics community and old-school hockey fans.
Regardless of opinion, Chiarot plays a hard nose style that has been sorely lacking from Detroit's defense since the primes of Niklas Kronwall and Brad Stuart. While in the playoffs, Chiarot underperformed; he was a key player in Montreal's playoff success in 2020 and 2021, playing alongside Shea Weber. During the 2019-20 regular season, the pairing of Chiarot and Weber was amongst the league's best defensive pairs. From Natural Stat Trick, the pairing ranked fourth in Corsi For % at 55.4% and thirteenth in Expected Goals For % at 53.8% for defensive pairs that played over 400 minutes. 
Chiarot's struggles of late are well documented but potentially paired with Seider, whose game resembles Weber's in some aspects, could be just what the doctor ordered for the 31-year-old. An improved Chiarot and a year older Seider could be a top shutdown pairing in the Eastern Conference.
Olli Maatta
Over the past two seasons in Los Angeles, Maatta has developed into a reliable stay-at-home defenseman under Todd McClellan and may be just what Detroit needs. 
One of the biggest questions heading into next season is what version of Filip Hronek will the Red Wings have? At times, Hronek looks to have the potential of a top-four offensive defenseman who can make stops in his end. Often last season, Hronek lost his position and was directly responsible for a goal against. His offensive game was also not up to the level he has set for himself over his young career. Hronek did record his career high in points in 2021-22 of 38 (five goals and 33 assists); he wasn't as much of a threat in the offensive zone or on the power-play with his shot, which is one of his biggest strengths.
For every year in Hronek's career, he has often been tasked with hard defensive matchups against the league's best, as he has been one of the team's best defensemen without a complementary partner. For a large portion of last season, Hronek was paired with Nick Leddy, who is also an offensive-minded defenseman, and the pairing struggled. From Natural Stat Trick, the pairing had a GF% of 36.6%, the second worst among Red Wings pairings that played over 200 minutes.
With Maatta and Hronek's differing play styles, it makes sense how both could thrive on the same pairing, giving Detroit a good second pair. Also, Maatta is a strong penalty-killer who should be a focal point for Detroit's penalty kill, which finished last in the entire NHL.
Mark Pysyk and Robert Hagg
Starting with Pysyk, the Red Wings signed the 30-year-old on day two of the free agency period to a one-year deal worth $850,000. Pysyk is an NHL veteran, playing over 500 games with the Buffalo Sabres, Florida Panthers, and Dallas Stars, primarily in a depth capacity. While playing a minor role, Pysyk performed exceptionally well as a right-handed shutdown defenseman, which Detroit has been missing.
Unfortunately, it was announced this week that Pysyk had undergone surgery to repair a torn Achilles tendon and was expected to be out four to six months. That's where Robert Hagg comes in.
Earlier that day, the Red Wings announced that they had signed Hagg to a one-year contract worth $800,000, a nearly identical deal to Pysyk. The 27-year-old left-handed defenseman spent last season playing with the Buffalo Sabres and Florida Panthers, scoring a goal and adding eight assists in 64 games.
Originally drafted 41st overall in 2013, Hagg looked to be part of the Flyers' future on the blueline in 2020, after back-to-back seasons scoring at a 20-point-pace or better. In the last two seasons, Hagg has struggled, especially in 2021-22. From Natural Stat Trick, Hagg had the worst xGF% amongst the Sabres' defense, with 42.5%. Once traded to Florida, Hagg benefitted from playing a depth role, improving to an xGF% of 53.7%.
Hagg will likely be on Detroit's 23-man opening night roster, but the preseason will tell if he can play a regular role for the Red Wings. With size (6'2 207 lbs) and is frequently used on the penalty kill, Hagg's odds are favorable to earn a spot.
Pairings?
Detroit's top-four feels set at this point (barring any major signing or trade), but the bottom pair is up in the air. With surgeries needed for Jake Walman and Mark Psysk, two fewer bodies are competing for the last two spots. The name fans are most excited to see compete for one of these two spots is the 2021 sixth overall pick, Simon Edvinsson.
Edvinsson excelled in his rookie season in the SHL, winning the Elite Prospects' U20 Player of the Year and finishing third for the SHL's Rookie of the Year. Edvinsson impacted the game in all three zones; his size and skating ability had a similar impact on Frolunda compared to Moritz Seider's impact with Rogle a year prior.
There is also Jordan Oesterle, the only returnee on the left side, playing in 45 games last season for Detroit, often with Seider on the top pair. Here's how I see Detroit's pairings going into opening night.
Chiarot-Seider
Maatta-Hronek
Edvinsson-Hagg
I think Edvinsson will come to camp more than ready as he will have been fresh off of the World Junior Championships in August and the Traverse City Prospect tournament, which helped Lucas Raymond eventually make the opening night lineup last year at the same age. His size and skating ability will give Detroit's bottom pair an element it hasn't had in a long time.
I elected to choose Hagg over Oesterle and Lindstrom as he is more of a defense-first player and could potentially complement a 19-year-old Edvinsson who likes to jump in the play in the offensive zone. While left-handed, Hagg spent significant stretches last season on the right side, playing with young defenders Jacob Bryson, Mattias Samuelsson, and Rasmus Dahlin.
With Oesterle and Lindstrom, both had flashes of strong defensive play last season but also struggled at points. In an ideal world, Mark Pysyk would slot next to Edvinsson as a calming, defense-first veteran. With the injury to Pysyk and then the signing of Hagg, I don't think the Red Wings are sold on Oesterle or Lindstrom being a regular in the lineup at this time.
Where Does Detroit's Defense Rank Amongst the Eastern Conference?
While the Red Wings' defense is much improved, it still is a ways from being a top-five defense in the Eastern Conference. The Carolina Hurricanes acquired Brent Burns from the San Jose Sharks, and the Lightning lost Ryan McDonaugh but still have Hedman, Cernak, and Sergachev. Fully healthy, the Boston Bruins have one of the strongest top-fours in the entire NHL.
Teams like the New York Rangers and Toronto Maple Leafs stayed relatively the same on the backend, and both were second seeds in their respective divisions. The New Jersey Devils, Pittsburgh Penguins, and New York Islanders made splashes and added top-four defenders.
So this leaves eight teams that haven't been listed yet, and Detroit is arguably one of the best remaining teams. Florida took a significant step back, losing its best defenseman, MacKenzie Weegar, in the trade for Matthew Tkachuk and Ben Chiarot in free agency to Detroit. The Capitals have veterans like John Carlson and Dmitri Orlov, who are still top-four defenders but are aging with limited depth. Columbus and Ottawa are similar boats with high-end number one defensemen but have question marks on the rest blue line.
Detroit is in a much better position to compete with the league's best defensive cores but still has plenty of growth. With Derek Lalonde taking over the reins and having history running Tampa Bay's defense, there will likely be a significant improvement in structure. Wild cards such as Edvinsson's immediate impact and can Filip Hronek bounce back also weigh in.
There is still a chance that more change will be made on the blueline before the start of the 2022-23 regular season as teams have limited cap space and Detroit could take advantage of teams in tight situations.
With five picks in the top-50 of the 2023 NHL Draft, the Red Wings are in prime position to make a trade for a top-six forward. We breakdown fits of players that are potentially on the trade market and what a potential package could look like. We also start with how Red Wings at the World Championships are performing, focusing on Dominik Kubalik, Carter Mazur, and Lucas Raymond.