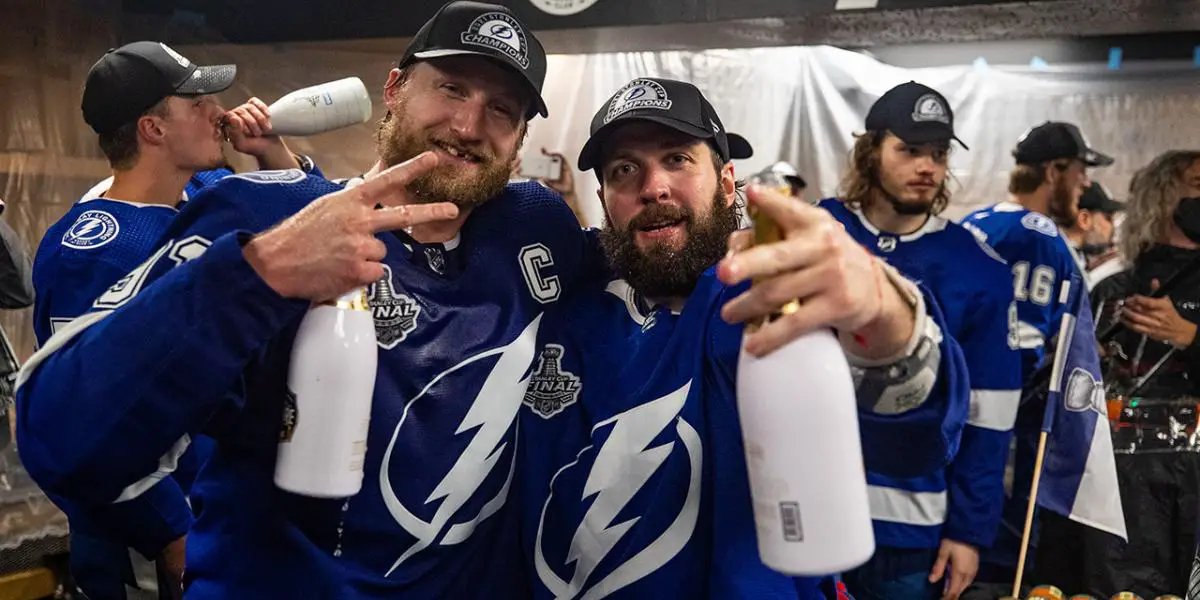 With the official sweep of the president trophy-winning Florida Panthers last night, the Tampa Bay Lightning are now one step closer to accomplishing a three-peat. An Eastern Conference Finals matchup between the Carolina Hurricanes or New York Ranger separates the Lightning and the Stanley Cup Finals. A big part of the Lightnings' success over the years has been the ability of their general manager to retool this team with veterans and young prospects continuously. No player has been more crucial than the core of Andrei Vasilevskiy, Steven Stamkos, Victor Hedman, and Nikita Kucherov. Building around this core four has been the key to repeated success as they have turned into a dynasty that looks like they can't be stooped once the playoffs begin.
Since Day one, Nikita Kucherov has been a dominant force in the playoffs and has been a critical component in driving this high-powered offense. After being drafted 58th overall in the second round of the 2011 NHL Entry Draft, Kucherov made his debut during the 2013-2014 season. It didn't take long for the Russian native to find his grove in the NHL; in his second year in the league, he blossomed as he scored 29 goals and had 65 points during the regular season. It was his first full postseason that stood out as he scored ten goals and recorded 22 points across 26 games. This was just the beginning of his postseason success that has now driven the Lightning to two Stanley Cup Championships in back-to-back years. If the Lightning can continue the dominant play, they have shown through the first two rounds they can be the first team to win three consecutive Stanley Cups since the New York Islanders of the early 1980s.
Compared to others since coming into the league, Kucherov leads the league in postseason goals, assists, and points from 2013-to 2014. His 48 goals are more than Brad Marchand (33), Sideny Crosby (31), Evgeni Malkin (31) and Victor Hedman (21). What stands out the most are his assists and points totals as no one seems to even be close to catching him in those categories. His 94 assists are more than Hedman (71), Crosby (65), Malkin (52) and Marchand (51). Kucherov's 137 points are more than Crosby (96), Hedman (90), Marchand (84) and Malkin (83). These four players that have been mentioned in comparison with Kucherov round out the top five players with the most postseason points since Kucherov made his debut in the NHL.
Kucherov has just been such a consistent player throughout his career as the 28-year-old is in the middle of his prime and is only going to continue to get better. It is always exciting to see the impact he can have on a game, and luckily for Tampa Bay fans and hockey fans, they will get to see it on full display for at least another series, if not two. Kucherov is one of the best regular and postseason players in the NHL at the moment, as he always shows up when his team needs him the most. Tampa Bay awaits the outcome of the Hurricanes and Rangers series as Carolina currently leads the series 2-1, with game four coming tonight. Tampa will have plenty of time to rest and nurse any injuries to get fully healthy before taking on the winner of this best of seven matchups.
Bruins prospect tournament standouts, Metro Division Preview, Blake Wheeler loses the "C", Nic Hague contract dispute, and Evander Kane gets another bag.Thanks for listening! Please rate and review our show on your favorite listening platform. Check out our partner's website at www.insidetherink.com for all your latest hockey news.