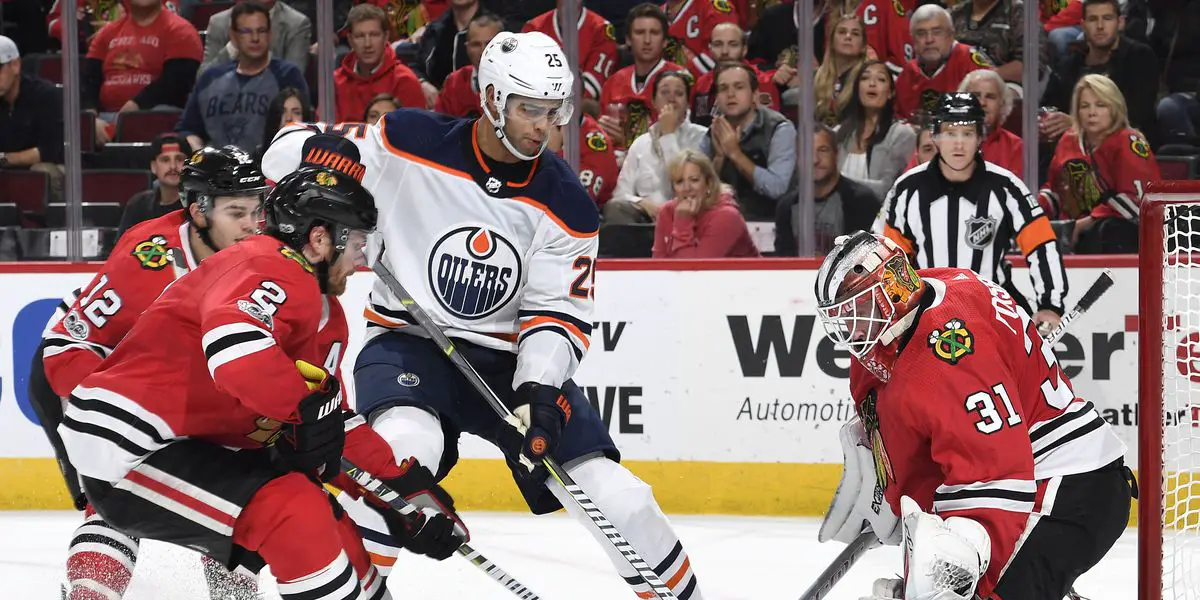 This summer, Ken Holland extended Darnell Nurse to a controversial contract extension worth $9.25 million AAV. While I believe the contract was an overpay, it was a player they absolutely needed to sign. After losing Oscar Klefbom, Adam Larsson, and Ethan Bear over the course of two seasons, the Oilers have had to lean on Nurse this year more than ever before. How has he responded to the added responsibility? And how has the team performed without Nurse on the ice? Let's take a closer look.
Darnell Nurse has been a big minute muncher for the Edmonton Oilers for a long time now. He ranks 3rd in the NHL in TOI/GP with an average of 26:24 minutes of ice time. Plenty of defensemen play big minutes and don't do much with that ice time to elevate the team, so is that the case with Darnell? Absolutely not. Nurse has the best-expected goals for percentage (xGF%) in the NHL for defensemen that have played at least 400+ minutes at even strength. In other words, among the top 132 big minute defensemen, Nurse would be projected to have the best goal differential in the NHL if all goalies were equal. This is extremely impressive, as Nurse has better-expected metrics both offensively and defensively than some of the other top D-men in the league, such as John Carlson, Aaron Ekblad, and Jacob Slavin. These players all play on teams that are higher in the standings than Edmonton too, which would theoretically give them an advantage in goal-differential related statistics. Nurse has been a significant offensive contributor at even strength for a while now. Still, the defensive numbers and possession numbers such as xGA/60, CF%, and FF% are all career-best rates so far in 2021-22, which is an excellent sign for the Oilers, who will need him to continue to elevate his game if he is to live up to the massive contract signed this past summer.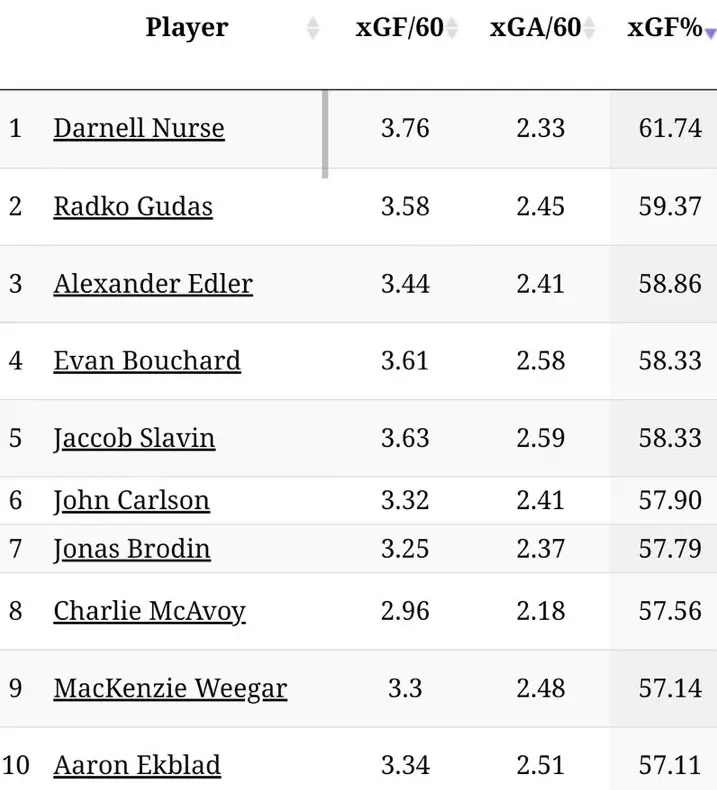 What Happens when Nurse is off the ice?
Clearly, Darnell Nurse has some pretty stellar numbers, but to appreciate what he means to the team, we need to break down how the Oilers perform without Nurse on the ice. It turns out they largely struggle. Out of the 24 skaters that have played with Nurse this season, only 4 of them have a positive goal differential at even strength without him. The only line that posts elite numbers without Nurse would be McDavid and Draisaitl together, who can still manage a 63.3 xGF% without Darnell. The Oilers' win percentage also dips when Nurse is out of the lineup entirely, as they have a .608 win% when Nurse plays and a .571 when he has been out with injuries or COVID-19.
Conclusion:
I believe the Oilers could use another top 4 defencemen in order to take some pressure off of Darnell Nurse. Unfortunately, with the Oilers pulling out of the Jakob Chychrun sweepstakes, it seems that management is content to wait for one of their young prospects to develop and keep Keith and Ceci as the second pair in the meantime. For now, Nurse remains by far the most essential defensemen on this team, and one of the most impactful players in the lineup, period.