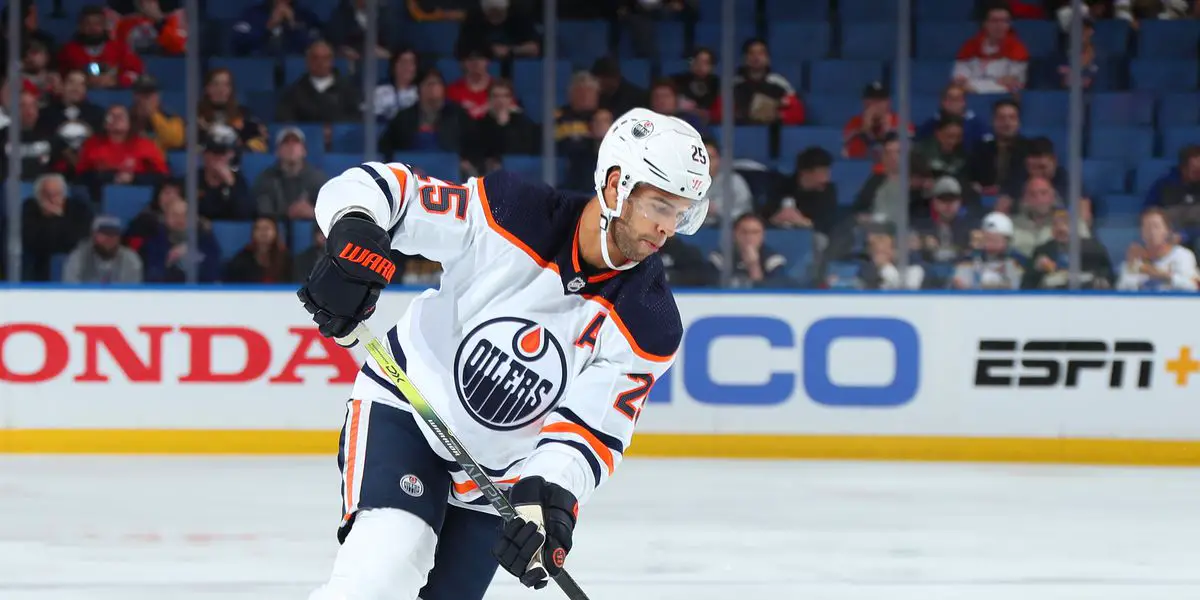 The Edmonton Oilers battled to a 2-1 shootout victory over the Winnipeg Jets Thursday night, but the fallout after the game was perhaps more wild than the game itself.
Not only is Darnell Nurse out 2-3 weeks with a broken finger, but Slater Koekkoek was also injured in the game and will miss 3-4 weeks. As a result, the Oilers recalled Philip Broberg and William Lagesson from Bakersfield. That means for the next 2-3 weeks, the Oilers will roll out a defensive group consisting of Duncan Keith, Cody Ceci, Tyson Barrie, Philip Broberg, Evan Bouchard, and one of Lagesson or Russell on the 3rd pair. Let's take a look at precisely what this means.
The Loss of Nurse is Massive
It cannot be understated how much Darnell Nurse means to this hockey club. He plays big minutes with a TOI/G of 26:06, which ranks 5th in the National Hockey League. The next highest Oilers defenceman in time on ice is Bouchard at an average of 21:37. Nurse plays in all situations. He kills penalties, plays a ton 5 on 5, and even rotates in on the powerplay every once in a while. Nurse has also found a new dimension to his game this year, as he is currently on pace for career highs in Corsi for %, Fenwick for %, and expected goals %.
Simply put, Nurse is having a career-best season defensively while also remaining solid at moving the puck with 11 points in 16 games. He also brings a physical presence to the back end, something they have needed badly with the loss of Adam Larsson. The Oilers will have to replace Nurse's contributions by committee, and it will not be an easy task.
Is This Defensive Core Up For The Task?
I'm sure the Oilers will be shuffling the deck to try and find the best way to organize these pairs, but, likely, Keith and Ceci play together just due to the comfort level as a duo. While Keith hasn't been quite as bad as he was in his career-worst season in Chicago last year, it is still quite clear that he has lost a step. Keith has been caught giving up odd-man rushes due to a lack of foot speed and making pinches that he can't get away with anymore without the speed to close the distance on the opposing forward. I am a bit concerned with a Keith – Ceci duo on the first pair. Keith has played just under 19 minutes with Bouchard this year, but in that time, they have posted a fantastic xGF% of 70.44%; that might be a pair to try out at some point. Bouchard had a tough road trip but has had an otherwise solid two-way game this year, so I would be interested to see him continue to get a prominent role during this stretch without Nurse. Another concern I have is with Tyson Barrie, no matter who he plays with. Barrie has had flashes of good play this year, but his defensive play has been suspect. Barrie has had his troubles in the defensive zone for years now. It's no secret that he is a one-dimensional offensive defenceman; however, his xGF% is just 35.56% without Connor McDavid on the ice this season. When he is on the ice with McDavid, he drags McDavid's goal share down slightly. It has been a tough start for Barrie, and he will need to be much better without Nurse in the lineup.
What about Broberg?
While I have concerns about Keith and Barrie having elevated roles, it will be exciting to see what the youngster Philip Broberg brings to the table in his first stretch of NHL action. Ken Holland passed on both Cole Caufield and Trevor Zegras in the draft to select Broberg, so while it may be a few years before he develops into the best version of himself, we will certainly get a look at what Philip can do, and if Holland's bet on him at the draft has a chance of paying off. Broberg has adjusted well to the North American game so far, with 0-10-10 in 13 GP in the AHL.