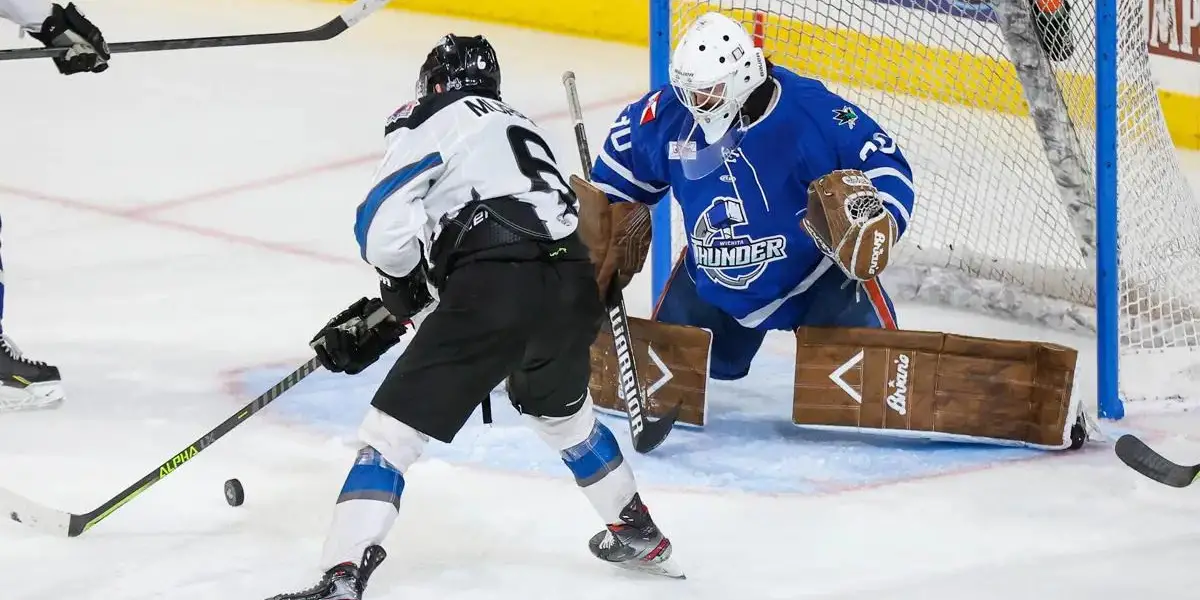 The Idaho Steelheads and Allen Americans entered Game Four, with Idaho leading the series 2-1. The Steelheads entered the game having just suffered a 7-2 loss in Game Three, their largest loss of the regular season and postseason.
First Period-Floodgates Start to Open
The Steelheads came into Game Four looking for revenge after losing in Game Three. The scoring didn't start immediately, but Idaho had all the momentum. The game's first goal was scored 9:13 into the first period by Casey Johnson, giving Idaho a 1-0 lead. Ty Pelton-Byce and Justin Ducharme assisted Johnson's goal. Then 12:44 into the first, Ryan Dmowski scored a powerplay goal making it 2-0 for Idaho. Owen Headrick and Patrick Kudla assisted his goal. The final goal of the first period was scored at 18:28, giving Idaho a 3-0 lead. The goal was scored by Ty Pelton-Byce and assisted by Nick Canade and Justin Misiak. That did it for scoring in the first period, with Idaho leading Allen 3-0 and outshooting Allen 14-9.
Second Period-When it Rains, it Pours.
The scoring started early in the first for Idaho, with Wade Murphy scoring 1:29 into the period extending Idaho's lead to 4-0. Jordan Kawaguchi assisted Murphy's goal. Then 5:50 into the second, AJ White scored a powerplay goal to make it 5-0, with assists coming from Justin Ducharme and Matt Register. 10:09 into the second, Allen finally got on the board with a goal from Jack Combs. Combs' goal was assisted by Colby McAuley and Eric Williams. Only 38 seconds later, Idaho would answer with Colton Kehler's goal. Matt Register and Jade Miller assisted Kehler's goal. 14:26 into the second, Colton Hargrove scored, making it 6-2 in favor of Idaho. Kris Myllari and Liam Finlay assisted Hargrove's powerplay goal. The final goal of the second period was scored by Wade Murphy 16:37 into the period, with the assists going to Nick Canade and Matt Register. Allen's goalie, Kevin Mandolese, was pulled after this goal and replaced with Chase Perry. That would do it for scoring in the second period, with Idaho leading 7-2. Idaho outshot Allen 15-11 in the second.
Third Period-Tempers Start to Flare
The third period was a quiet period, scoring-wise. 10:46 into the third, Jordan Kawaguchi scored, making it 8-2 for Idaho. Matt Register and Justin Ducharme assisted Kawaguchi's powerplay goal. Then 14:36 into the period, Ryan Gagnon scored for Allen, making it 8-3. Chad Butcher and Liam Finlay assisted Gagnon's goal. The game's final goal came 15:18 into the third when Wade Murphy completed his hat trick. Nick Canade and Willie Knierim assisted Murphy's goal. Similar to Game Three, there were a couple of players thrown out of the game. 10:02 into the third, Mikael Robidoux was given a ten-minute misconduct and a game misconduct for Abuse of Officials. Aidan Brown was given a Match penalty for Illegal Check to the Head 16:12 into the third. Idaho ended up outshooting the Americans 14-11 in the third.
Post-Game Stats
Idaho won Game Four by a final score of 9-3, which gave them a 3-1 lead in the series. Idaho also outshot Allen 43-31 in the game. Special teams were a part of the game, as there was a combined total of 11 powerplays in Game Four. Allen went 1/6 on the powerplay, while Idaho went 3/5 on the powerplay. Idaho's goalie Adam Scheel made 28 saves on 31 shots for a save percentage of 0.903. Allen's goalie Kevin Mandolese made 18 saves on 25 shots. Chase Perry came into the game in relief of Mandolese and made 16 saves on 18 shots. Allen and Idaho will play Game Five in Idaho tomorrow, May 14th, at 4:10 MDT.