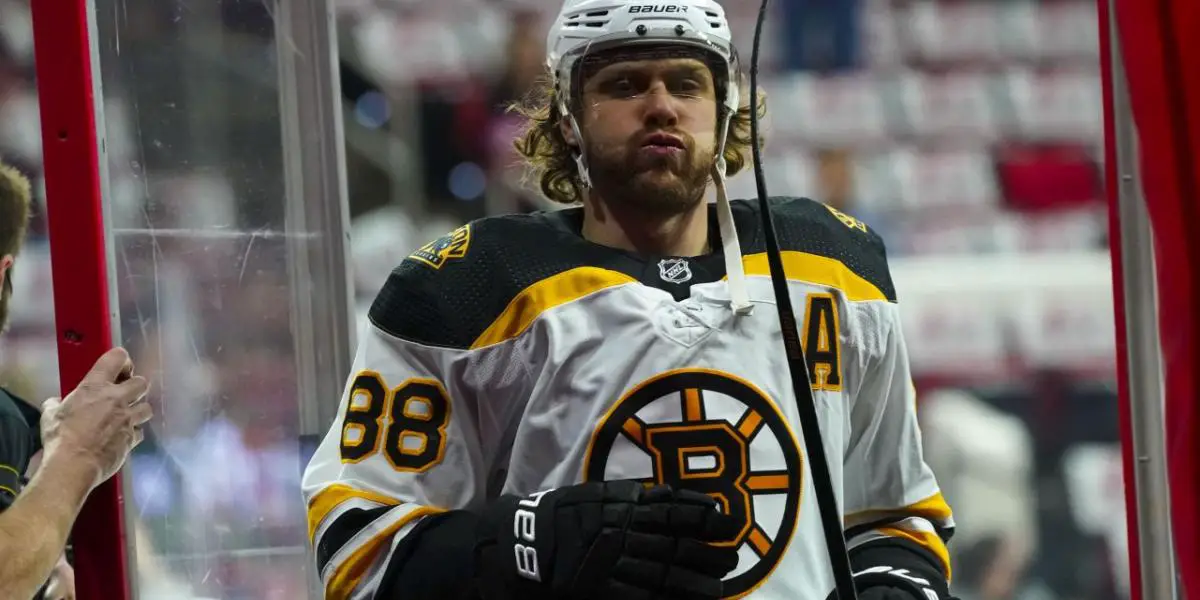 Before you leave me an angry comment, no, I don't think the Bruins actively want to trade Pastrnak. Over the past few weeks, it's starting to look like the Bruins rebuild will begin as early as this coming season. With McAvoy, Gryzelcyk, Marchand, and Mike Reilly all having serious surgeries, it looks like the first three months of the year will be a bit rough. Cap this off with the two biggest news stories this week. Coach Bruce Cassidy was fired (for some reason) and Fluto Shinzawa of 'The Athletic' stirred up the hockey world by saying that the Bruins may trade Pastrnak this offseason. His comment has exploded into rampant speculation that Sweeney may look to offload their star winger while his value is still high. If this is true, then there will be no shortage of teams lining up for his services.
As of right now, it's been reported that Pastrnak and his agent will begin discussing a contract extension as early as the beginning of July. If it looks like he isn't going to sign long-term, then the best option may be to trade him. As unthinkable as that thought is right now, let's slow down and look at the facts. The Bruins are trending down, and this coming year has a lot of unknowns that need to be addressed sooner rather than later.
If Bergeron is going to retire, then the team needs to shift gears towards a retool at the very least. The B's have a solid foundation with a bonafide number one D-man in McAvoy, a young stud in net in Swayman, and a star sniper in Pastrnak. If Pastrnak decides that the team's direction isn't something that he wants to stick around for, then it makes sense for the Bruins to trade him. The key question is, 'what is he worth?'
You would have to think that a perennial 40-goal scorer would fetch at least a top-six player and one or two first-round picks, depending on the team. Would a team like LA be confident enough to offer up their next two first-round picks to acquire Pasta? They are on their way back up and could use a goal-scoring shot in the arm, while the Bruins need to fill their cabinet with picks that Sweeney has traded away recently.
A trade that makes sense to me would be the Devil's offering up their second overall pick and Yegor Sharangovich. Since the Devils won the second overall pick, it's been rumored that they would be willing to trade it to get better right now. Acquiring a Rocket Richard winner is one way to improve your team instantly. The Bruins would get a really good young talent in Sharangovich, who is making two million for one more year and finished the year with 24 goals and 46 points in 76 games. He is young, fast, and skilled and would slide right into their top six. This year, the second pick will likely be Juraj Slafkovsky, who scored 10 points in 31 games for TPS in the Liiga. He was a monster for Slovakia as he led the Olympics with seven goals in seven games. Did I mention that he is 6'4, 220lbs, and is only 17?
If Pasta doesn't sign next month and Tom Fitzgerald calls Don Sweeney with this offer, I have a hard time believing he would say no. Again, I think the Bruins would prefer to hang on to their superstar, but the ball is in Pasta's court, and he will get to decide his future.
Many Bruins fans (me included) feel like Sweeney should have been replaced instead of Bruce Cassidy, but it's looking like he may be sticking around. If he wants to be on the good side of most Bruins fans, he will find a way to ink Pastrnak to a long-term deal at a decent cap hit. David Pastrnak's last contract was a bargain, but I don't think he will be that generous this time. He is entering the prime of his career, and on the open market, there's no reason he would make under nine million a season. Whatever ends up happening, I don't see Don Sweeney being in the good graces of Bruins fans anytime soon, and with Pasta holding all the cards, this should make for an interesting offseason.
The Bruins rebound after a 3-game skid. NHL ratings are down on ESPN and Turner. Don't mess with the chemistry. Concerns about the Bruins veterans wearing down. Plus Beauties and Benders.