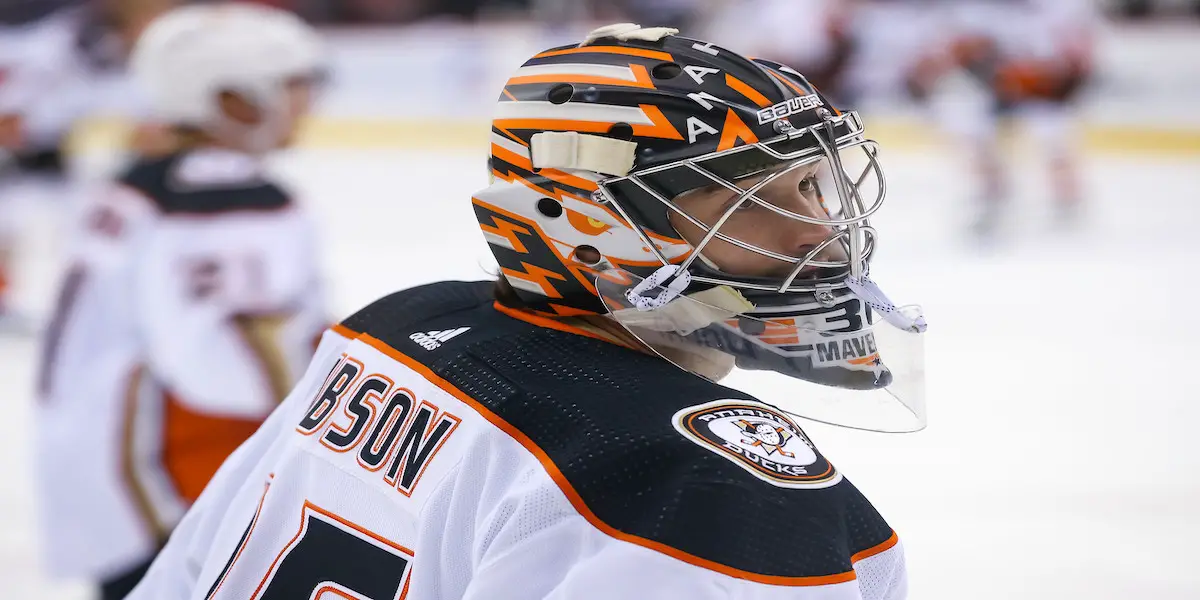 When an NHL fan hears the name "John Gibson," they likely think of him as a formerly elite goaltender who has been below average to bad over the last 3-plus years. They would be perfectly justified in that line of thought whether you subscribe to traditional goaltending metrics or lean toward underlying numbers. He carries a contract with a term and cap hit (4 years after this at $ 6.4 million AAV) that would likely send prospective buyers running for the hills. To top it all off, we now sit 19 games into the 2022-23 NHL season, and John Gibson (according to the numbers) is off to the worst start of his career. 
After watching every Ducks game in excruciating detail, I never blame Gibson for the team's poor performance. I always shut the game off, feeling as though he did everything he could to keep his team in the game (all you can ask of a goaltender) and made the saves he had to. This season more than one's past, the numbers (both traditional and underlying) haven't reflected the notion I hold about the Anaheim netminder. Not even close. So I took it upon myself to dive deep and look at every goal John Gibson has given up to start this season (because I have no life and feel a weird urge to get to the bottom of this). After setting off on this quest, I'm here to tell you that the numbers aren't telling the whole story, and there is still at least an above-average goaltender wearing #36 in Anaheim. 
The Numbers Aren't Pretty
John Gibson famously (at least to Ducks fans) gets off to hot starts, progresses as the season goes on, and drops off when the Ducks playoff hopes are lost. While keeping true to that pattern, his last three seasons have carried save percentages (SV%) of .904 in 2019-20, .903 in 2020-21, and .904 in 2021-22. Below average numbers at best. From an analytics perspective, he has totaled -39.7 goals saved above expected(GSAx) (via moneypuck.com) during that span.
During this past offseason, when trade rumors were swirling around Gibson, and teams were looking to solidify their goaltending situation (Toronto Maple Leafs, Washington Capitals, Vegas Golden Knights, etc.), his name was likely added to a column marked "risk too high" by front offices around the league. Their suspicions have been confirmed based on the statistics through his first 14 games this season. He is off to the worst start of his career by a mile, as his record sits at 3-11-1 with a SV% of .891 and a goals-against average (GAA) of 4.15. His GSAx is also at a lowly 5.8. Among goalies with 10 or more games played, John Gibson sits firmly in the bottom 7 NHL goaltenders in each category. 
The Anaheim Ducks team in front of Gibson isn't helping his cause, either. They currently sit at the bottom of the league (32 of 32) in shots allowed per game (37.5), penalty minutes (265), penalty kill % (64.2), and power play % (13.2). This is one of the worst defensive teams we may have ever seen. The offense isn't providing much run support, either.
What The Film Says
As mentioned, the numbers and the narrative around the Ducks goaltender claim that he's been dreadful. However, I was struggling to remember a time this season where I said something to the effect of "he should have had that" or "he'd like to have that one back." On the contrary, I often admire his angles, rebound control, and athleticism. I see a goalie who is situationally aware, often communicating to his defensemen and freezing or playing pucks based on what he reads of the play in front of him. He can control a game from the crease we haven't seen very much of.
When I went back to watch every goal John Gibson has given up so far in 2022-23, the defending in front of him (forwards included) is far worse than even the numbers mentioned in the last section suggest. On a nightly basis, Gibson faces prolonged defensive zone time, multitudes of odd-man rushes, and unimpeded seam passes. When he does get a piece of a puck but allows a rebound, his teammates consistently fail to box out attackers and often surrender second and third-chance opportunities. 
John Gibson has surrendered 57 goals in 15 games to start the 2022-23 campaign. Twenty of those goals have come on the powerplay. The worst penalty kill in the league is doing Gibson no favors. Diving a little deeper into the film, 20 goals have been allowed off seam passes to dangerous areas, 10 have been tipped on their way to the net (often by a Duck), nine have been off rebounds, five have been scored by an opponent who somehow finds himself all alone in front of the net or able to walk the puck out of the corner, four goals Gibson couldn't see as there was a screen in front of him, and four have been allowed on clear and clean breakaways. That's a lot of goals John Gibson (or any goaltender, for that matter) had no chance on or simply can't be blamed for. 
In my film study, I only counted five goals in which John Gibson probably could have done more to prevent from going in. He was only beaten clean twice this season. One was from Artemi Panarin from the middle of the slot on a 3-2 rush, and the other was from Andre Burakovsky from the left face-off dot on the powerplay. He misplayed a puck out of the corner that he paddled directly to Taylor Hall at the bottom of the circle. His only display of poor rebound control was against the New York Rangers on 10/17/22, where he couldn't control a shot from a bad angle, and it ricocheted in off a leg. There was also a questionable effort given on a powerplay goal from Brandon Hagel from the top of the right circle that may or may not have deflected off Simon Benoit's pants. That's only five goals Gibson has allowed this season where I thought he could have done more to save (I'm not even saying he should have saved all of them). 
This has to be one of the most pathetic team defensive efforts witnessed in the NHL in a very long time. I know that the GSAx models consider the situation and where shots are coming from. They don't consider pre-shot puck movement, tips, or if shots were screened. Those have been the majority of goals let in by John Gibson this season. I find it a stretch to suggest he's been a poor goaltender behind this team in front of him, allowing high-danger chances in bunches. He is still making highly athletic saves and keeping his team in games they have no business being in.
The Ducks Should NOT Sell Low on John Gibson
The Anaheim Ducks are once again at the bottom of the NHL standings. John Gibson's statistics are once again abysmal. Ducks General Manager Pat Verbeek is undoubtedly receiving phone calls from GMs around the league looking to acquire the services of John Gibson for a very cheap price and salary retention on the four remaining years of his contract. So long as Gibson doesn't formally request a trade, moving John for less than an overpayment would be a mistake on Verbeek's part. 
The Ducks are riddled with young talent and have even more on the way in the AHL, juniors, college, and overseas. Gibson has played a lot of hockey but is only 29 years old and can still be an above-average goaltender through at least the end of his contract. The Ducks window is certainly scheduled to open in the next few years. John Gibson can be a big part of that. 
I will say here and now that if John Gibson were traded from Anaheim to a contender at any discounted rate, Verbeek, the fanbase, and the owners would regret it. He has all the makings of a missing piece to a Stanley Cup contending team in search of a goaltending upgrade. He hasn't been bad for 3-plus years. He was an all-star with a .922 sv% at the break last season and is subjected to playing behind a historically bad defensive team this season. The talent and big saves are there, and the perfect angles and game management ability are there if you watch Ducks games regularly. Fans of teams in need of an upgrade in the crease should be clamoring to acquire Gibson at market value for a top-10 goaltender, and Ducks fans should be clamoring for the team's front office to keep him unless offered an absolute king's ransom. 
The Anaheim Ducks are one game away from the record for the longest a team has gone to start a season without a regulation win. They are structurally sound in their defensive effort and positioning but fail to make the necessary play to keep the puck out of the net. Several issues plague this team (coaching sits atop the list), but John Gibson doesn't even belong anywhere near that list.