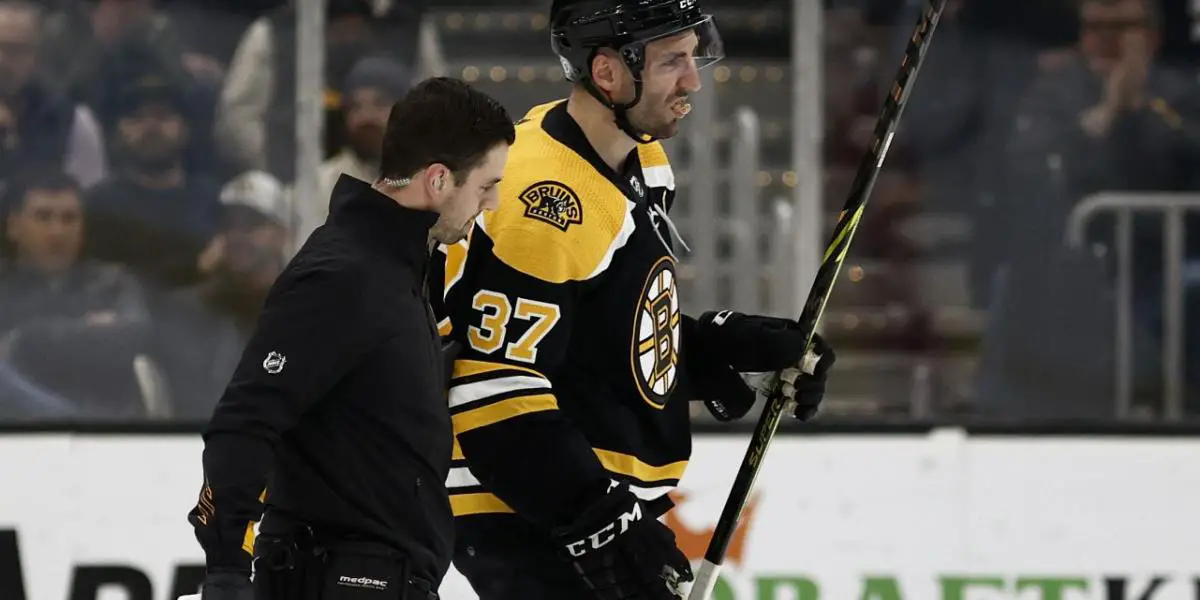 Earlier today, it was announced that Patrice Bergeron would miss Thursday night's matchup against the Carolina Hurricanes due to an injury he suffered in the third period against the Penguins on Tuesday Night. After taking a hit from Sidney Crosby, Crosby's skate caught Bergeron's as he was already falling awkwardly, which resulted in the captain gawkily slamming the back of his head against the boards.
Patrice was able to stand up on his own after lying on the ice for a short period, but he immediately headed down the players' tunnel and did not return to the game. (skip to 0.37 below to see the best angle of when his head hits the boards)
Bergeron's Injury History; Should Bruins Fans Worry?
When addressing the media on Thursday regarding Bergeron's status, Headcoach Bruce Cassidy said, "It's involving his head, so we have to be careful. This is a guy that's had a head injury in the past. We want to make sure everything checks out. He wants to make sure everything checks out." He continued with, "So in the immediate term here, he didn't skate today, he won't play tomorrow, and hopefully, he's in good shape in the next few days. But we're going to obviously take as much time as we need with this one."
Bergeron definitely has a history with head injuries, as he sustained four concussions in his career. Those occurred throughout six seasons from 2007 to 2013, which is unquestionably concerning. However, Patrice has been tremendously vocal about concussions and his own experiences, being one of the first people to discuss the symptoms openly. After his very first concussion in 2007, he held a press conference with the local media a mere 12 days after the injury. He talked about how he was struggling to sit up, and his symptoms were constantly lingering, and it felt at any moment they might overwhelm him.
Although it has been quite some time since his last concussion, you can never be too careful. Hopefully, Bergeron won't be out for a long time, but he will undoubtedly be missed. He has 12 goals, and 23 assists in 43 games played for 35 points this season and always has been a consistent contributing factor on both ends of the ice for the Bruins.