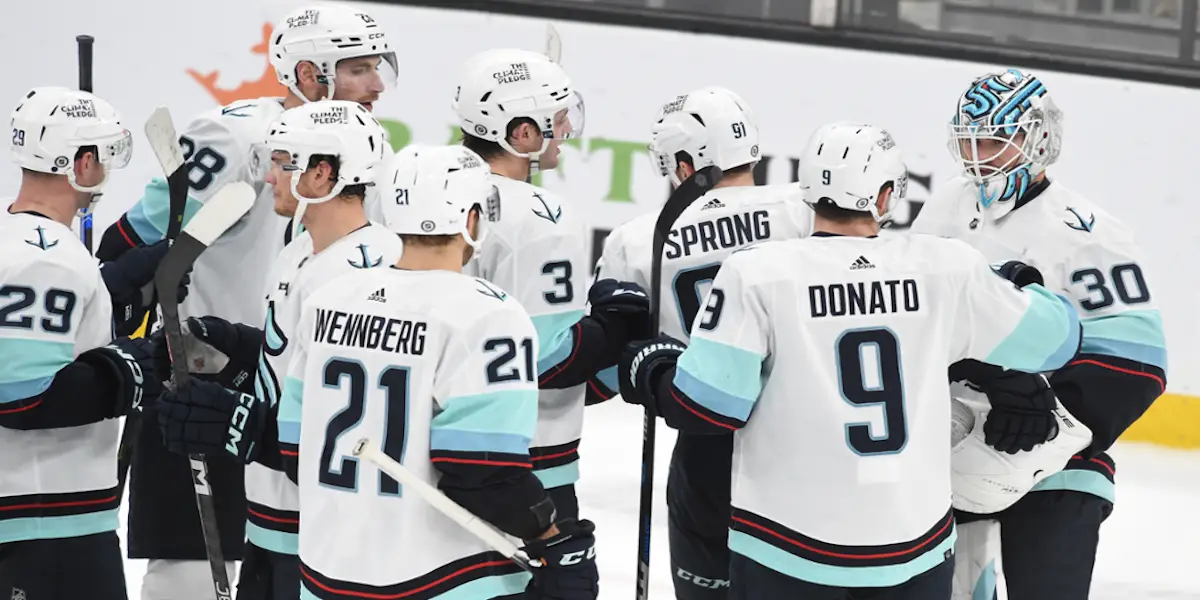 Not much was thought of this team heading into the 2022-23 season. Only their second year as an NHL franchise, the Kraken are on the up and up. Unlike their fellow expansion team, the Vegas Golden Knights, their inaugural season did not end with a trip to the Stanley Cup Finals. The Kraken got off to a tough start, finishing last in the Pacific Division with a 27-49-6 record.
Many did not expect the Kraken to be where they are halfway through this season, but after some free agent signings this past summer and the emergency of a rookie, this team is on pace to make the playoffs. This team has come a long way, as they sit third in the Pacific Division and are within striking distance of knocking the Vegas Golden Knights out of first place.
A lot of their success is thanks to their hot start to 2023, as they've rattled off seven straight wins, with their most recent coming over the NHL-leading Boston Bruins in a 3-0 shutout. The Kraken found a way to silence the hottest team in hockey, giving them their first regulation loss of the season.
Thanks to their seven-game win streak, the Kraken are now 25-12-4, officially halfway through the season. A few players are to highlight for their stellar play, but it has truly been a team effort that has gotten them to where they are. Twenty-one players have contributed a goal throughout the season, with six already having ten or more goals. While their offense has been impressive, the play of goaltender Martin Jones has been exceptional, as the 33-year-old veteran has been a key staple to this year's success.
This team still has a long way to go, with 41 regular season games left. It will be interesting to see if this team will be buyers at the March 3rd trade deadline, as they could add pieces for their potential playoff run. No matter how this season finishes, the progress this team has made in just one year has been incredible and has proven that hockey in Seattle has a bright future for years to come.
Player Spotlight
Matty Beniers
The 20-year-old rookie center has been as advertised for the Seattle Kraken. Taken second overall in the 2021 NHL Entry Draft, Beniers had the hype of being an elite center and franchise-altering prospect. Through 41 games, he has lived up to the hype as he's excelled so far and only continues to improve. Heading into the matchup against Boston, Beneirs was riding a five-game goal streak which came to an end. On the season, the Calder Trophy favorite has 16 goals and 18 assists for 34 points while anchoring the Kraken's top line.
Martin Jones
It has been a solid season for the 33-year-old veteran netminder, as he's been a key reason for the Kraken's success. He's enjoying one of the better seasons of his career, appearing in 30 games while starting 27 of them, going 20-5-3, posting a GAA of 2.68 and an SV% of .898. While his GAA is the fourth lowest of his career minimum of 20 starts, his .898 SV% is the second lowest of his career. While that may be a concern, it's on pace for what he's averaged over the last four seasons. Jones was instrumental in t e Kraken's 3-0 win over the Bruins as he saved all 27 shots faced earning his second straight shutout. If Jones can continue to be solid in net, he gives the Kraken a chance every game he's in net to earn the win.
Jared McCann
The Kraken's leading goal scorer has been great this season on the Kraken's second line. After having a career year la t season for the Kraken, McCann has picked up right where he left off. Earlier this season, he celebrated his 100th career goal as he continues to be a driving force on this offense. Through 38 games, he's recorded 19 goals and eight assists for 27 points after scoring 27 goals and 50 points over 74 games last season. At this pace, McCann is on his way to setting a new career high in goals as he has the opportunity to cross the 30-goal mark for the first time in his career.
Vince Dunn
The Kraken's top defenseman has continued to be a playmaker on the blue line. After setting a career-high in assists last season (28) and tying his career-high in points (35), he is on pace to break both of them. Dunn has been phenomenal as he anchors the top pairing in Seattle. On the season, he has seven goals and 23 assists for 30 points while sporting a plus- 22 rating, the highest of his career. Dunn has also been key on the power play, recording nine points on the man advantage.
Andre Burakovsky 
One of the newest additions to the Kraken lineup, Burakovsky signed a five-year contract this past summer worth $5.5 annually. The Kraken pried him away from the Colorado Avalanche as they improved their top line giving Matty Beniers a 20-plus goal scorer on his left wing. Burakovsky was coming off a career year as he finished with 22 goals and 39 assists for 61 points and won a Stanley Cup. Halfway through his first season with the Kraken, he has recorded 11 goals and 24 points and is leading the team in points with 35.
The boys are back after a long break but have plenty to talk about as the playoffs are in full swing. We go series by series, looking at how teams have fared so far and who will come out on top. Thanks for listening! Please rate and review our show on your favorite listening platform. Check out our partner's website at www.insidetherink.com for all your latest hockey news.