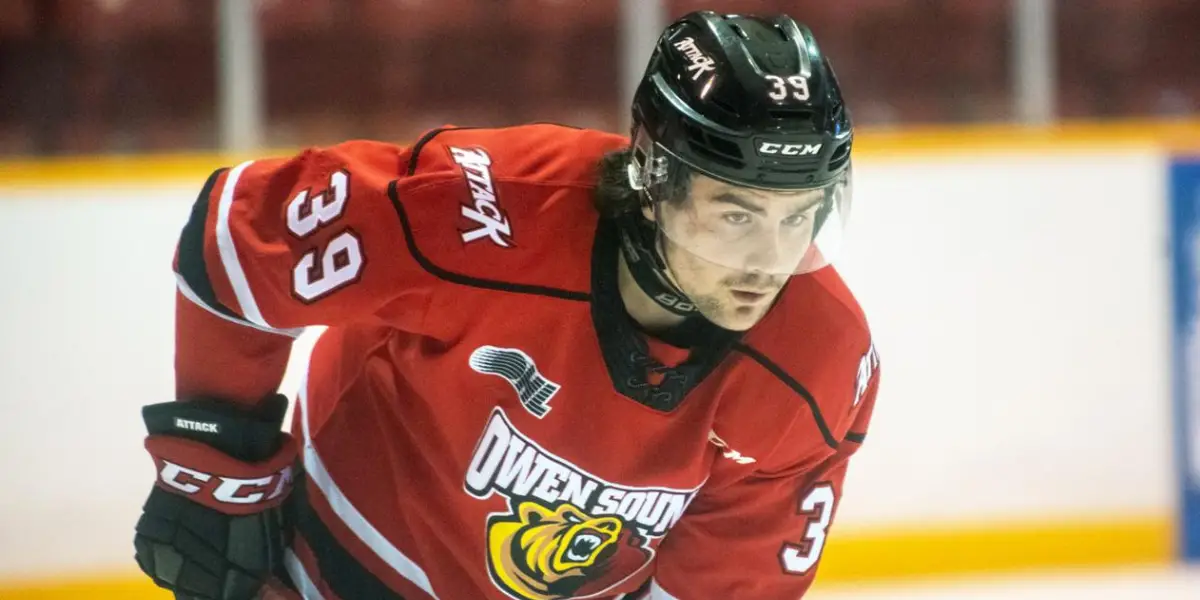 The hardest thing to do in the beautiful game of hockey is scoring goals. At every level, Owen Sound forward Colby Barlow has done so, growing into a real force offensively in the Ontario Hockey League. This season with the Attack' Colby is on pace for a fifty-two goal season per EliteProspects.com, making him the second-highest goalscorer in all of the Canadian Hockey League, only trailing presumably first-overall pick Connor Bedard. 
The 18-year-old goalscorer is currently projected as a high first-round pick on my Inside The Rink draft rankings board. The full list should be released closer to the draft, but after getting eight goals in his last ten games, it's hard not to talk about the Orillia, Ontario, native.
After recently getting the opportunity to watch Colby Barlow live, my interest in the player only grew. After closely following the Owen Sound Attacks season this year, Colby Barlow certainly packs the potential to be hockey's next great goalscorer. Those are pretty big shoes to fill but don't bet against the former Toronto Marlboro. 
With Colby Barlow, some evaluators will either love him as a prospect or the opposite. Is he the perfect player? Not at all, but he doesn't have to be. After watching Colby this season, his natural goal-scoring ability is unique, making him one of my favorite prospects in a long time. This might be bold, but I feel comfortable saying he might be the best pure goalscorer since Montreal's Cole Caufield in 2019 or even Auston Matthews in the 2016 NHL Entry Draft. Although he's not a direct comparison, given Colby Barlow's good hands and extremely effective shot, I've seen a lot of similarities between the 18-year-old and the Toronto Maple Leafs center. 
One of my favorite things that stand out right away with Colby Barlow's style of play is how dominant the 18-year-old is in the offensive zone. Packing high-level awareness and a quick release with a good shot setup, Colby Barlow has been a scoring machine for Owen Sound this year. 
A lot of talk surrounding prospects and their value is based on how quickly they can contribute to the next level. Given Barlow's tools, I certainly project a quick transition to the pro level when given the opportunity. Not only is Colby a dynamic scorer at even strength, but he's also developed into an elite powerplay prospect. Using his awareness to get into the right places for his shot, but he can also make the right passes when on the man advantage making him a true powerplay difference-maker.
Colby Barlow receives tons of attention on a game-to-game basis from his opponents, yet the 18-year-old still can't be stopped. He's not only a workhorse, but Colby has a strong enough motor to succeed at the pro level. He's also not afraid to play a tough game when needed, and he thrives when the game gets a little tense. Using his strength, Colby can create space in even the smallest areas and is not afraid to drive the net.
Another thing that stood out to me with Colby is how well matured he is already for his age. The 18-year-old forward is already the captain of the Owen Sound Attack and certainly doesn't lack the competitiveness you want. I completely mean that too; I was sitting near the top of the arena and could still hear the competitive edge in Colby Barlow's voice as the forward was trying to rally his team in a comeback effort. 
It might also be worth noting that at this year's Canadian Hockey League Top Prospects Game, Colby was the official team captain for Team White. The Owen Sound forward had a good showing, scoring a goal off a loose rebound helping his team to victory. 
It'll be interesting to see how these final few remaining games of the Ontario Hockey League season play out for Colby Barlow. The 18-year-old is pushing to hit fifty goals as he enters the 2023 NHL Draft this June in Nashville. Regardless of how you judge prospects, Colby Barlow's confidence and skill set make him one of the most intriguing prospects we've seen in quite some time. The versatility and the elite offensive skill set is certainly there, making Colby Barlow a player I'd definitely want on my team. 
Thanks for reading! For more hockey content, follow me on Twitter at ITR_Anselmo.
WELCOME BACK TO LEAFS LATE NIGHT! Presented by Inside The RinkRoscoe / Galaxy Biehn – Dubas Out?!?- Remember All The Good Times We Shared- I Don't Love Our Options- Matthews Next Deal?- Keefe's Fate- AI MascotsSPORTS! IS FUNMERCH IS AVAILABLE!JOIN OUR DISCORD!Remember to follow us on Twitter @LeafsLateNight & IG @LeafsLateNightCheck out Mike, Josh, and Nathan's articles on the Leafs + many more! insidetherink.com