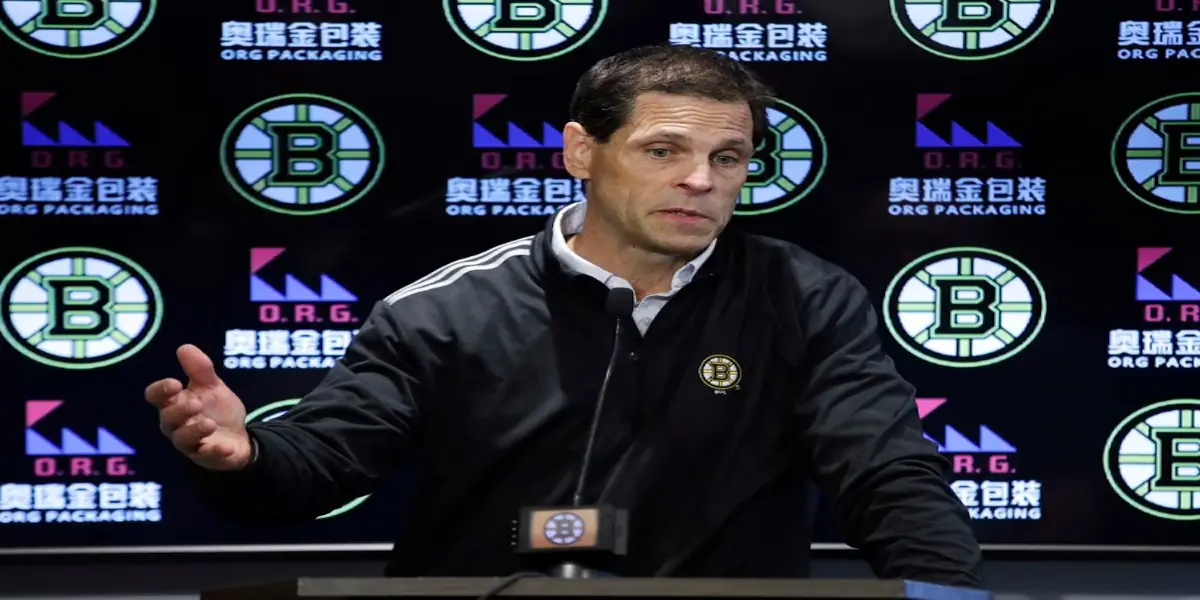 The Boston Bruins are the best team in the NHL and have been all season. They quickly jumped out to a hot start and never looked back, as they are now 45-8-5 with 95 points. They have accomplished this success thanks to stellar goaltending by Linus Ullmark and Jeremey Swayman, as well as production up and down the lineup; it honestly hasn't been one player that makes this team great.
Even with all this success and depth, especially on the blue line, no team is perfect, and deadline deals are necessary for a team pursuing a Stanley Cup. General manager Don Sweeney did exactly that by acquiring Dmitry Orlov and Garnet Hathaway last week to bolster the Bruins' defense and fourth line. While no one saw this deal coming, it's shaping up to be the Bruins' big deal of the 2023 NHL Trade Deadline. While many expect Sweeney to be done, the veteran GM may have one or two more trades up his sleeve before Friday, March 3rd, rolls around.
"You just never know," Bruins general manager Don Sweeney told reporters in a Zoom call Thursday. "Again, this deal came together relatively quickly by discussions with (Capitals general manager) Brian (MacLellan), who is really, really good to deal with, and it was just an opportunity that presented itself.
"We've clearly been in the marketplace for a period of time and trying to gauge who may or may not be available, and what deals you can do. You know, not necessarily going to be overly aggressive, but we really like our team and hopefully — like I said, we're going to stay healthy and monitor. We have eight more days to sort of see, but for the most part our guys should feel comfortable that we've added to our group and it's time to continue to do what these guys have set out to do and have a special year."
Sweeney later added: "I'm not going to be predicting where things go next, I'm merely worried about where our group is and what we are trying to accomplish, and if other things present themselves, we'll take a look at them. It doesn't mean I have to be aggressive in any way, shape or form, you know, minus the obvious. Injuries are always the unknown, but again we've had several players from Providence. We went through a period of time where a lot of those guys were getting an opportunity, and we may do that going forward, but I am certainly not going to predict where the market goes next … I mean, that's for all teams, all 32 teams to continue to discuss and those discussions will continue."
Don Sweeney has done a great job this deadline keeping everyone in the dark and allowing everyone to think the Bruins were leaning one way and going the other. While these comments don't necessarily scream he will add more, they also don't shut down the fact that the Bruins are still actively looking. In the end, nobody truly knows what the Bruins will do besides Don Sweeney.
If the Bruins are looking for another trade, the list may be short, as they have just $ 1.325 million in cap space as of Friday, per CapFriendly. The Bruins have roster players they could include in any deal, as Jakub Zboril, Mike Reilly, and Matt Grzlcyk have all been names floated around as trade candidates. They also still have all their prospects, and 2024 and 2025 first-round picks if they wish to make a big splash for, say, Jakob Chychrun. One thing is clear the Bruins are going all in for their pursuit of the 2022-23 Stanely Cup so that anything can happen between now and Friday. It will be a wait-and-see what the Bruins do with the deadline now less than four days away.
Episode 54 is here and the boys break down the Bruins adding Tyler Bertuzzi, Taylor Hall and Nick Foligno Injury updates, and Pastrnaks contract extension. Followed up with a tour around the NHL and breaking down the MOUNTAIN of trades that happened since last episode.DraftKings Sportsbook – Boston's hometown Sportsbook will be LIVE – soon – right here in Massachusetts! Bet local on all your favorite sports from the comfort of your own home with DraftKings. To celebrate, ALL new customers will receive up to TWO HUNDRED DOLLARS in BONUS bets when you sign up for DraftKings Sportsbook using code insidetherink! Soon you'll be able to bet local on money lines, spreads, props, and more with one of America's top-rated Sportsbooks – DraftKings Sportsbook!  Download the DraftKings Sportsbook app and sign up with code ITR to get up to TWO HUNDRED DOLLARS in BONUS bets to use once mobile sports betting hits Massachusetts. That's code insidetherink only at DraftKings Sportsbook.  If you or a loved one is experiencing problems with gambling, call (800) 327-5050 or visit (https://helplinema.org/) to speak with a trained specialist free and confidentially twenty four seven. 21+. Physically present in MA. Eligibility restrictions apply. Subject to regulatory licensing requirements. Eligibility and deposit restrictions apply. Opt in required. Bonus issued as free bets. Terms at draftkings.com/ma.