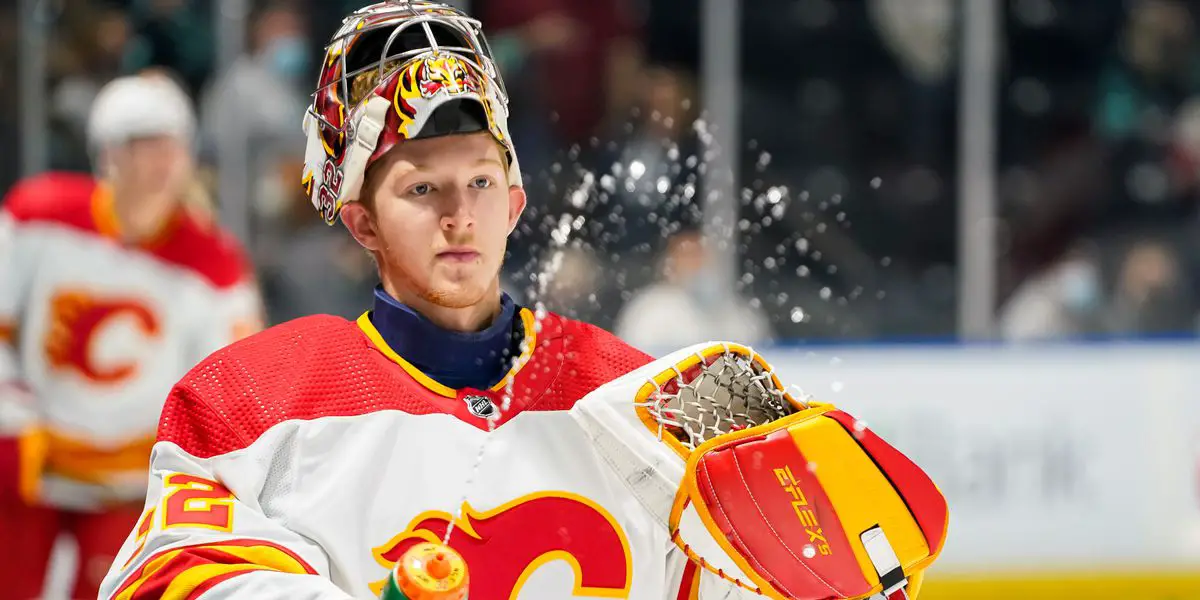 After being one of the league's best teams last season, the Calgary Flames missed the Stanley Cup playoffs this season. 
One of the main reasons they are sitting home right now watching the postseason is because of the inconsistent play of their goaltenders, Jacob Markstrom and Dan Vladar. Yes, the team's defense certainly did not help them, but when it comes down to it, the goaltending should have been much better this season, and had that been the case, they would have made the playoffs.
Markstrom, 33, had a disappointing season this year after having an outstanding one last year when he was one of the best goaltenders in the league. Last season, Markstrom was 37-15-0-9 with a 2.22 goals-against average, a .922 save percentage, and nine shutouts.
This season, Markstrom went 23-21-0-12 with a 2.92 goals-against average, a .892 save percentage, and one shutout. He allowed a lot of soft goals this season, had pucks go through him on many occasions, and looked nowhere near like the goaltender he was last season.
Vladar, 25, was not much better. He finished the year 14-6-0-5 with a 2.91 goals-against average and a .895 save percentage.
Based on the above, it is clear that the Flames will need to be better in goal next season if they want to get back to the playoffs. If Markstrom or Vladar cannot do that, the Flames have someone waiting in the wings that might end up being a lot better than both of them and should be given consideration to play a lot of games next season.
I am talking about Dustin Wolf. Wolf, 22, made his NHL debut this season on April 23rd against the San Jose Sharks and picked up the victory by stopping 23 of 24 shots.
It was in the American Hockey League (AHL) with the Stockton Heat and Calgary Wranglers, however, where he made his mark the last two seasons. This season, Wolf won the Harry "Hap" Holmes Memorial Award as the AHL's best goaltender. He also won the Les Cunningham Award as the AHL's most valuable player in helping lead his team to the regular season title this year.
In the regular season this year with the Wranglers, Wolf went 42-10-12 with a 2.09 goals-against average, a .932 save percentage, and seven shutouts. He played more minutes (3,238), faced more shots (1,653), and made more saves (1,540) than any other goaltender in the AHL this season.
Wolf was also stellar in his rookie season last year with the Heat. He went 33-9-4 with a 2.35 goals-against average and a .924 save percentage.
Regardless of what happens to the Wranglers in the AHL playoffs, it is clear that Wolf has accomplished everything there is to do at the AHL level. Sure, he could spend another year with the Wranglers and dominate the league again as he did in his first two seasons, but how does that help both him and the Flames?
It is time for the Flames to see what they have in Wolf and give him a shot to earn the net next season because if he can translate his success at the AHL level to the NHL level, the Flames could be set in goal for a very long time.
HSP – May 29th 2023 – Canucks Cap Issues, CFL Pre-Season and Arturs Silovs is the man!!!
–
Hughes Sports Podcast- HSP
Introducing the Hughes Sports Podcast, your go-to source for insightful discussions and expert analysis on the hottest topics in the world of sports. Join your hosts, Jake and Kevin Hughes, as they delve deep into the captivating realm of sports.In our latest episode, we spotlight the Vancouver Canucks' cap issues, dissecting the complexities and implications of their financial challenges. Jake and Kevin meticulously analyze the team's salary cap situation, offering invaluable insights into the strategies the Canucks can employ to navigate this obstacle and achieve long-term success.But that's not all! We also dive into the exciting realm of Canadian Football League (CFL) pre-season action. With a keen eye for detail, Jake and Kevin break down the standout performances, highlight emerging talents, and provide a comprehensive overview of what to expect in the upcoming CFL season. Whether you're a die-hard CFL fan or a newcomer to the sport, this episode will keep you well-informed and ready for the gridiron action.And let's not forget our tribute to the incredible goaltending prowess of Arturs Silovs. Recognizing his exceptional skills and immense contributions to the sport, Jake and Kevin pay homage to Silovs' extraordinary talent and discuss how he has become a force to be reckoned with in hockey. From his remarkable saves to his unwavering determination, we delve into why Silovs is the man to watch out for.Tune in to the Hughes Sports Podcast for a captivating blend of SEO-focused copywriting expertise and in-depth sports analysis. Jake and Kevin Hughes bring their passion, knowledge, and wit to the forefront, delivering a podcast that will keep you entertained, informed, and craving more. Don't miss the latest episode—your ultimate sports fix awaits!