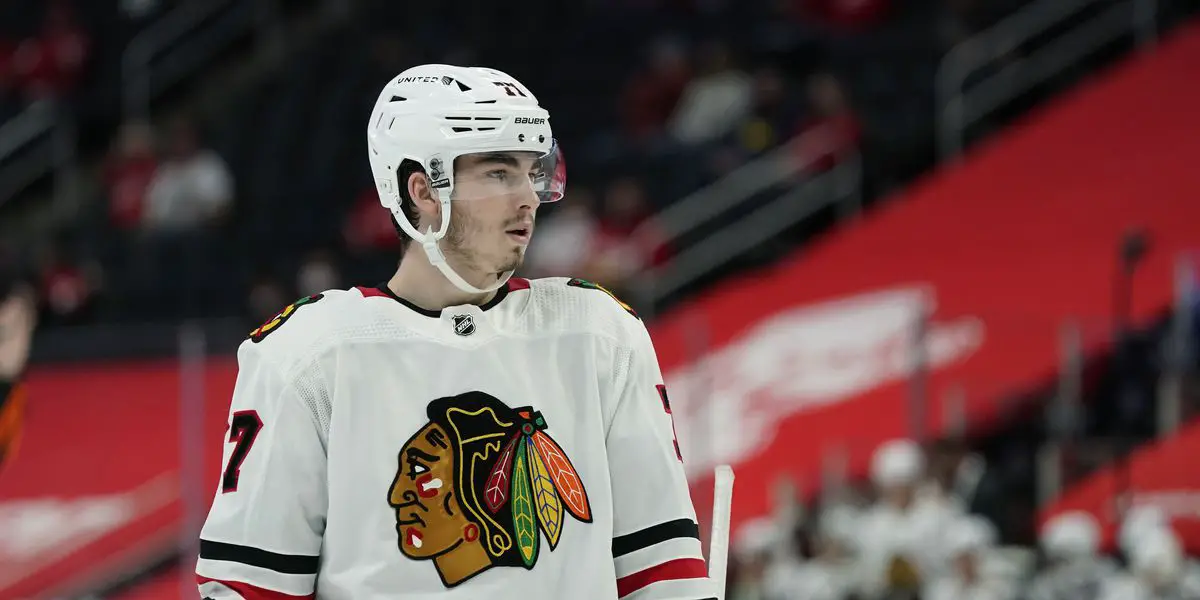 Is it time to hit the panic button on the 2019 third overall pick? When ex-general manager Stan Bowman picked him, it has some Blackhawks fans scratching their heads. Now those same fans have their pitchforks and torches screaming bust in the streets of Twitter. Could they possibly be right?
Since coming into the NHL, it has been a rollercoaster of a ride for the young Canadian. Dach would burst onto the scene in his first rookie camp and would find his way on the NHL roster opening night. This, of course, did not come without a hiccup. Hee would get a concussion and miss the majority of training camp. Kirby would have a pretty solid rookie season, and This was the pandemic shortened year. With eight goals and fifteen assists, Dach would show some flashes during the regular season, but his true potential would come out in the playoff bubble where Dach would just look dominant at times. There could be an argument made that Dach was the best player for the Blackhawks during their short time in the bubble. In the nine-game stretch, Dach would have six points.
Of course, as it's been for Dach once he finally started getting a rhythm, boom, disaster strikes again. While representing his country at World Juniors, he would break his wrist and need surgery. Kirby would miss all but eighteen games of his sophomore campaign. Over which he would flash at times scoring ten points over those games.
Dach would finally get his first full training camp this season. Chicago is at the halfway mark, and Kirby is on pace for twelve goals and sixteen assists. He is not blowing the doors off by any means. Kirby has also been just abysmal in the faceoff dot. 33.8%, to be exact. This could have a lot to do with his wrist injury. In Chicago's past, we have seen wrist injuries take guys a year or longer to get back to where they were. Marcus Kruger broke his wrist and wasn't the same for around a year after returning from his injury. Dach will need to improve this if he wants to remain a center.
Kirby may not be putting up substantial goal totals, and he's not pulling off insane moves like a Zegras who was selected later in the same draft. Dach brings something that most young players do not. Dach is an excellent defensive forward. He is already killing penalties. King also has shown his willingness to deploy Dach on top players at times this season. Kirby has done well when he's been called upon. Dach is a freshly turned twenty-one. Being that young and having the understanding that in order to win, you have to play defensive is massive. Not every young player sets the league on fire. Some players take a little longer to find their offensive groove. Ryan Hartman is twenty-seven and is having his break-out season for the Wild. Kirby also recently talked about how he removed social media from his phone. This is a good sign. Dach had swagger and confidence that just gleamed off him when he entered the league. This shi has dimmed, and tuning out the negative comments might just be the thing Dach needs. Kirby can also look to a guy like Dylan Strome and lean on him to help him in the faceoff circle as Strome has found a way to dramatically improve in that facet of the game. If Kirby can't improve, then you move him to the wing.
Kirby Dach is just fine. Dach missed almost his whole second year with an injury, an injury that can take your confidence away. Dach may take an extra season or two to develop his offensive game. He's a tall, lanky body that will need to continue to add muscle and mass before he can genuinely unlock his abilities. Just stay calm, take a deep breath, give the kid some space and let him grow. Kirby Dach will be an elite two-way forward when it's all said and done.