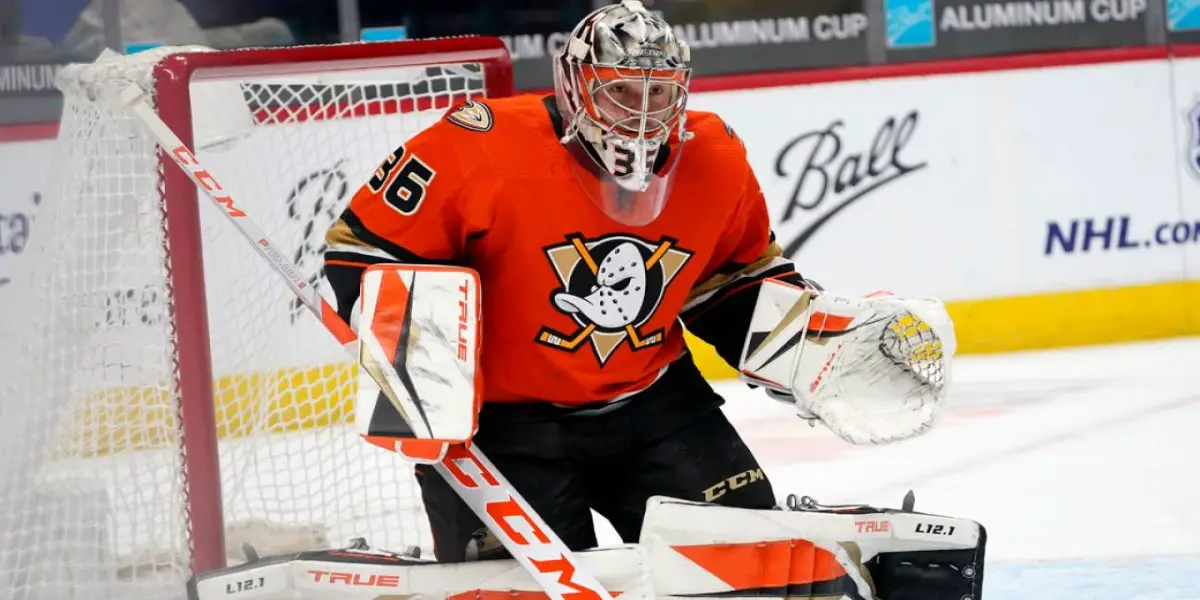 The veteran goaltender is reportedly looking for a change of scenery, but his contract might complicate a trade.
Another domino appears ready to fall after the Ducks' worst season in franchise history: Veteran Ducks goaltender John Gibson is apparently ready to move on from the team, according to a report Friday from the Daily Faceoff.
It is believed that Gibson met with Ducks general manager Pat Verbeek last month to express those sentiments. Gibson is 29 and has four years remaining on a contract with an average annual value of $6.4 million and a limited no-trade clause of 10 teams.
In an interview with the Orange County Register after the Ducks' regular-season finale on April 13, the three-time All-Star goaltender said, "At the end of the day, I want to win hockey games."
That's probably not going to happen as often as Gibson would want with the Ducks. Not with the franchise in the preliminary stages of what could be a lengthy rebuilding process.
So it makes sense that Gibson – who will turn 30 on July 14 – would be looking for a new opportunity at this stage of his career. But wanting a trade and actually making the trade happen are two separate things. There are teams such as the Kings and the Pittsburgh Penguins that could use a goaltender of his caliber but might have a hard time accommodating his salary cap number and/or providing the significant assets that Verbeek would demand in return to move a player of Gibson's pedigree.
It isn't without complications but could conceivably get done this summer. Pittsburgh has a newly named president of hockey operations in Kyle Dubas and an opening in goal as incumbent Tristan Jarry has played out his contract and will be an unrestricted free agent.
Pittsburgh is also Gibson's hometown.
Gibson was asked about his future after the Ducks wrapped up their regular season.
"I don't know. I'm going to take some time," Gibson said. "Obviously, we have our end-of-the-year meetings and see what it is going forward. It's too early to say.
"It is what it is. It's a long off-season. At the end of the day, I want to win hockey games. It's been a sour taste in our mouths, and struggles have been going on. If you ask anybody in the room, we're ready to turn the corner."
Quote Credit (Orange County Register)
The Ducks are in a position where goaltender Lukas Dostal, coming off his rookie season, is probably ready to be a full-time NHLer. They also got serviceable play from Anthony Stolarz when he was healthy at different times this past season. Moreover, there will be goaltending options available around the league, including former Duck Frederik Andersen of the Carolina Hurricanes, a pending unrestricted free agent.
The Kings and Ducks could feasibly do business. The Kings are in win-now mode and might need a goalie. While it's quite complicated to make a trade with a crosstown rival, it might be something that could help both teams.
On this episode of LAP, the guys talk about the continued ups and downs of Ducks hockey from the last week. They cover the short-lived fun from Saturday's shootout win against Colorado and Leo Carlsson's little heater in the last few games. Troy Terry's struggles are discussed amongst a large amount of miscellaneous NHL topics like the draft and some other teams who are on the struggle bus. Follow Late Arrivals Twitter: @latearrivalspodInstagram: @latearrivalspodFollow the hostsChris: @CJKChelConnor: @91_PlutyJake: @_JRobles71Louis: @Louiex37 Intro/ Outro done by Will Rice/ @pastorwillrice