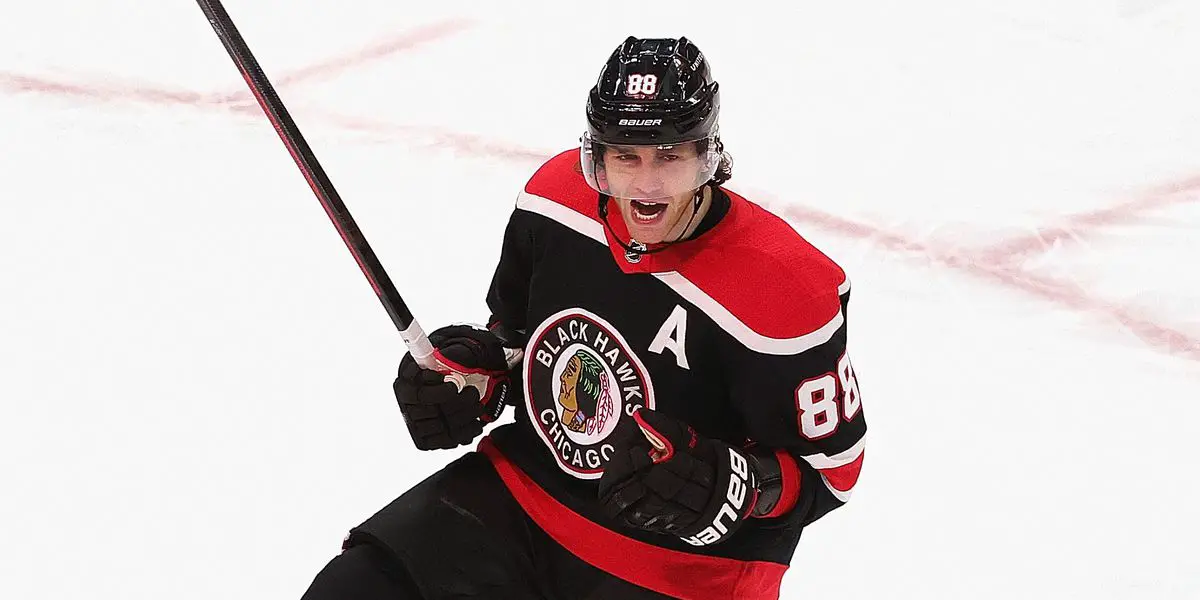 Heading into the 2021 offseason, the Chicago Blackhawks were expected to start their rebuild, finally bringing their dynasty years to a close, but that didn't happen. Part of the reason was longtime Blackhawks captain Jonathan Toews, reportedly unhappy with the management's decision to start the rebuild without warning. Ultimately, the Chicago Blackhawks decided to have one more kick at the can and ended the summer as one of the biggest buyers, trading top defensive prospect Adam Boqvist, a 2021 first-round pick, a 2021 second-round pick, and a 2022 first-round pick for Seth Jones, a 2021 first rounder, and a 2022 sixth-rounder immediately after the Blackhawks would announce a pricey extension for Jones (8-year, $9.5 million AAV).
Chicago would also turn to the Oilers, where they would send Duncan Keith and prospect Tim Soderlund for Caleb Jones and a conditional 2022 third-round pick. The condition on the 3rd round pick was that if the Oilers went to the cup final, it would turn into a second-rounder.
Ultimately, the expensive off-season was for not, as Chicago would have another disappointing season, finishing seventh in the Central Division. This brings us to now. As reported by Elliotte Friedman, "There's been a lot of talk about whether [the Oilers] are going to make a run at Patrick Kane; I think it's legitimate that they'd like to. I don't have any reason to believe that talk is hot air… I think this is legitimate, not hot air.".
Patrick Kane on the Oilers would be something I'm sure fans would want to see because it would be funny to see but is it what the Oilers need right now?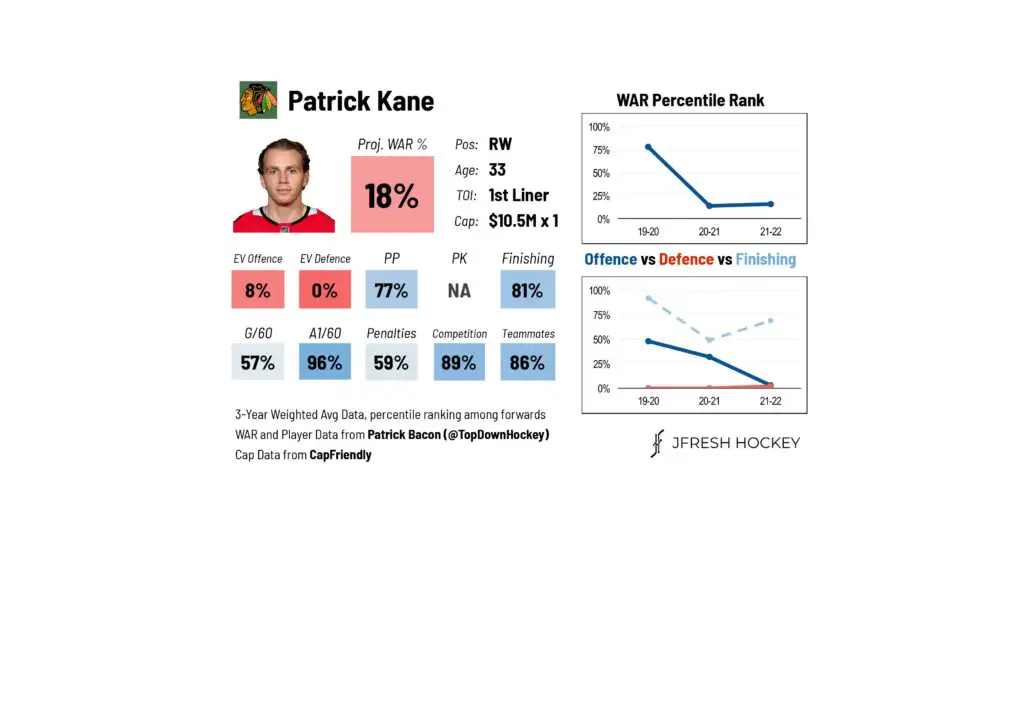 Too Much Offence?
With the Oilers keeping their top 6 bolstered after re-signing Evander Kane and Jesse Puljujarvi, the focus of many turned to defense, as it is something that plagued the Oilers last season in both the regular and post-season. Luckily, the Oilers could outscore their problems on most nights when needed; this especially happened after the signing of Evander Kane in late January. During the last half of the season, E.Kane went on to post substantial numbers alongside McDavid, scoring 22 goals and 39 points in 43 games. The Oilers had one of the best offenses in the league after his signing, and he was a key factor in the Oilers winning in the first round against the LA Kings, where he would finish the series with seven goals and 9 points in 7 games.
So, after looking at that, do the Oilers need Patrick Kane more than they need defense? No, no, they do not.
Now, if a trade did happen, it would most likely happen close to or at the trade deadline, as it's reported Patrick Kane would like to stay in Chicago for the start of this season. The Oilers aren't the only ones rumored in on Kane, as both the Toronto Maple Leafs and Columbus Blue Jackets have contacted Hawks GM Kyle Davidson about Kane's availability, and I'm sure as the season goes on, more and more teams will be checking in. Which I am sure will lead to an expensive bidding war for teams.
If Not Patrick Kane, Who Else?
The Oilers need two things, defense and cap space. They might be able to kill two birds with one stone by trading right-shot defenseman Tyson Barrie. Cap space is brought up because they still need to sign RFA Ryan McLeod, the young center who will surely be given a more significant role within the team this coming season.
Now, the ideal defenseman for the Oilers in a trade scenario is currently on the Dallas Stars, Jani Hakanpää. Hakanpää fits the Oilers' need immediately, both in play and at cost. Hakanpää, 30, has two years left on his contract at the cost of $1.5 million AAV; he is a guy who posts solid analytics and is not afraid to get physical when needed. A comparable for Hakanpää is a player like Adam Larsson, who also had great defensive numbers and wasn't afraid to throw or take a hit.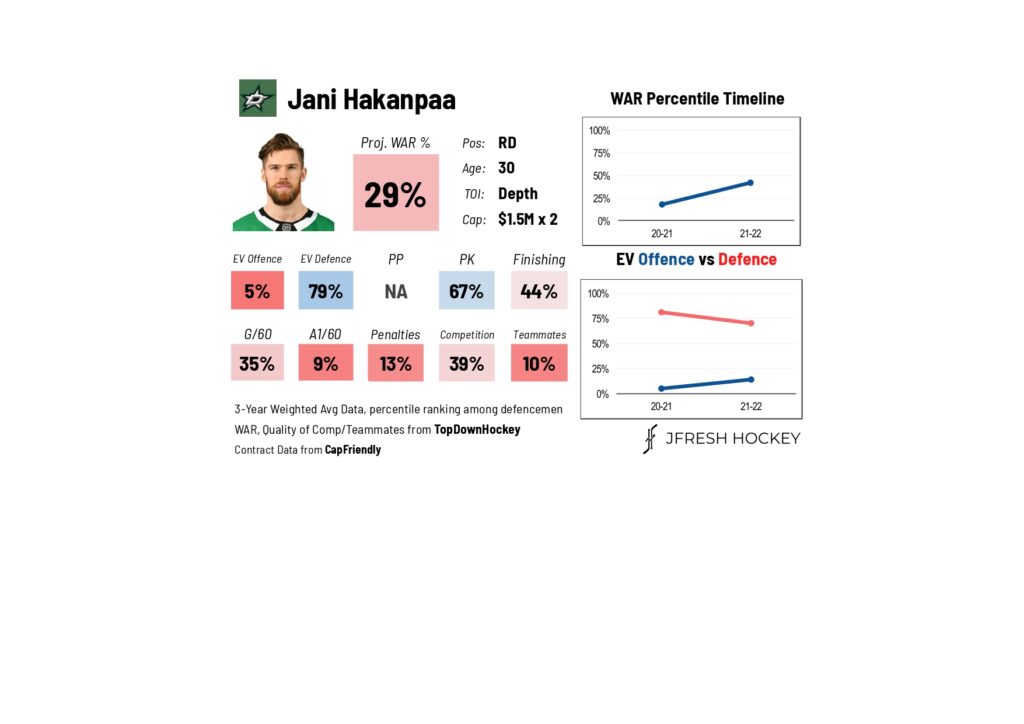 Another reason Tyson Barrie could be on the outs is the play of Evan Bouchard last season, who took a big step into the Oilers' top 4 and pushed Barrie down the defensive depth chart. While both Barrie and Bouchard are comparable because they are offensive defensemen, Bouchard had a much better even-strength play and cost significantly less money.
Now whether or not Dallas would trade Hakanpää is something we don't know, as there haven't been any rumors around a trade. This is pure speculation.
All In All
It doesn't seem to make sense for the Oilers to spend the assets it would cost on Kane, not on the defensive side. While Kane would push the Oilers' offensive side to another level, and as fun, as it would be to see him on the same line as McDavid, it's tough to win off of goals alone. We've seen it in the Colorado series; it is tough to win games by depending heavily on goal-scoring. There are sure to be changes and rumors in the coming days. As the season is just around the corner, it should be entertaining to watch how it will all unfold.