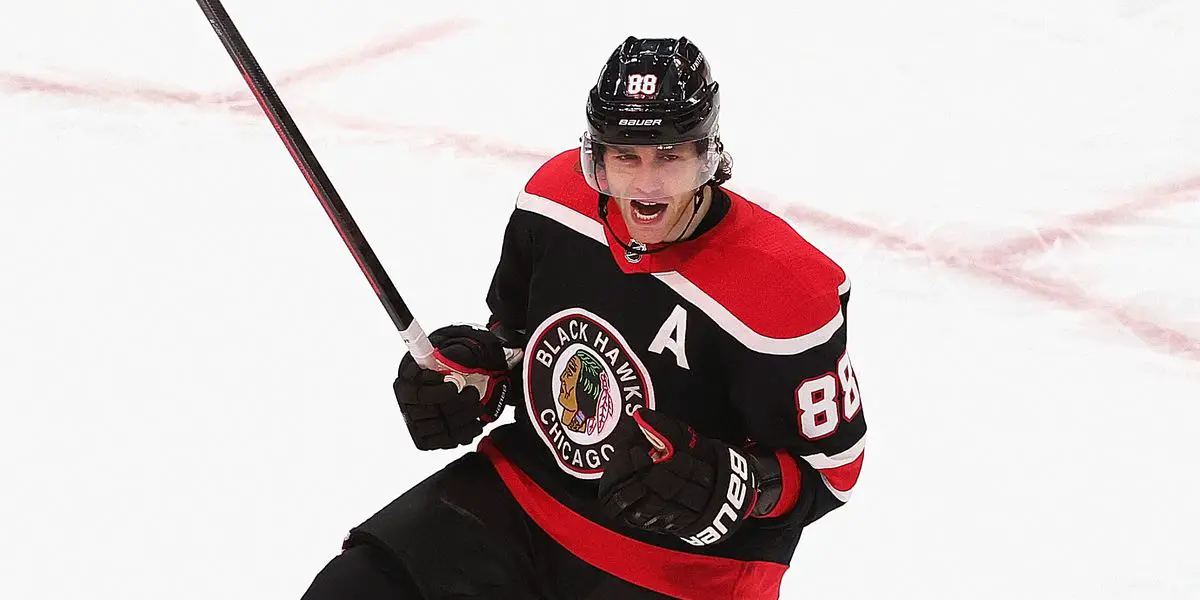 Patrick Kane hit another milestone over the week. 4:46 into the third period, Kane drifted towards the middle of the ice and took a wrist shot that Taylor Raddysh tipped past goaltender Jaroslav Halak. This assist for Patrick Kane would be his 1,200 points in the National Hockey League (Not including playoff stats). That is an insane feat, and it places Kane in the top 50 ALL-TIME in NHL history for points in a career, tied for 49th with Dino Ciccarelli. It is disappointing that this accomplishment hasn't gotten the praise it deserves. Patrick Kane is the best American-born player in NHL history, establishing himself as the greatest Blackhawk of all time.
The Chicago Blackhawks are an original six franchise with droves of hall-of-fame hockey players in and out of the organization. Patrick Kane stands above them all. Players like Chris Chelios and Bobby Hall were top-tier players. However, they didn't stay in Chicago long enough to hold the crown, and some people still have a grudge against Chelios for leaving and going to the Detroit Red Wings. Kane has already blown past Denis Savard and Steve Larmer in every significant stat. Leaving only one player, Stan Mikita. Mikita has worn the Blackhawk's crown for best player for decades, but it's time for him to pass the torch to Patrick Kane. Mikita still holds a significant lead over Kane in goals, points, and assists. Mikita has also played 246 more games than Kane. If Kane decides to stay in Chicago, he could easily surpass Makita.
What separates Kane and puts him ahead of Makita is his success. Yeah, Mikita would help the Blackhawks win ONE Stanley cup in his second season in the NHL and lead the Playoffs in goals during that run. Kane has matched that and more. Patrick Kane was a significant reason the Blackhawks had the only modern-day Dynasty. The Blackhawks would win the Stanley cup in 2010, 2013, and 2010. Patrick Kane would score the BIGGEST goal in franchise history on June 9th, 2010, versus the Philidelphia Flyers. Using a quick head wiggle, then fired a quick snap shot past Michael Leighton and snapped a 47-year drought for the Blackhawks.
Kane has scored four more overtime winners, including his Hat-trick winning goal versus the Los Angeles Kings in 2013. Then, Kane would break out the "Heart Breaker" celebration that many consider the greatest in Blackhawk's history.
Kane led the Blackhawks in 2013, winning the Conn Smythe Trophy (MVP of the Playoffs). Poetically Kane would finish the 2013 playoffs with nine goals matching what Mikita had in 1961. Mikita and Kane have won the Hart Trophy and the Art Ross Trophy.
Both players are extraordinary and change the game; Mikita is why hockey players use curved sticks. While Patrick Kane has changed how the next generation will play the sport, look at players like Jack Hughes and Frank Nazar. Mikita and Kane will have everlasting legacies, but the torch has been passed. Kane's individual and team success has him one step above the great Stan Mikita. Not to mention Patrick Kane is the most clutch Blackhawks of all time, with Seabrook just behind him.
Season 2 Episode 10: Is Patrick Kane The Greatest Blackhawks Player Of All Time
–
Cue The Dagger
In this episode, we discuss if Patrick Kane is the greatest Blackhawks player of all-time, Lukas Reichel's one NHL game, and his unbelievable shootout goal. We also break down Seattle's chances of making the playoffs, is hitting and fighting making a comeback? and much more NHL news and topics  #Blackhawks #ALLCAPS #NHL #SeaKraken #LetsGoBuffalo