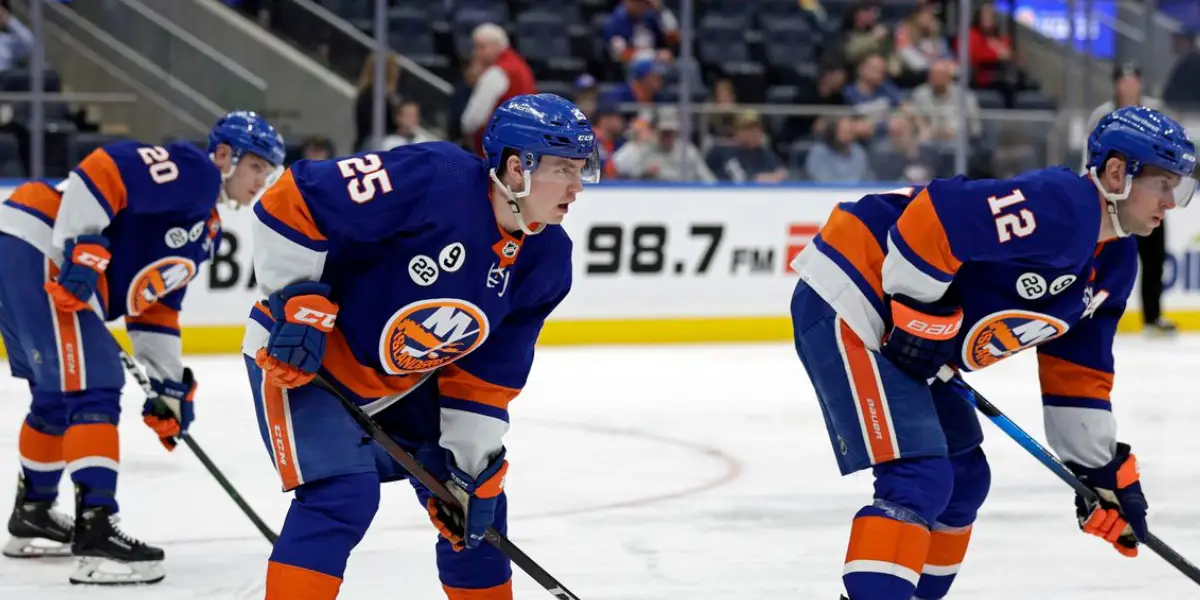 Time has come and gone since July 13th at noon EST with NHL teams signing players and making trades to fulfill the needs in their rosters. However, one team has been inactive during this period without a trace of information: The New York Islanders. While a lack of information may seem the norm in the Lou Lamoriello era, there are still burning questions at each position as to who will be on the roster come October for the start of the season. Let's look at some of the best and worst-case scenarios at each position to see what the Islanders may look like when the season officially begins.
Will There Be a New Forward in the Mix?
One train of thought may lead Islanders fans to think that last year was a complete write-off and the team should stick together. When it comes to the forwards currently signed, it is identical to how the season ended minus Kieffer Bellows being unsigned as an RFA. At the same time, another could call for the roster overhauling, with picks coupled with Josh Bailey to free up some cap space and Anthony Beauvillier being packaged in a deal to acquire a true game changer to play on Mat Barzal's wing. When it comes to the Islanders, the best-case scenario is a mix of both. Josh Bailey's cap hit, mixed with how he performed last season, is hurting the team too much and needs to be moved to help alleviate some of the cap crunch.
After making this move, the Islanders need to look to acquire someone who can make an impact right now while also not dismantling the Islanders system, so for this to work, Matthew Tkachuk would not be an Islander. Instead, by using fewer assets, the Islanders should aim to acquire Timo Meier from the San Jose Sharks. This player has scored 30 goals twice in his young career while also scoring at almost a point per game pace on an abysmal Sharks team last season. In the best case, the Islanders unload a veteran cap hit and bring in a dynamic player that can thrive next to Barzal. Worst case scenario involves the Islanders standing pat ultimately, with no moves being made, and employing a set of wingers including Parise, Beauvillier, and Bailey. The forwards aren't getting any younger, and expecting a magical turnaround with the same roster is simply the worst-case scenario.
Scott Mayfield's Partner
Defensively, the Islanders are in a much better position than at the start of last season. The acquisition of Romanov at the draft has made the gaping hole on the left side of the defense significantly less and has made the previous question to be who will Scott Mayfield be paired with. The best-case scenario would have to be the Islanders having players like Sebastion Aho and Robin Salo battle it out for that spot.
While they may not have been overly impressive in their short NHL stints last season, there was enough to prove that they deserve a real shot at an everyday NHL spot, and it would be best case scenario to see one of them grab the spot next to Mayfield and run with it. Worst case scenario would have to be Lou Lamoriello doing Lou Lamoriello things and signing an older defenseman who would be stealing time from a significantly younger option. A player like Danny DeKeyser or Lou even convincing Greene or Chara not to retire and come back would hurt the defense much more than it would help.
The Sorokin Show
Ilya Sorokin has taken the reins in the Islanders' crease. There's no indication that he will be losing that job anytime soon, but the Islanders goaltending tandem still has some questions. Semyon Varlamov has been fantastic while wearing the blue and orange. However, his status as the Islanders' backup is a genuine question. There are plenty of rumors circulating about Sorokin's status amidst details in Russia, which could make deciding what to do with Varlamov that much more complicated. Ultimately, the best-case scenario is to keep Varlamov on the roster and keep arguably the league's best goaltending tandem together.
There is too much speculation around Sorokin to lose Varlamov comfortably. If anything happens to Sorokin's play, the Islanders will have a capable 1B goaltender ready to take the crease. Worst case scenario is the opposite, understandably so. Shipping off Varlamov before the start of the season would hurt the Islanders for the reasons listed earlier. Still, it would also put the organization's weight on Sorokin's shoulders. Maybe Sorokin thrives with that pressure, but perhaps he falters with it, and that unnecessary risk is not one the Islanders are in a position to make, as next season needs to be successful.
The boys are back after a long break but have plenty to talk about as the playoffs are in full swing. We go series by series, looking at how teams have fared so far and who will come out on top. Thanks for listening! Please rate and review our show on your favorite listening platform. Check out our partner's website at www.insidetherink.com for all your latest hockey news.