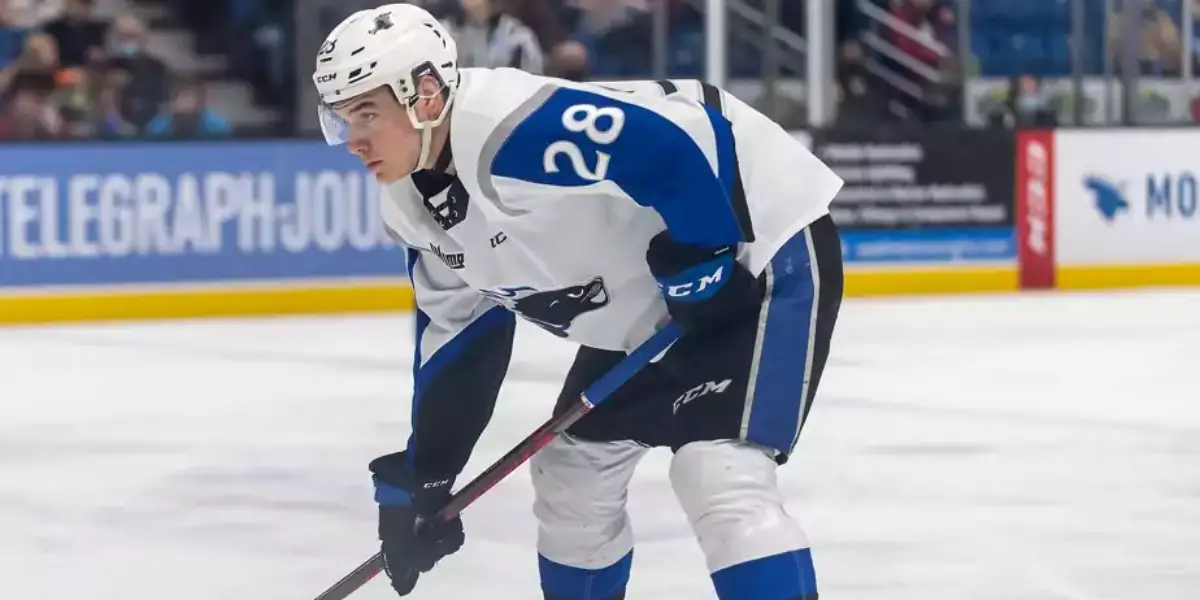 The New York Islanders have signed prospect forward William DuFour to a three-year entry-level contract, as announced by the team on Thursday. 
DuFour, 20, was a fifth-round pick by the Isles (152nd overall) in the 2020 Entry Draft. Through 197 games played over four seasons in the Quebec Major Junior Hockey League (QMJHL), the 6'3", 205-pound forward has 214 points split between the Drummondville Voltigeurs, Chicoutimi Sagueneens, Rouyn-Noranda Huskies, and Saint John Sea Dogs (his current team). 
So what exactly makes the signing of DuFour so notable? The Isles had until July 1st to lock up DuFour before losing his draft rights. In addition, before this season, DuFour's career highs in both goals and points (18 goals, 33 points) came through 28 games in 2019-20 with Drummondville. In fact, before the 2021-22 season, DuFour's career-high in games played was only 31. 
Just two seasons later, DuFour has exploded offensively, to say the least. Through 61 games played this season (doubling his previous personal record mentioned above) with Saint John, DuFour leads the QMJHL in goals (52), highlighted by a four-goal game against the Moncton Wildcats on Feb. 27.
 He also leads the league in points (109). The next highest scoring Sea Dogs player is center Josh Lawrence, with 91 points to put that into context. When this article is being written, the Sea Dogs have five games remaining on their regular-season schedule and a chance for DuFour to continue his magical season. 
Let's talk more about the Sea Dogs in particular, as this is only DuFour's first season in a Saint John uniform. This is already the most incredible goal-scoring season in team history, as DuFour passed the previous record of 48 by Danick Gauthier in 2011-12. The assists record might not be touched this season, as he's seven helpers back of his teammate mentioned above, Lawrence.
But the points record, however, is now owned by DuFour. He's four points ahead of the previous record of 105, set back in the 2010-11 season. You may have heard of the previous record-holder a few times before… Jonathan Huberdeau? You know, the guy who's currently two points off from leading the NHL in scoring and is only producing the best offensive season in Florida Panthers history? 
Also, before the comments come in, I am in no way comparing a 20-year-old who has yet to make a name for himself professionally to a guy like Huberdeau. All I'm saying is that a season like this can't go unrecognized, especially coming from a fifth-round draft pick. 
Now it's looking to the future for DuFour. Saint John is currently second in the Maritimes division, with playoffs just around the corner. In addition, the Sea Dogs are set to host the Memorial Cup from June 20-29. They will be joined by the three league champions coming out of the Ontario Hockey League (OHL), Western Hockey League (WHL), and QMJHL. 
I'll end with this… could the Islanders have themselves a diamond in the rough in DuFour? Only time will tell, but there's no denying his season to date has been one for the ages.