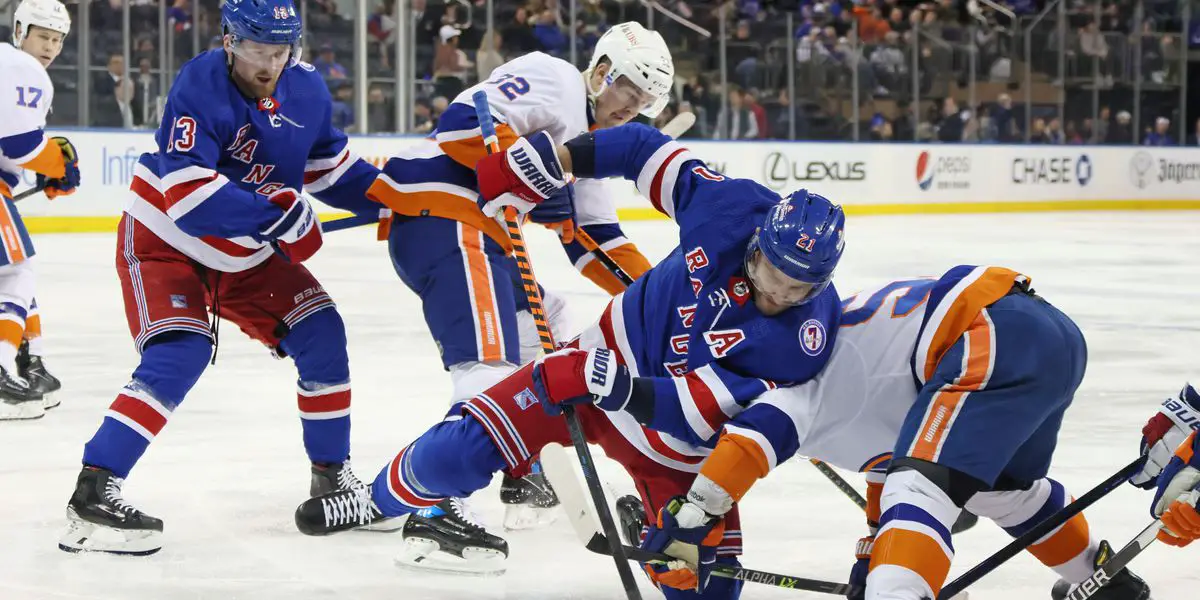 The season is over. Despite it looking grim at times with multiple question marks surrounding the schedule, 82 games have been started and completed, and the New York Islanders season has come to a close. They finished the season sitting at a 37-35-10 record, good enough for 5th in the Metropolitan Division, 9th in the Eastern Conference, and 20th in the NHL overall. Disappointment is an understatement as there is much to talk about and evaluate around this Islanders season. Specifically, the team finished in the bottom 10 in goals per game at 2.79, and it can all be traced back to the performance of the forward group.
When it comes to the forward core, it's best to look at the pieces by their positions. The centers, Brock Nelson, Mat Barzal, JG Pageau, and Casey Cizikas, all are pivotal pieces to the Islanders, and for the team to succeed, all need to be performing at their best. Brock Nelson had a career year offensively, scoring 37 goals and 59 points in 72 games, tying him for first on the team in points. Nelson started the year hot, scoring ten goals in his first 19 games, before injuries, the league going on pause, and testing positive for COVID had him only play four games in 6 weeks. After missing time, Nelson scored 27 goals in the final 51 games, which over a full 82 games would account for 43.4 goals on the year. Nelson became a spark offensively in an otherwise abysmal year for the Islanders offense. It gives promise looking to next season that a more well-rounded offensive attack could be a part of the Islanders identity. Tied with Nelson for the team lead in points was Mat Barzal, a player that everyone expects offensive production from a night in and night out. His season concluded with 15 goals and 59 points in 73 games, giving Barzal his second-lowest points per game percentage of his career at .808, but only barely lower than last season's percentage that sat at .818. The fanbase will always look at Barzal to carry the offense, and it can be easy to look at his numbers and say he is not producing enough. Barzal is producing as Barzal has since his astounding rookie season, especially given that he has had numerous combinations of wingers. Barzal said in his end of the season press conference that it was tough to find chemistry with his wingers, but he feels as though he, Parise, and Palmieri have found something that works and hopes the chemistry they built can be carried over into the next season.
The bottom six centers, Pageau and Cizikas, both had rough starts to the year in the eyes of the fans, but looking back at their season totals, it wasn't as bad as the reactions made it seem. Pageau finished with 18 goals and 39 points in 77 games, with Cizikas having 10 goals and 16 points in 77 games. Both season totals are acceptable given their spots in the lineup. They are the best penalty killers on the team and finished 1 and 2 in team faceoff percentage (Pageau with 55.3%, Cizikas with 55.6%). They looked lost, injured, or perhaps disinterested at times, but both are incredibly important for next season. The Islanders are in a good spot if they can both continue their strong defensive presence while possibly being slightly more consistent over the entire season. When looking at the Islanders, the center core is the spot that fans can feel comfortable about.
When it comes to the wingers on the Islanders, that is where the issues arise offensively. There are way too many question marks about performances and what fans want to see happen in the offseason. The good start with Anders Lee and Zach Parise, who played an integral part after the covid shutdown in keeping the team afloat. Lee, who scored 28 goals this year in 78 games, looked a little lost to start the year playing with Barzal, but once Nelson started centering him, the two started to become a real force offensively. On the other hand, Parise notched 15 goals and 35 points in 82 games, the only Islander to obtain that feat. At age 37, Parise was widely praised for his hard work and consistently giving his all on the ice and found a ton of chemistry with Barzal later into the season. Kyle Palmieri, who scored 15 goals and 33 points in 68 games, could find himself into the good category next season, but this season was the unluckiest season in recent memory, with six goals being called back on the forward. If he can find consistency and maybe gain a little luck, he could be in store for a tremendous season next year. The last forward that fans can agree had a good season was Cal Clutterbuck. Clutterbuck is a fan favorite; he puts his body on the line to benefit the team, and whenever fans need something to cheer about, Clutterbuck is right there with a huge block or big hit to get the crowd into the game. There's not much to be said about him other than hopefully, his offseason recovery goes well, and Clutterbuck is 100% healthy going into next season.
The rest of the wingers frankly fall under the category of simply disappointing. Wingers like Anthony Beauvillier and Josh Bailey have expected more than the 34 and 44 points they put up and can not be overlooked. Bailey has been criticized his entire Islanders tenure. His presence in a top 6 role slows the offense down a ton, while Beauvillier is not being consistent enough to entertain playing him in a top 6 role himself next season. They both bring a ton defensively, with both being members of the penalty kill, but that can't be their only contribution for the dollars they are signed to. Oliver Wahlstrom and Keiffer Bellows also fall under the disappointing status, as there have been such high hopes for the former first-round draft picks. Both players seemed to endure the same cycle of having a couple of good games, going silent for the next few, and finally having their ice time reduced before being scratched for their poor performance. The likelihood of Bellows becoming anything more than a depth piece is slim, but he shows so much promise in his good games that the hope of becoming a mainstay Islander is still there.


On the other hand, Wahlstrom seems like he's always on the brink of becoming a top 6 player, but his decision-making at times makes him end right back up into the press box. He finished the season with 13 goals in 73 games, but he also finished second in penalty minutes with 74. Wahlstrom seems to be in good spirits about Trotz's decisions regarding his playing time and understands why Trotz is penalizing him so much. Hopefully, Wahlstrom can take lessons from his first entire NHL season and come into next season with a purpose. The last two wingers, Matt Martin and Ross Johnston had seasons that honestly are so forgettable that it's tough to evaluate. Martin is beloved by Islanders fans, but his play is not where it used to be. He isn't finishing the golden opportunities he needs to score to be an effective 4th liner. It doesn't help that the "Martin" replacement in Ross Johnston is arguably less noticeable, and if he was taken off the team, it's questionable if fans would even notice. Both players need to play mistake-free hockey next season and make a mark toward fans who can be trusted. Fans deserve better than to be holding their breath every time they're on the ice.
Islanders fans should grow comfortable with the idea that answers offensively will be coming from the current group and players in Bridgeport right now. For better or worse, the forward core will be looking remarkably similar to how it looked this season, barring some crazy trade that none of us see coming to provide some cap relief. Regardless of how this year panned out if the forwards can find chemistry early and be consistent, the Islanders look primed to be in a good spot next season.