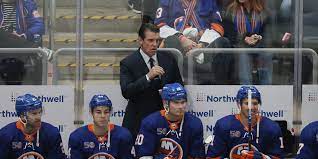 It does not have to be this way for the New York Islanders in their first-round Stanley Cup playoff matchup with the Carolina Hurricanes.
Going into this series, the Islanders had the better goaltender in Ilya Sorokin, a little bit more offensive depth than the injury-ravaged Hurricanes, and they had been playing playoff-style hockey for the last month or so. Yes, the Hurricanes were favored to win this series, but not in the way they are doing it right now.
As of this writing (Monday, April 24th), the Islanders are down 3-1 in the series. After playing their best game of the series with a 5-1 win in Game 3 on Friday night, April 21st, the Islanders went out and played a stinker in a 5-2 loss in Game 4 on Sunday afternoon, April 23rd.
There are a few reasons why the Islanders are in this position. For starters, the Islanders are making Hurricanes goaltender Antti Raanta look like an All-Star in this series. 
Through four games, Raanta, 33, has posted a 2.46 goals-against average and a .915 save percentage. While Raanta is a good goaltender, he is certainly not a world-beater. 
Raanta can be scored upon by crashing the net for rebounds and by putting traffic in front of him. The Islanders have yet to do those two things mentioned above consistently, and because of that, Raanta has been able to have success in this series. 
If they do not do those things in Game 5 on Tuesday night, April 25th, the Islanders' season will be over. Raanta is more than beatable, so the Islanders must go out and do it for three straight games.
Secondly, the Islanders looked lost in Game 4. Their penalty kill was awful, they lacked team speed, they did not have their pucks on their sticks enough, and they did not help out their All-Star goaltender.
When you play that kind of hockey, you are going to lose, especially to a team like the Hurricanes. The Hurricanes are dealing with a lot of injuries right now, so anytime they are given an opportunity to pounce on a mistake, they will take it.
Lastly, the Islanders have not been playing very disciplined hockey. They have taken a lot of ill-advised penalties in this series, and the Hurricanes have made them pay the price.
The Islanders will be playing for their playoff lives in Game 5. If they want to win, they better fix their game ASAP, or it will be time to get the golf clubs out.
The boys are back after a long break but have plenty to talk about as the playoffs are in full swing. We go series by series, looking at how teams have fared so far and who will come out on top. Thanks for listening! Please rate and review our show on your favorite listening platform. Check out our partner's website at www.insidetherink.com for all your latest hockey news.