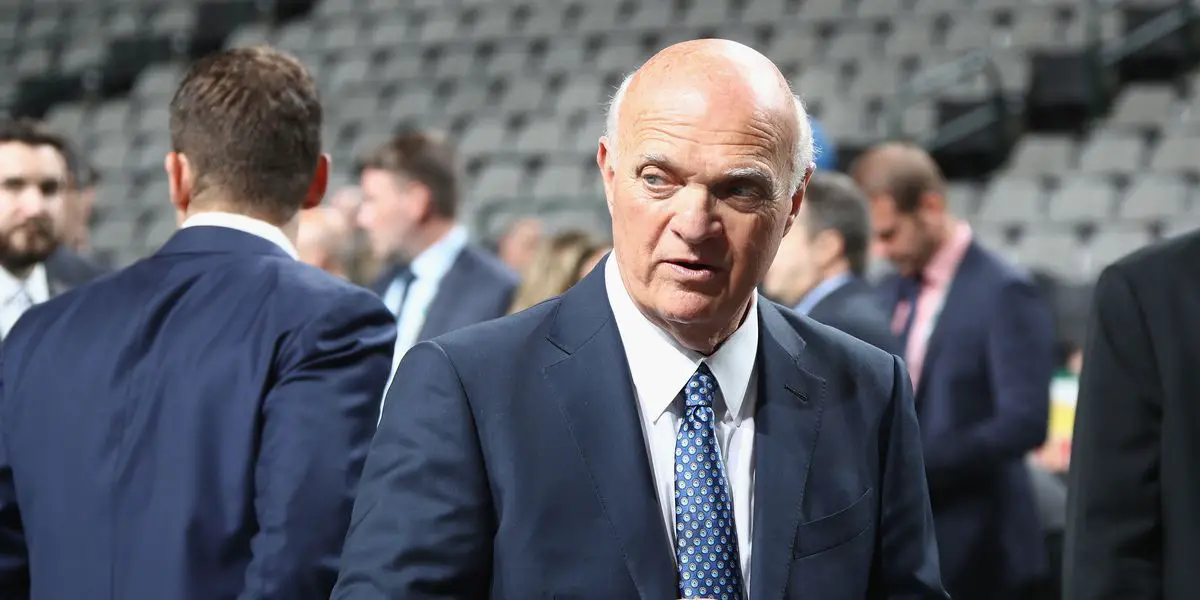 Lou Lamoriello made an unpopular decision in terminating Head Coach Barry Trotz from his position behind the Islanders bench, and it has not been sitting well with Islanders fans. For the first time in a very long time, and for many Islanders fans, this was the first time in their entire lives that the Islanders were making moves on and off the ice to become a top team in the NHL. It is no mistake that Barry Trotz was at the forefront of that resurgence, and seeing him leave at the hands of Lou leaves a bitter taste in many fans' mouths. Is Lou making a mistake? Are the Islanders screwed? Let's look at three reasons why Islanders fans should take a deep breath and trust what Lou is doing.
1. Lou's contracts are *not* mistakes
Islanders fans need to trust in Lou's contracts. There is a ton of talk about Lou's extensions and signings of older, veteran players, but when those players are looked at, there is no way someone could say that Lou made a mistake in the contracts given out. The contracts given out to Anders Lee, the entire 4th line, Ross Johnston, and Kyle Palmieri are constantly being brought up as bad contracts. Still, it is understandable to see why they were made when looking at them individually. Anders Lee was signed to a 7-year, $49 million contract in July of 2019, and after losing John Tavares in free agency the year prior, it makes total sense why Lamoriello signed Lee to this style of contract. Lee was the captain, the right-hand man to Barzal, and the voice of the Islanders. Losing a captain in two straight seasons would have been detrimental to the mentality of the fan base and the mentality of the Islanders locker room. The contract needed to be signed to ensure stability to the Islanders organization. It may not be pleasant to have in Lee's later years, but it surely is nice to have as good a captain as Lee is. Palmieri has had a tough go since becoming an Islander, but if anyone had "Palmieri will have six goals called back against him and have the worst year of his career since the 2014/2015 season" on their bingo card, it would be someone worth contacting for lottery numbers. Palmieri is a very good top-six winger, a player who has a crazy good shot, works hard in the dirty areas, and who deserved a contract worth $20 million over four years.
No one should look too much into the offensive slumps a ton of Islanders experienced this year, as the season was an outlier for most of the lineup. The $5 million cap hit Palmieri carries shouldn't be looked at as a devastating contract, especially given that Barzal made comments himself on enjoying having that chemistry between him, Palmieri, and Parise towards the end of the season. The other signings aren't as bad as they're made out to be. The 4th line and Ross Johnston together carry a cap hit of $6.85 million, a number that could be lower but isn't something that should be focused on. Casey Cizikas at $2.5 million may look like an overpay later in his career, but being a top penalty killer and the driver of the 4th line altogether makes his contract impactful and worth it. Cal Clutterbuck is coming off season-ending surgery to his shoulder but having yet another penalty killer signed to only a $1.75 million cap hit for only two seasons is pretty good and cheaper than other options for that role. The other two, Matt Martin and Ross Johnston, are the only two of the bunch that seems to be performing under expectations. Still, it is a minuscule position to be critiqued with the entire 4th line and Ross Johnston only taking up 8% of the cap space (the cap rises to $82.5 million next season). In a state of anger or disappointment, it's easy to point the blame at Lou for his cap management, but when a step back is taken, it can be seen that most contracts on the team are exactly what they needed to be.
2. Lou makes the hard business decisions
The name Devon Toews will haunt Islanders fans until the day Toews retires (hopefully without winning a Stanley Cup), and it's understandable to have the initial reaction to say that Lou made a dumb move. Still, due to the cap situation the Islanders were in, it had to be done. Lou was dealt a bad hand from contracts signed by former general manager Garth Snow, specifically in Andrew Ladd, Josh Bailey, Nick Leddy, and Johnny Boychuk at the time, and cap gymnastics needed to be made after the Islanders made an improbable run to the Eastern Conference Finals in the 2020 NHL Bubble. Someone had to go and be moved, and unfortunately, that was Devon Toews. If a player like Ladd, Boychuk (prior to him ending his career due to injuries), or Bailey were to be traded, it would have cost the Islanders assets that they simply did not have to move.
They already sent their first-round and second-round picks to Ottawa for JG Pageau (a great move by Lou as championships are won down the middle of the ice) and did not have the resources to keep shipping off expensive players to free up cap space. Instead, Lou made the difficult business decision to trade away a younger defenseman and get some resources back into the organization. Having that second-round pick in 2021 allowed the Islanders to make a trade for Palmieri at last year's trade deadline and make a big push for chasing a Stanley Cup, and the other second-round pick is set to be used in two months. One may have their opinion on wanting to keep Toews over Palmieri, but that is an option only because we could see what happened after the Toews trade, specifically getting some cap relief upon Anders Lee tearing his ACL in March of 2021. If anything should be taken from Lou's trade history as the general manager of the Islanders, it should be that he makes the business decisions needed to keep the team in the best overall standing.
Another great example is how he chose to sign Semyon Varlamov over resigning Robin Lehner following the 2018/2019 season, a move that was criticized heavily at the time. Varlamov has been a fantastic Islander for three seasons now, but has anyone heard of Ilya Sorokin? A big component of having Sorokin wear the Islanders crest is having Varlamov as his goalie partner. That's not possible without Lou making the hard business decision.
3. The Islanders' future after Lou
This last point may be something that some fans are going to wish come sooner rather than later. Still, one of the biggest positives that Lou Lamoriello brings to the Islanders is that when he is officially done as the Islanders' general manager, he will leave the team in the hands of someone capable of doing the job. Former Penguins general manager Ray Shero stepped in when he left the Devils. While the Devils may not have had tremendous success after his arrival, he still brought some stability and his Stanley Cup-winning prestige. Also, acquiring Taylor Hall and having him win MVP sounds pretty good. After the Leafs and Lou ended their working relationship, the Leafs were left with current general manager Kyle Dubas, who has done a great job of working the salary cap to the maximum to allow his roster to house his four superstar forwards. Lou isn't going to be the Islanders' general manager forever, and when he leaves, there is the confidence that the Islanders will be in good hands and won't fall into irrelevancy for decades once again.
Islanders fans have a right to feel emotional about their favorite players, and now their favorite coaches no longer being a part of the Islanders organization. Still, Lou always has a plan and will be acting in the best course of action for the Islanders. Have some faith and trust, Lou.