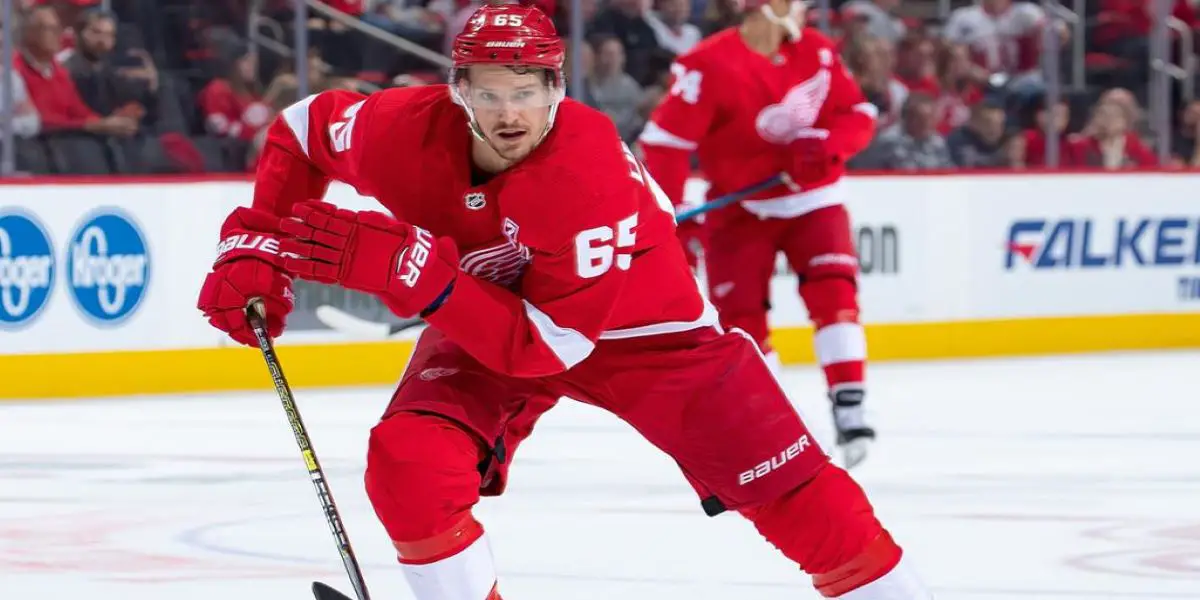 Since undergoing back surgery at the end of 2019, DeKeyser has struggled to get his game back to where it once was. After being signed as a college free agent out of Western Michigan in 2013, DeKeyser was one of Detroit's best defensemen until his surgery. Now in 2022, he has been the weakest link to the defensive core, and if Tuesday's game is any indication, it may be a while until DeKeyser gets back into the lineup.
After only playing ten games last season, the Red Wings decided to make the tough decision and placed DeKeyser on waivers. It was apparent that DeKeyser wasn't up to speed, and with the off-season additions of Troy Stecher, Jon Merrill, and Marc Staal, Jeff Blashill was able to take him out of the lineup. Blashill recognized that DeKeyser wasn't 100% and that he still believed that DeKeyser could be an impact player for Detroit. With the circumstances of last season, Detroit sent DeKeyser to the taxi squad, which allowed DeKeyser to stay in Detroit with his family and get his game back on track at his own pace instead of playing in Grand Rapids. 
DeKeyser was able to get back into the Red Wings' lineup a week later and played a consistent role in the top-four the rest of the season, averaging a little over 19 minutes a game. DeKeyser seemed to fit in best playing alongside at the time Red Wings' rookie, Gustav Lindstrom, who was called up after the trade deadline. Lindstrom's steady, stay-at-home style was able to ease some pressure off of DeKeyser, who was usually the more defensive-minded of any pairing he was on throughout his career. DeKeyser even capped off the season with goals in back-to-back games versus Columbus.
This Season
With another summer of recovery and a strong ending to the previous season, there was some hope around the Red Wings that DeKeyser would be able to be a top-four option this season. Out of training camp, DeKeyser was paired with Filip Hronek, who had been his most consistent partner in the previous two seasons. While Hronek is more of an offensive defenseman, the hope was DeKeyser would carry the majority of the load defensively, as Blashill has referred to him as a "human eraser." So far this season, DeKeyser has been more of a human pen.
In 42 games this season, DeKeyser has zero goals and five assists with a plus/minus rating of -13. He has been noticeably slower this season, often losing foot races in open ice or the corner for a loose puck. Along with his foot speed, DeKeyser's strength isn't to the level that it was before his surgery. A sequence that showed where his game was at this season was Tyler Johnson's goal on October 24th in Chicago.
Not only does DeKeyser lose a foot race for a loose puck to a player who is three steps behind him, but he also gets outmuscled by Tyler Johnson, who is listed at 5'8 and 185 pounds. For reference, Danny DeKeyser is listed at 6'3 and 190 pounds.
From Evolving Hockey, DeKeyser's Goals Above Replacement is -8.5, the worst of his career and ranks worst out of Detroit's eight rostered defensemen.
DeKeyser has slowly started losing the trust of the coaching staff. While he has been mostly paired with Moritz Seider, his ice-time doesn't reflect a top-pairing defenseman. Since December, his average ice-time per game has dropped to 17:51 minutes. Tuesday night's game versus Carolina, DeKeyser was a healthy scratch after back-to-back games where he struggled defensively.
What's Next?
It is pretty clear that DeKeyser has disappointed this season, which has been reflected by decreasing usage and multiple healthy scratches. Unfortunately, it looks like DeKeyser won't be able to get back to where he was pre-2019. Last season saw DeKeyser waived and kept on the roster due to roster space, and this season is different.
Jakub Vrana is nearing his return, and Detroit's roster space is currently maxed out at 23 players. If Vrana isn't ready to play until after the trade deadline, then there's a possibility that a roster move won't have to be made as a trade or two would solve that. But if he is ready, a move will need to be made, and the easy move would be sending down Joe Veleno, as he doesn't need to go through waivers, but his play has earned a look at the third-line center spot, and he has looked good.
The roster move seems obvious with seven other defensemen who have outplayed DeKeyser this season. With waiving DeKeyser, you can replace him with either Jordan Oesterle or Troy Stecher, both deserving of an opportunity. 
Jordan Oesterle has shown at points this season his ability to transport pucks out of the defensive zone with his skating ability, which besides Moritz Seider, has been a rarity on Detroit's blue line. While replacing DeKeyser in the lineup on Tuesday versus Carolina, Oesterle set up Michael Rasmussen's goal with a perfect stretch pass.
After coming back from wrist surgery, Troy Stecher has played in four out of the six games the Red Wings have played. Stecher was a part of Detroit's most consistent pairing last season alongside Marc Staal, and with 15 goals given up in two games, it was a safe choice to go back to the pairing versus Carolina.
This is not to take away from the character of Danny DeKeyser. He is a local guy who grew up wanting to play for the Red Wings and is living out every Michigan youth hockey player's dream, giving back to the Detroit community every step of the way. DeKeyser's contract expires this summer as well, so there is also the possible incentive to let him "ride off into the sunset" and finish out the season. He is a respected voice in the locker room, being a 10-year veteran and an assistant captain, which makes this a difficult situation for Red Wings' management.
In this episode, we recap the World Championships, highlighting Kubalik, Seider, Mazur. Next, we take a long look at the 2023 first round and which players will be available at 9th and 17th.