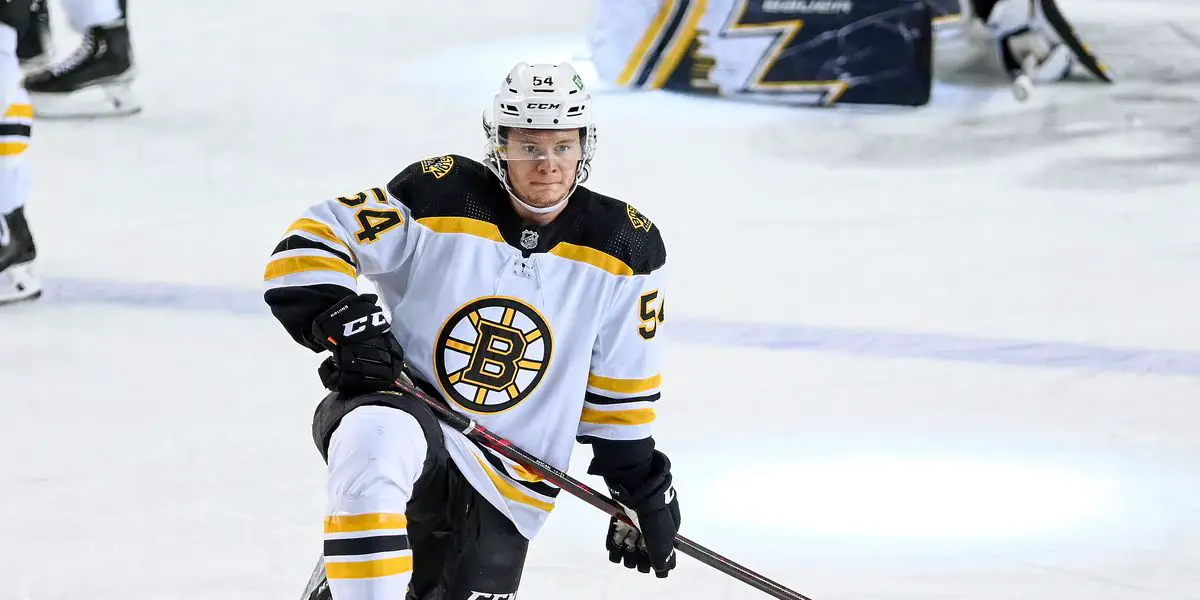 Michelle Ahcan is getting a great gift from her son. Mrs. Ahcan gave birth to her son, Jack, on May 18, 1997. And now, almost 25 years later, Jack is giving her a present of a lifetime. Thursday night, Ahcan scored his first NHL goal for the Boston Bruins in a 4-3 win over the Chicago Blackhawks at TD Garden. Ahcan stole the puck near the front of the net and fired a shot far side to beat goaltender Kevin Lankinen to tie the game at 2. It was a dream come true for the Savage, Minnesota native.
Ahcan has come a long way since his days at Burnsville High School. After Burnsville, the undersized defenseman played one season in the United States Hockey League before moving on to St. Cloud State. Ahcan would play four seasons for the Huskies and serve as captain his senior year. But questions about his 5'9" 180-pound frame prevented him from being drafted to an NHL team. As the pandemic hit and his senior season was cut short, Ahcan signed as an undrafted free agent with Boston on a two-year entry-level deal.
The diminutive defenseman has always been known for his offensive skill and awareness, totaling 103 points in college. But questions about his size and defensive ability, especially as a pro prospect, have persisted. However, Bruins head coach Bruce Cassidy's system calls for puck-moving defensemen who can jump into the play in the offensive zone, which fits Ahcan's skill set perfectly. The Bruins called Ahcan up for his NHL debut last season, and the rookie defenseman performed admirably. After spending most of his time this season in Providence playing for the Baby B's, Ahcan has played just eight games total in the NHL. On Thursday, Ahcan did what he had always dreamed of doing. He scored his first goal in the NHL.
For Jack Ahcan, there is an opportunity in Boston. The team has needed a left-shot defenseman for some time. Ahcan has the skill set to play in Cassidy's system. But Bruins fans should proceed with caution. In his eight games with Boston over two seasons, Ahcan is a -5. Ahcan will have to improve his defensive zone play to stay in an NHL lineup. His lack of size is something he will need to overcome. His teammate Matt Grzelcyk has a similar body type and has learned to use his smarts and positioning to offset his physical shortcomings. Former Bruin Torey Krug is a common comp when it comes to Ahcan. Having a career similar to Krug, who was also undrafted, is a great goal.
Thursday night was a wonderful moment for Jack Ahcan and his family. His mom is thrilled that her son is currently an NHL defenseman who has scored a goal in the league. Now it is time for Ahcan to seize what could be a golden opportunity with a much bigger goal to achieve.
The Bruins rebound after a 3-game skid. NHL ratings are down on ESPN and Turner. Don't mess with the chemistry. Concerns about the Bruins veterans wearing down. Plus Beauties and Benders.