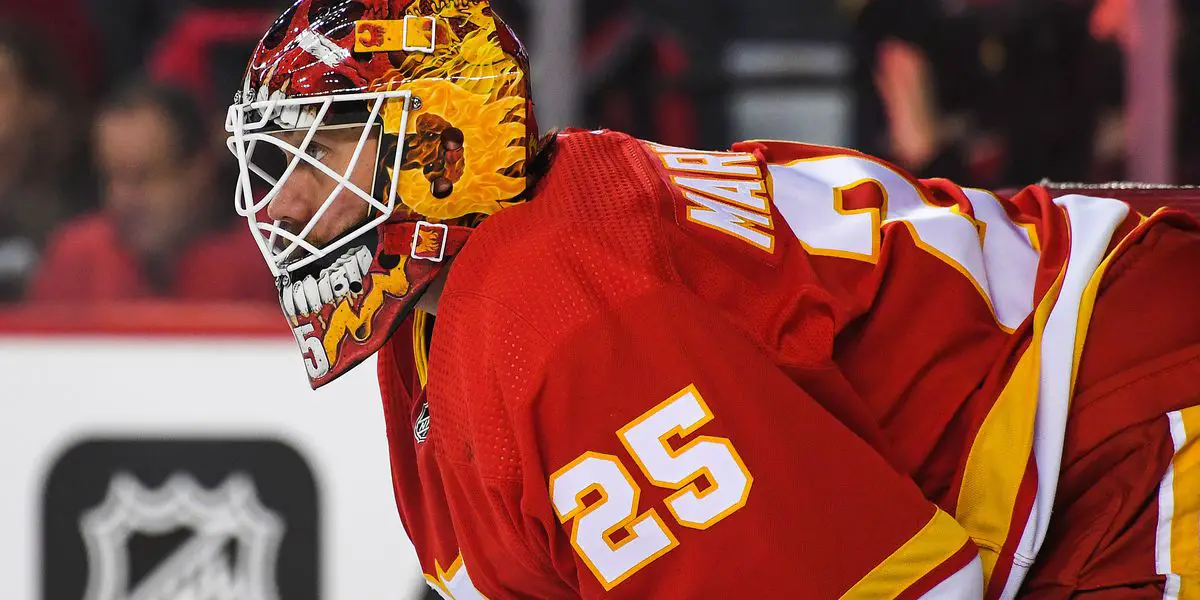 Jacob Markstrom had a fantastic regular season with the Calgary Flames and was rewarded with finishing second behind Igor Shesterkin for the Vezina Trophy.
Markstrom finished the regular season with a .922 SV% and a 2.22 GAA. He started a career-high 63 games under Darryl Sutter. Markstrom also led the league with nine shutouts. He put up career numbers and was inching toward setting Calgary Flames franchise records.
Career Highs and Playoff Woahs
He did not touch Mikka Kiprusoff's shutout record but set a franchise record for the highest postseason save percentage. Kiprusoff previously held the record with a .929% back in 2007. Markstrom posted a .949 in a seven-game series against the Dallas Stars.
The 32-year-old will likely need more rest next season if the Flames make a deep playoff run. Allowing him to rest later in the season against non-playoff teams could have benefited the player greatly. There were a handful of games toward the end of the season against San Jose, Arizona, Seattle, and Chicago that backup goalie Dan Vladar could have started.
It makes little to no sense to run a goaltender into the ground once you've clinched the division. The Flames could have had a deeper run had the goaltender been well-rested and not running on fumes against the Edmonton Oilers.
Trusting Your Backup
The Calgary Flames acquired Dan Vladar from the Boston Bruins for a third-round draft pick. After spending most of his time in the AHL, Vladar made the jump to the NHL with the Calgary Flames. He played 23 games his rookie year and finished with a .906 SV% and a 2.88 GAA.
Vladar is a UFA come July 13th, but it makes sense for the Flames to re-sign him. He was the first real backup Markstrom had in his two seasons with the team. It was assumed that Markstrom would have a more manageable workload.
If the Flames do re-sign the netminder, Sutter and Markstrom can work together on creating balance and allowing Vladar to see more starts. There's no reason not to trust Vladar and his ability. He still has room to grow under Markstrom and Sutter's system.
Flames Burn Bright
While they have their work cut out for them this summer with Johnny Gaudreau and Matthew Tkachuk, the future is still bright for the Flames. Sutter's system has been successfully implemented and adopted by the players. Ensuring Markstrom is set up for success means giving him time off ahead of the playoffs.
The boys are back after a long break but have plenty to talk about as the playoffs are in full swing. We go series by series, looking at how teams have fared so far and who will come out on top. Thanks for listening! Please rate and review our show on your favorite listening platform. Check out our partner's website at www.insidetherink.com for all your latest hockey news.