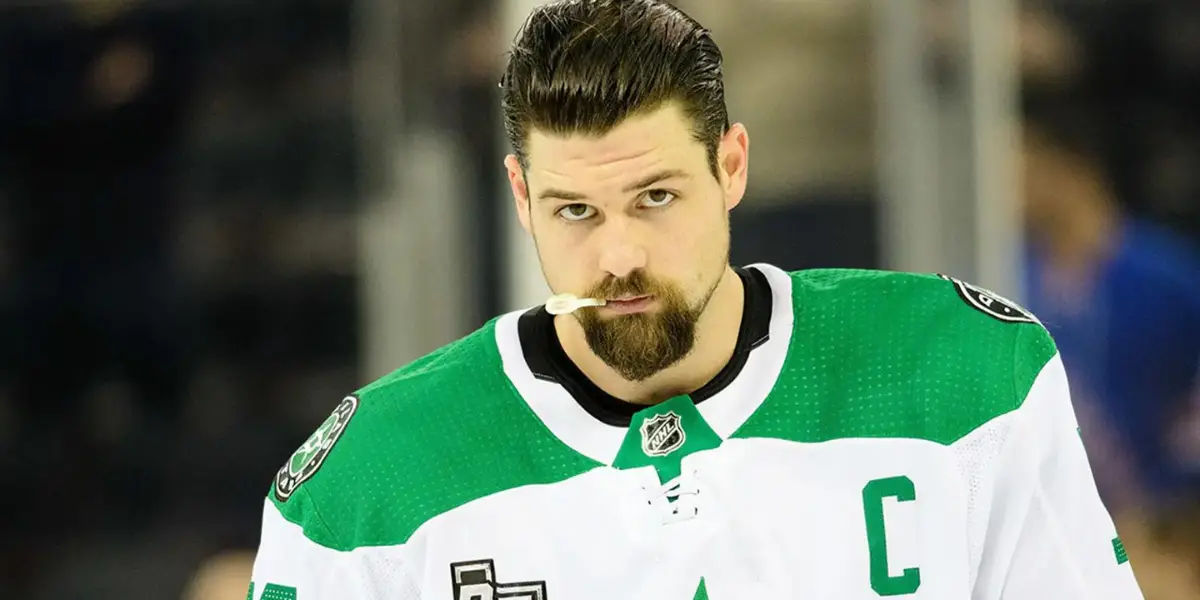 Though it may seem strange, Jamie Benn has been the Dallas Stars' captain for ten years. Benn was named the Stars' sixth captain on September 19, 2013. The left winger is the longest-tenured captain in Stars history. He surpassed former NHL defenseman Derian Hatcher in 2021.

Although I still believe that Joe Pavelski should be the Stars' captain, as I've written in an op-ed for the BS3 Network, I think Jamie Benn is a good captain and a wise guy, a person who speaks and behaves as if they know more than others, or a capo, which translates to a captain of a criminal regime in Italian.

The Stars are far from a criminal regime, but if you're a Stars fan, you'll know what I mean. The Stars can be a fast, aggressive, physical team that stifles their opponents.

"Why do you think Jamie Benn is a wise guy?" you ask.

I think Jamie Benn's a hard-hitter, a premier power forward, and a physically dominant NHL player. He's an NHL player that can be a prick to the Stars' opponents, such as the rival Chicago Blackhawks, Nashville Predators, and St. Louis Blues. He can get under the skin of fellow NHL players.

Jamie Benn and Tyler Seguin have been dubbed "Bennguin" since July 4, 2013. The duo has been a force for a decade, thanks to their chance meeting on Independence Day 2013. They're more than just fan favorites but also compelling depth scorers.

When healthy, Jamie Benn and Tyler Seguin bring entertainment on and off the ice, thanks to their bromance. The NHL veterans are friends and teammates that were featured in Dude Perfect. They watch sports together, stand up for each other, and prank each other's mothers, to name a few things.

As a captain, Jamie Benn wears the "C" with pride. The 33-year-old has always been a positive person that helps his teammates. The Stars are a team with a good, if not great, combination of veterans and rookies. Rookies like Wyatt Johnston look up to veterans like Benn and Joe Pavelski. Johnston lives with and learns from Pavelski and reportedly asks the 38-year-old alternate captain questions while reviewing games.

Jamie Benn is a leader on and off the ice. You may or may not have a good impression of him. Honestly, my impression's pretty good, but not good. He can be a pest on the ice, but to tell you the truth, he's not the only pest in the NHL. St. Louis Blues goaltender Jordan Binnington and his childish antics are cues.

There have been times when Jamie Benn's demeanor seems dismissive, and when his team isn't doing so well, he appears to give the media members' questions in the postgame press conferences to other players. Now, I'm not saying he has to carry his team on his back (and he probably can't), but his physical, in-your-face style can cause his offensive production to occasionally. He's human, but his on-ice presence makes up for his flaws, such as his temper.

"The Bennaissance" highlights Jamie Benn's offensive resurgence, offensive capabilities, and a consistent scoring presence. Benn has served as the Stars' captain for ten years, which is a long time to wear the "C," let alone play in the NHL. The average NHL player's career is 4.5 years, according to multiple sources.

Let's fast-forward to the Stars' Western Conference Final against the Vegas Golden Knights now. The Stars lost the first two games in Las Vegas, but they'll get a chance to rest, recuperate, and regroup in Dallas for Games 3 and 4 at the American Airlines Center. It's okay to feel negativity, but too much negativity won't help you or your favorite team.

Jamie Benn didn't display early aggression in Game 1 at the T-Mobile Arena, but better late than never, right? After a mad scramble in front, Benn caught his breath and jammed the puck home to tie the game 3-3 late in the third period and force overtime. Ultimately, Vegas won 4-3 as Brett Howden netted the game-winner early in overtime.

Jamie Benn didn't score in Game 2 at the T-Mobile Arena. However, Benn displayed aggression from the get-go to the full 60 minutes. He fired numerous shots and hit Alex Pietrangelo in the first period. He won two faceoffs, fired some shots into the Golden Knights' zone, and hit Brayden McNabb in the second period. He won faceoffs, fired shots that were blocked by his opponents, and made a brutal giveaway in the third period.
Can I say that Jamie Benn reminds me of Corey Perry? Besides playing for the Stars from 2019 to 2020, Perry is one of the biggest villains in NHL history. Perry — now 38 years old — plays for the Tampa Bay Lightning, but he's still a player you love to hate. Like Perry, Benn is a tough guy who isn't afraid to fight. If you were a professional hockey player, you wouldn't want to face Benn unless you'll get in his face, and the same could be said for Perry.

In my opinion, Jamie Benn is a dirty player, but he can get gritty when necessary. So, whether you think Jamie Benn is a dirty player or not, you can't deny his talent. Benn is a talented player who can throw arguably dirty sucker punches. He won the Art Ross Trophy in 2015 because he led the league in points at the end of the regular season. Specifically, he had 87 points (35 goals and 52 assists) in 2014-15.

Jamie Benn is the epitome of leadership and physicality. Benn has good and bad days, but at the end of the day, his play speaks volumes. Oh, and he's as good as he's ever Benn. No pun intended. His 78 regular-season points (33 goals and 45 assists) and 11 postseason points (three goals and eight assists) as of May 21, 2023, are two examples of athletic greatness.

I'm just going to leave this here.