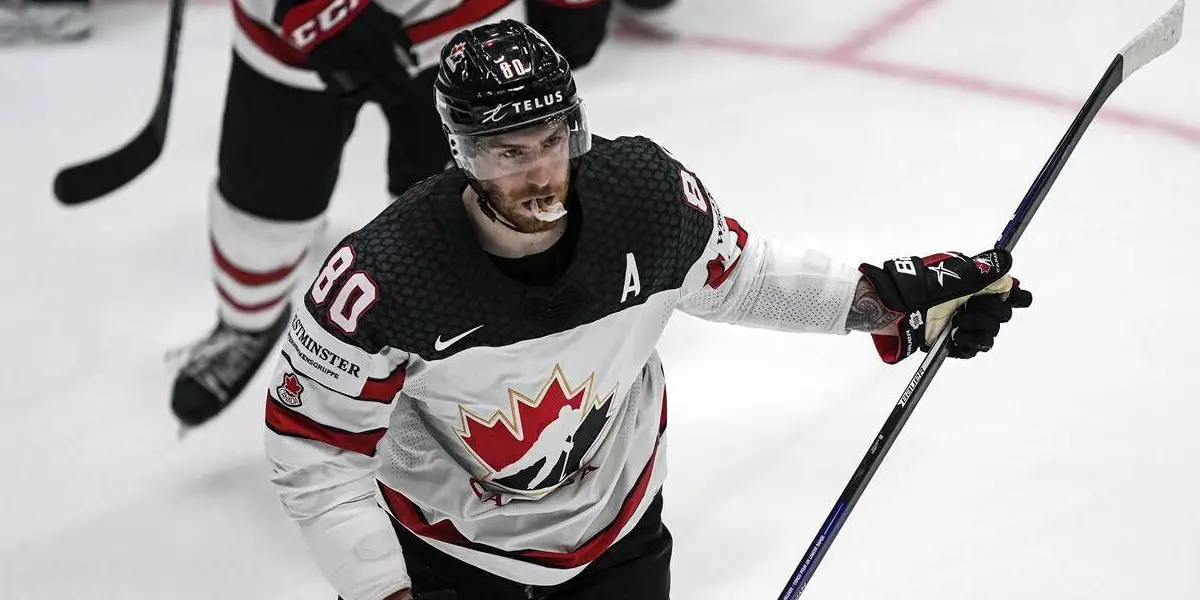 When you are a long-time Winnipeg Jets fan, you develop an affinity for the World Hockey Championship (if you know, you know). All the way back to 1981, we rooted for the likes of Dave Babych, Morris Lukowich, and Barry Long as they battled for Canada. Held in Sweden, we finished 4th that year. Larry Robinson was on that team. Mike Gartner and Guy Lafleur too. Watching games was a little tougher back then. And when I say tougher, I mean they weren't televised. I can't remember, but it was probably hard enough to find boxscores.
There have been many Jet greats playing not just for Canada but all the teams that compete each spring. This tournament is a big deal in Europe. And it gives players whose NHL teams did not make the playoffs or were eliminated early an opportunity to keep playing some high-end hockey.
Jump forward 40 years, and the Jets faithful had a new batch of players to cheer for.
Leon Gawanke – Germany
This is Gawanke's second year in a row at the Worlds. Last year he scored a big quarter-final winner against the Swiss. This year, the 23-year-old led all defencemen for the Manitoba Moose with 36 points and traveled over to Finland after his team was eliminated in the first round. Playing the last four games for Germany, he managed just one assist while seeing time on the powerplay. Germany started out well at the tourney. After losing a close one to Canada, they went on a four-game win streak, finishing 5-2 but lost in the quarter-finals to Czechia.
Nate Schmidt – USA
This was Nate Schmidt's first visit to the World Championship. As the team chose to bring a large youth contingent, Schmidt was also the oldest player at age 30. He was appointed alternate captain and, along with Seth Jones, were the veteran presence on the back end. He led the defense in scoring with two goals and four assists and finished plus two.
The USA had a strong tournament going 5-2 in round-robin play and beating a sneaky good Swiss team in the quarter-finals. Unfortunately, they lost a close one 4-3 to the Finns in the semis and lost the bronze medal game to Czechia.
Nikolaj Ehlers – Denmark
The speedy Dane, who is greatly loved both in Winnipeg and his home country, was ready to carry Denmark again after earning them a berth in this year's Winter Olympics. Coached by Ehler's father Heinz, the team had high hopes going into the tournament this year. Their biggest win came against Canada, where Ehlers earned bragging rights over Jet teammates Pierre Luc Dubois and Adam Lowry. 
Unfortunately, after suffering several blowout losses, they just didn't have the horses to compete with the tournament's stronger teams and could not advance to the elimination round. Denmark finished 4-3, and Ehlers led his team in scoring with one goal and six assists.
Adam Lowry – Canada
The 29-year-old shut-down center for the Winnipeg Jets came to Finland with something to prove. While the Jets did not have a good season by any measure, Lowry cemented himself as a solid defensive center who likely set some kind of record this year with the most shorthanded breakaways. He is a penalty-killing monster and was ready to see what he could do on the world stage.
Like in Winnipeg, Lowry played third-line center but saw regular powerplay time with Canada. He used his size, continually driving to the front of the net. Named an alternate captain, he dominated in the faceoff circle and finished near the top ten in scoring with four goals and five assists.
Pierre Luc Dubois – Canada
Along with Lowry, these two often looked like men against boys during this spring's action. Beast-like is a phrase that comes to mind you see Dubois drive to the net. He has the size and strength to hold off opponents with one hand and move the puck on stick with his other.
Also wearing an 'A' Dubois centered the top line with Drake Batherson and Dylan Cozens. These three finished 2-3-4 in scoring behind household name Roman Cervenka of Czechia. On the dot, Dubois owned the circle. At only 23 years of age, this is Dubois' 3rd World Championship and second silver medal. This year could be PLD's coming-out party. He appeared to usurp Mark Scheifele as the Jet's number one center and played well enough to be named to the World Championship All-Star Team. He should be ready to cash a big cheque as he is ready for a new contract.