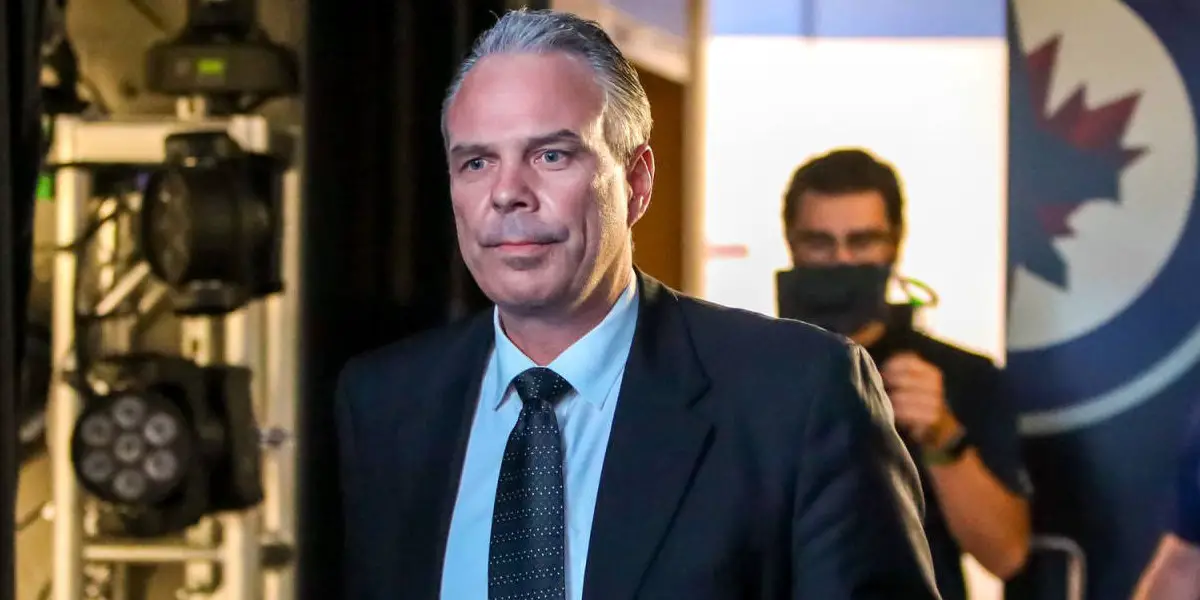 NHL free agency begins on Wednesday, July 13, at noon Eastern time.  What path will the Winnipeg Jets take?
First up, defense. Relatively stable and somewhat steady as opposed to spicy.  All six regular NHL defensemen from last year are under contract for the next several seasons other than Logan Stanley, who has one year left at $900,000.  So other than a trade or a free agency pickup, we could sit pat.
Dylan Samberg and Ville Heinola are also waiting in the wings, and at some point, we need to decide what we are doing with them.  Samberg played 15 games last season and is in the final year of his entry-level contract.  Heinola has 25 games played in the previous three seasons but still has two years left on his ELC.  I think this group is okay, and with the right system in place and some defensive buy-in from the forwards can do just fine.  The other option would be to move one or two of what we have to bring in a John Klingberg, who Rick Bowness knows quite well, or a Josh Manson, whose dad played for the 1.0 Jets. Either would give the back end some boost and stability.  There have been rumors that Brenden Dillon is being shopped, but I would argue he was our most consistent defenseman last year and finished with the best plus-minus of defenders at +16.
In net, Connor Hellebuyck is our number one guy and will be for at least two more years.  Do you need a Vezina-winning goaltender to compete for the cup?  Not really, as proven by Colorado a few weeks ago.  Again, see above.  You need forwards that hang on to the puck and a team that believes in defense first.  Hellebuyck has carried this squad for the last several seasons, and when he falters, the 2021-22 season is what it looks like; Out of the playoffs.  Perennial nice guy, and backup Eric Comrie is without a contract.  He had a great season going 10-5-1 with a .920 save percentage but call me crazy; I still don't see him as a starter.  I think the team knows it, and I believe Hellebuyck knows it too.  I was mighty worried about the prospect of Comrie as backup a year ago.  It turned out he did okay, but Hellebuyck just had a so-so year.  And maybe the issue was ex-coach Paul Maurice who refused to play Comrie even after he had stolen a game for us? So we could re-sign Comrie, and things could turn out okay.  Or, we could go after a legitimate, experienced backup to push Hellebuyck a bit more.  Martin Jones, anybody? David Rittich or Jaroslav Halak?
And our forwards.  Number one concern is Pierre-Luc Dubois, but with two more years yet until UFA status, we still hold the cards.  The Jets will offer a contract and expect PLD to go the arbitration route.  Simply the way business is now done.  The big factor here is how the Jets look this season.  We push, play well, and Dubois plays a role. He will sign here long-term.  I love the guy, but he is still young.  He reminds me so much of Dustin Penner, who had an excellent season for the Ducks at 24 years old.  The Oilers broke the bank for him, and while he was moderately successful, he looked nothing like he did for the Ducks when he played on a deep, skilled team.  Time will tell.  It looks like Mark Scheifele is now on board.  Blake Wheeler rumors abound, but I am not sure who wants him at 8.25 a season for the next two years.  I think he can still play though he has visibly slowed down.  Is he, and can he be effective on the third line?  Corey Perry still does it.
We should offer Paul Stastny a contract as a UFA, though he is rumored to be looking elsewhere.  I like him, and like Wheeler, he can still play.  His hand-eye coordination is insane, he is great defensively and can still score.  He is 36 years old but is willing to move up and down the line-up.  I would say two or two point five million would be reasonable, but if he wants to walk, so be it.  Some fans still remember his freedom convoy comments.  Zach Sanford is our only other UFA.  He looked more than capable as a bottom-six winger for the 18 games he played at the end of the season. Not sure if he is worth two million again, but if he can be had for one or one point five, I say sign him.
Other forward RFAs include Mason Appleton, Jansen Harkins, Evgeny Svechnikov, and Kristian Vesalainen.  Vesalainen has signed in Europe and, at 25, may have decided his NHL days are over.  We went to the trouble of bringing back Mason Appleton to soften the blow of losing Andrew Copp.  A fan favorite and a favorite of my buddy Pete who likes to pour himself a rum whenever Appleton scores, he is a reliable winger that can play throughout the lineup and also kill penalties. He is someone we need to hang on to.  Think of him as a junior Andrew Copp and remember, this guy had 25 points two years ago.  I am guessing something in the 2.5 five range, and some term should keep Appleton here.
Likewise with Jansen Harkins. A guy that will skate through the end boards for the Jets.  Lock him up for a few years at one point five, and you need not worry about our bottom six.  Svechnikov was a project that had Kevin Cheveldayoff looking like Sam Pollock and other times, well, not so much.  Flashes of brilliance but too inconsistent.  Word is he will not be given a qualifying offer, leaving him free to go wherever.
So just spitballing here but with what PLD will get and what we sign the remaining players for, we could have four or so million of cap space to play with.  If Stastny walks and Cole Perfetti makes the team, that leaves a top six of Dubois, Scheifele, Nik Ehlers, Wheeler, Kyle Connor, and Perfetti.  Wheeler still feels a bit slow for this group, but I don't see another top-six forward in the system.  Do we go after a forward in free agency?  Do we make a trade? Is Jesse Puljujarvi a top-six forward for the Jets? Max Domi?  Is anyone we bring in an upgrade on Blake Wheeler?
Big questions, and we may get some answers in the next week. I am really looking forward to July 13.
The boys squeak in an episode before Jake heads off to Florida. They touch on the Bruins' recent milestones, especially Bergerons 1000 points. They head over to the metro to see can Pittsburgh and Washington turn things around before heading out west to take Shane Wright and the Seattle Krakheads.Thanks for listening! Please rate and review our show on your favorite listening platform. Check out our partner's website at www.insidetherink.com for all your latest hockey news.