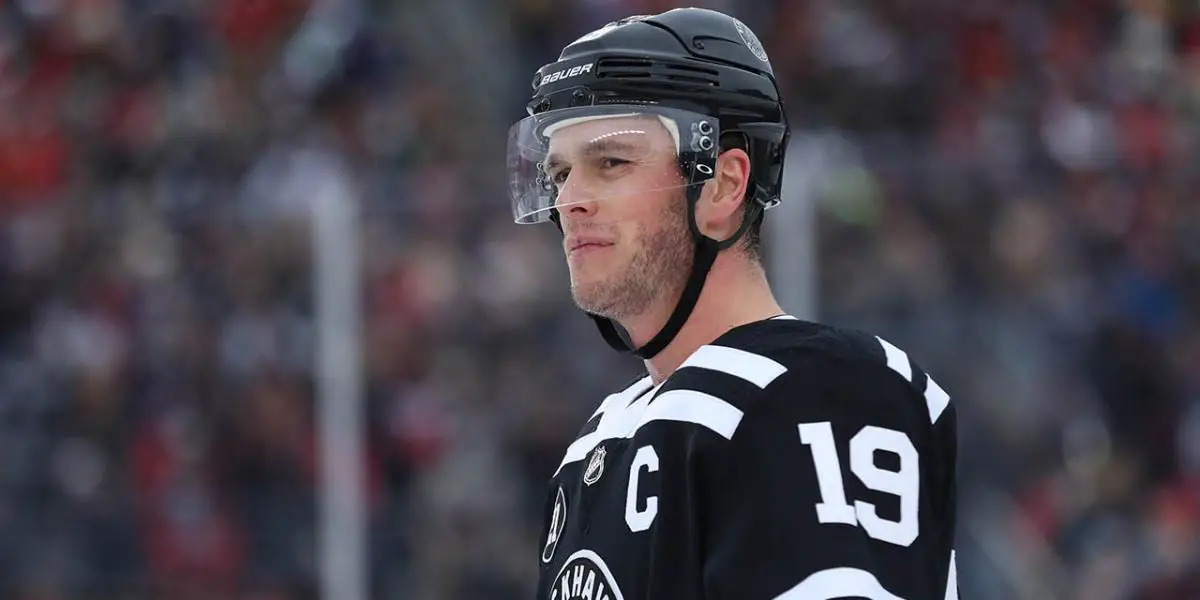 Jonathan Toews's future in Chicago has been discussed relentlessly for the last six months. This past week Jonathan Toews was interviewed for the first time since the NHL draft that saw Kyle Davidson tear down the Blackhawks roster to the core. Toews sat down with Mark Lazerus of the Athletic to discuss his future as a Chicago Blackhawk.
Toews went on to tell Lazerus, "When we traded Hags, and then Cat and Kirby, reality set in that, okay, this is where we're at, and they've got to focus on the future," Toews said. "And it's just unfortunate that it's come to that. But it is what it is. So much of that stuff has been out of my control for quite some time, and it's a weird place to be in as a captain. It's hard to tell what should be your concern and what shouldn't be, aside from just playing your game. So my head is here, thinking about what's right in front of me, the next day, the next game, or the next challenge. These last few years have taught me to be in the moment and cut out the things that I really can't control and to focus my energy on what I can control so I can enjoy the game from there."
As the season ended, Toews was a bit "grumpy" THAT IS NOT WHAT THIS IS. Toews is just being open and letting the fans in on how he feels. You may disagree with his feelings, but he has the right to feel how he wants. Openness is what we want from the superstars of the league. Toews has given his blood, sweat, and tears to the Blackhawk's organization, and now it's time for the organization and the fans to respect Toews as a human and an ultra-competitive one.
In just the past twelve months, the Blackhawks went from adding top free agents and trading for Seth Jones to load up for a playoff push to a complete rebuild that has seen guys Like DeBrincat, Dach, and Hagel traded. Of course, losing players with that skill makes the game harder on the ice, but people tend to forget these players form bonds and friendships while playing together, and it's not easy to have your friends shipped away left and right. Toews told the Athletic, "At the end of the day, we're talking about a five-plus-year process, according to Kyle," Toews said. "So that part of it doesn't sound appealing to me at all. I can't speak for Kaner, but I definitely feel that the amount of turnover our team has gone through every single year these last three or four years, that's where it gets really, really draining. And exhausting. You have a guy like Alex DeBrincat who was under Kaner's wing. And I like to think that Kirby and I had that bond in some ways, too. And out they go, out the door. Over and over, we've seen that turnover. I'm learning to be more patient, but there's no doubt that timeline is pretty daunting, and pretty exhausting to think about. So I'm not going to sit here and say what I'm going to do or what the future holds for me because I really don't know."
Toews is not IN for the rebuild. He understands at his age (34) that a five-year rebuild may not align with his career. Five years could see Toews's career end before the Blackhawks contend again. The turnover and constantly changing linemates have weighed on Toews. Toews production has taken a hit over the last few seasons. However, he thinks he has a lot in the tank and can still win and contribute to a winning team. His passion for winning could lead him to leave the franchise, and if this is the case, THAT'S OKAY. Toews number 19 will be raised to the rafter, and a statue of Toews, Kane, and Keith (Maybe Seabrook, Crawford, Hossa, and Hjalmarsson) will be built in the United Center. Toews is the greatest captain in franchise history.
But who knows, maybe Reichel comes up, and Toews takes him under his wing and forms a bond with him as he had with Dach, and Toews could find happiness in helping young players grow through the losses. MAYBE the Blackhawks get the first overall pick in the NHL draft and land Connor Bedard taking two years off the rebuild, and Toews decides he wants to stay and finish his career in Chicago. Or Maybe he retires at the end of the season. This seems like the least likely of the options as Toews himself wants to ignore father time.
At this moment, it sounds like Toews is leaning toward leaving and trying to find the greener grass in another organization. However, the speculation of what the future brings will continue until the deadline; the only person who knows what the future holds is Toews.
Season 2 Episode 10: Is Patrick Kane The Greatest Blackhawks Player Of All Time
–
Cue The Dagger
In this episode, we discuss if Patrick Kane is the greatest Blackhawks player of all-time, Lukas Reichel's one NHL game, and his unbelievable shootout goal. We also break down Seattle's chances of making the playoffs, is hitting and fighting making a comeback? and much more NHL news and topics  #Blackhawks #ALLCAPS #NHL #SeaKraken #LetsGoBuffalo