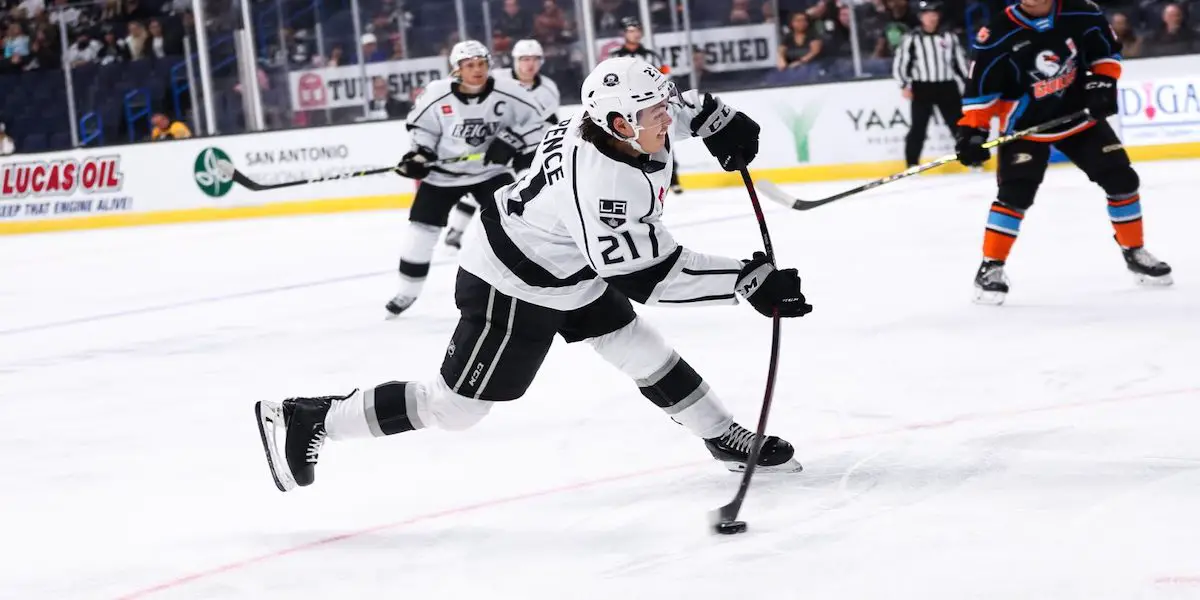 Amongst the Kings' recent success, one would think there is little to no room for improvement for this already outstanding roster. Despite my initial apprehension, the Vladislav Gavrikov trade has been a smash hit. The top two defensive pairings are all but a lock, with Mikey Anderson and Drew Doughty holding down the first pairing, while Gavrikov and Matt Roy have been just as solid.
All four forward lines have been so good that if one player gets injured, another player can slot in with seemingly no difference in team performance. Furthermore, Joonas Korpisalo has been outstanding in net, giving the Kings depth in a place they desperately needed. It's almost as if the Kings have so many good players that there isn't enough room for every player to truly shine.
The phrase "if it ain't broke, don't fix it" is apt to the Kings, and yet, I feel they could make their roster even better. The aforementioned top two pairings have been outstanding, but what about the third pairing? Sean Durzi has turned into an offensive dynamo for LA. He significantly developed as an offensive defenseman on the second power-play unit and has been slowly refining his defensive game. But what about his partner? Well, that hasn't necessarily been consistent. For most of the year, Durzi played with Roy, but since acquiring Gavrikov, it's been a rotating door of Alex Edler and Sean Walker.
Both Walker and Edler have been okay for the Kings. Edler's experience offers a lot to an LA team with young players like Durzi and Anderson. He's a reliable, stable defenseman who can hold his own, enabling Durzi to be a stronger defenseman. On the other hand, Walker is not the best by any means. He's fine offensively and every so often makes a play that makes you marvel a little, but other than the odd great play, he's sub-par defensively and isn't the best fit for the third pairing.
Only seven games out from the playoffs, the Kings will need to decide who to rely on come playoff time. Enter Jordan Spence. If you think that the Kings are likely to go with Edler or Walker, you're likely correct. Despite this, Spence can be a better player than Edler and Walker and could turn this Kings team into a juggernaut.
Spence is an NHL-level defenseman
Jordan Spence has only played a handful of games with the Kings this season. However, last season, he got his chance to shine. Before being called up, he had 42 points in 46 games with the Ontario Reign in the AHL and put up solid numbers with LA, registering two goals and six assists in 24 games as the season closed out.
Spence is a skilled defenseman – not the type to throw a massive hit or lay the body, which might be what the Kings are looking for on their third pairing. He also doesn't excel defensively. Amongst AHL defensemen, he hovers above average in defensive point shares with 0.616, the amount of standing points a player contributes to a team, measured per game. While he doesn't stand out defensively, his ability to handle the puck well under pressure and hold his own is something to note. If he's not great defensively now, he has the ability to transform his game in the future.
Regardless of his defensive shortcomings, Spence is a monster offensively. He's a skilled, puck-moving defenseman who can make plays to his teammates that other defensemen can't. His shot and ability to find the open lane make him a great quarterback on the power play, as he showed in his short stint with LA last season. He is the QB for the Ontario Reign, and it's no coincidence that their power play ranks 6th in the league. Spence also put up great numbers analytically with the Kings last season, as whenever he was on the ice, the Kings generated 10% more expected goals than average. Those are not numbers to scoff at; Spence is an offensively-minded defenseman who has shown the ability to play well in the NHL.
How could Spence fit with the Kings?
Admittedly, there's not much room for Spence on the Kings' roster right now. God forbid an injury strikes the team (as may have happened with Mikey Anderson's injury against the Oilers on March 30th), and either Walker or Edler likely slots in above Spence. In times where he has played this season, it has been in limited minutes on the third pairing, where he isn't given the ability to thrive.
Despite the logjam on defense, Spence is still a player worth giving a chance. Two offensively minded defensemen in Spence and Durzi could be an absolute nightmare to play against, even if they give up just as many chances as they create. Durzi also has experience playing the left side and, with Spence, could play into both players' strong suits. This could also allow Spence to refine his defensive game in a position where he is given more trust.
However, if the Kings want to play things safe, they could, in theory, split up Roy and Gavrikov. While that pairing has been incredible together (their expected goals percentage is the highest in the NHL!), and Kings fans (myself included) may be opposed to splitting them up, perhaps playing Spence with Gavrikov and Roy with Durzi could maximize the potential of this Kings' roster. Gavrikov and Roy share their solid defensive ability. With Durzi and Spence's offensive flair, all three defensive pairings could turn into a mix of offensive and defensively-minded players that never let the opponent rest.
Closing
With all said and done, I don't think Spence slots into the roster any time soon. He's a great player worthy of an NHL roster spot and has done his due diligence in showing that he can play in the big leagues. However, the Kings' roster is nearly set, and with the playoffs encroaching, it's unlikely any drastic moves would be made. Still, this is something to consider, as the Kings will have to make some tough decisions in the offseason. Brandt Clarke's stellar play in the OHL has likely earned him a roster spot next season, Gavrikov and Edler are upcoming UFAs, and Walker, Durzi, and Roy are locked up for one more year. Not everyone can stay, and every defenseman mentioned is worth their spot on the roster. Time will tell who stays and who goes and what this roster looks like come October next year.
The boys are back after a long break but have plenty to talk about as the playoffs are in full swing. We go series by series, looking at how teams have fared so far and who will come out on top. Thanks for listening! Please rate and review our show on your favorite listening platform. Check out our partner's website at www.insidetherink.com for all your latest hockey news.