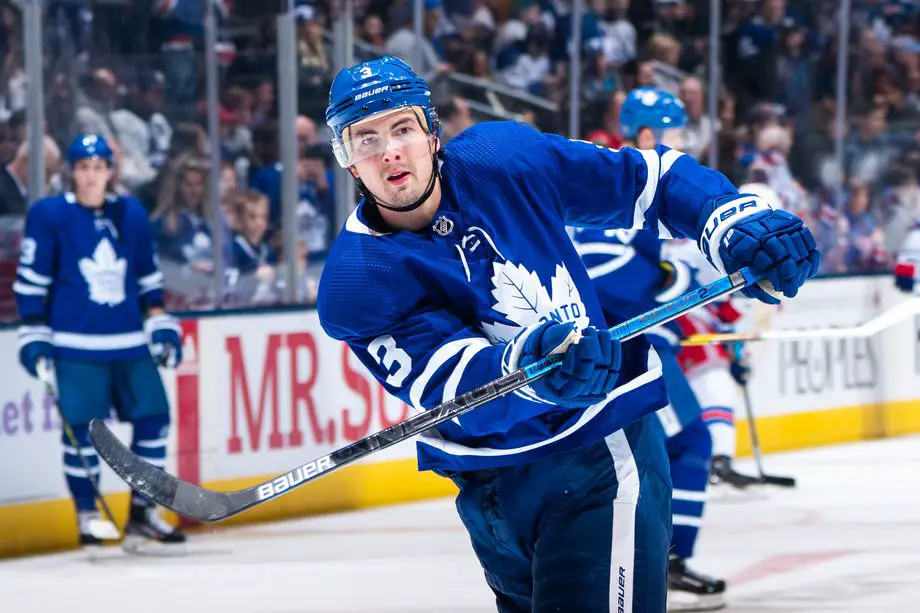 As the Leafs entered game four, everyone in Leafs Nation had the same question: What in the world is Keefe doing replacing Liljegren with Holl? Every Leafs fan on the planet who has seen Holl play knows that this was a bad call, and in-game four we were proven very right. As we head into game five, we will get a look at Keefe's decision to start Holl again.
First, we need to understand who Holl is replacing, which would be Liljegren. Liljegren was drafted 17th in 2017. He was projected to go much higher but dealt with a sickness in his draft year. He was not a consistent roster player all season, but by the end of the year, he was a fixture with Giordano on the third defense pair. In games one and two, Liljegren almost scored two goals. The first was batted away by Sergachev; in game two, he had a shot in the slot, which Vasilevskiy made a terrific glove save on. He was producing offense and was fine defensively. This is a tough series to gauge a defenseman's value. As all the games are blowouts, both teams' defense goes from looking very solid to very fragile in an instant.
So, the Leafs put Holl in instead. Liljegren was only on for one goal against in his two games played, but Keefe decided that he had seen enough. Game three was nothing notable for our guy Holl, but that was largely in part to Jack Campbell playing maybe his best game of the series. Except for the Leafs' first goal against, which would be off of a powerplay that Holl gave the Lightning. What was notable is that Holl is prone to losing puck battles and looks a bit lost out there. Hopefully, this doesn't hurt them for game four.
In-game four, Holl would immediately prove why playing him was a mistake. He would start game four on the ice for an unexplainable reason, and the Lightning would score on their first shift. On the first goal, he would turn it over after a long shift to give the Lightning possession of the puck. Holl then delivers a check behind the net and then forgets to take a man as he is standing in front of the net, not covering anyone when the Lightning score. Aside from being out there for goals against, Holl is just not built for playoff hockey, losing a lot of puck battles and not playing the body hard. And yet they still play him.
How much better was Liljegren? It is hard to say, but it is important to take a look at their basic stats on a scoresheet. You would notice that Liljegren is plus two with a shot on goal and averaged 19:28 in his two games. Holl has an even plus-minus with a shot and is averaging 15:32 of ice time. Holl has also taken a penalty, and Liljegren has not. So, from the most basic perspective, Liljegren gives you more ice time while being on the ice for more Leaf goals than Lightning goals. Looking at the advanced stats tells the same story. With Liljegren having a better Corsi, Fenwick, on-ice expected goals %, and almost every single other stat. As a matter of fact, Holl is in the bottom two of every single stat with Lyubushkin for this postseason.
This finally raises the question of why Holl is playing Liljegren isn't. For regular people like you and me, we will never get to know the honest answer, but there are a few reasons I can think of. In this playoff series, the one goal Liljegren was on for. He could have been better in tying up the man in front. But other than that, there have been few issues with Liljegren's play. The reason that I believe is that Holl has been here longer, and Holl is a little bit bigger. Liljegren stands at an even 6 foot, and Holl is 6 foot 2 inches. Which on the surface seems like an advantage, but the player size makes no difference if you don't use it to your advantage. Other than size, Holl has been on the Leafs longer than Liljegren. Holl has yet to have an effective postseason with the Leafs, but we still give him the roster spot because he has played in two series before this one. Or at least that is what I think, and there could be a million other reasons why Holl is in. As fans, we cannot control it, and we just have to watch the games and question why the hell is he playing.