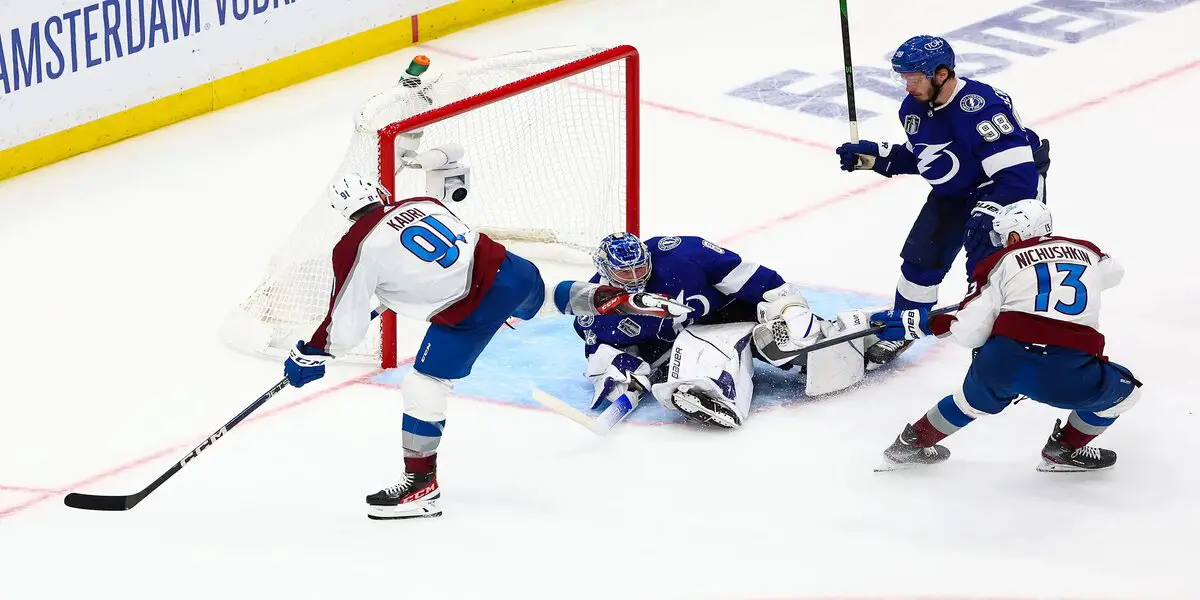 Welcome back Nazem Kadri.
After missing the first three games while recovering from a surgically-repaired thumb, Kadri scored the game-winner Wednesday night in Game 4, scoring the game-winner over the Tampa Lightning with a scintillating move on a partial break to beat Andrei Vasilevskiy and send his Avalanche team within a win of hoisting the Stanley Cup.
The goal was his seventh of the postseason and concluded a game in which he ended with 25 shifts and 18:39 TOI.
Kadri's goal threw a damper on what had been an all-time great performance from Vasilevskiy, who was nothing but brilliant. But in overtime, Kadri found open ice and struck gold.
It wasn't immediately clear Wednesday morning if Kadri would be ready to skate, but he made his presence known, and especially when it mattered the most.
Colorado coach Jared Bednar was hopeful on Wednesday morning about Kadri's participation, but he did not reveal his official return at any point.
"He's getting better every day," Bednar said, when asked if Kadri would play Wednesday morning. "If he can do all the functions that it takes to play a hockey game and is feeling comfortable with it, he's a guy we'll put back in. He's been skating, legs feel good. It's just about managing, I guess, the pain he's dealing with."
Darcy Kuemper was back behind the pipes for the Avalanche after being pulled from Game 3, where he allowed five goals on 22 shots before being replaced by Pavel Francouz. But in Game 4, Kuemper was back in form with 38 saves on 40 shots.
"Same with the rest of our team; I feel like he's done a nice job with that," Bednar said prior to the game. "He's followed up good performances with better performances. He's elevated his game when we've needed him to this year. He's done it all season long."
Kadri was boarded by Edmonton Oilers winger Evander Kane in Game 3 of the Western Conference finals and underwent surgery June 6 to repair the damage to his thumb. The veteran resumed skating on his own shortly after and resumed action with light stickhandling before spending time with skills coach Shawn Allard prior to Game 3.
The Avalanche were without star forward Andre Burakovsky in Game 3 and Game 4. The winger suffered a hand injury in Game 2 of the Final after taking a puck to the inside of the glove and did not make the trip to Tampa. Burakovsky scored twice, including the OT winner of Game 1, before getting hurt.
Colorado comes back to Denver Friday night with a chance to clinch the Stanley Cup in front of their hometown fans, just like they did in 2001.