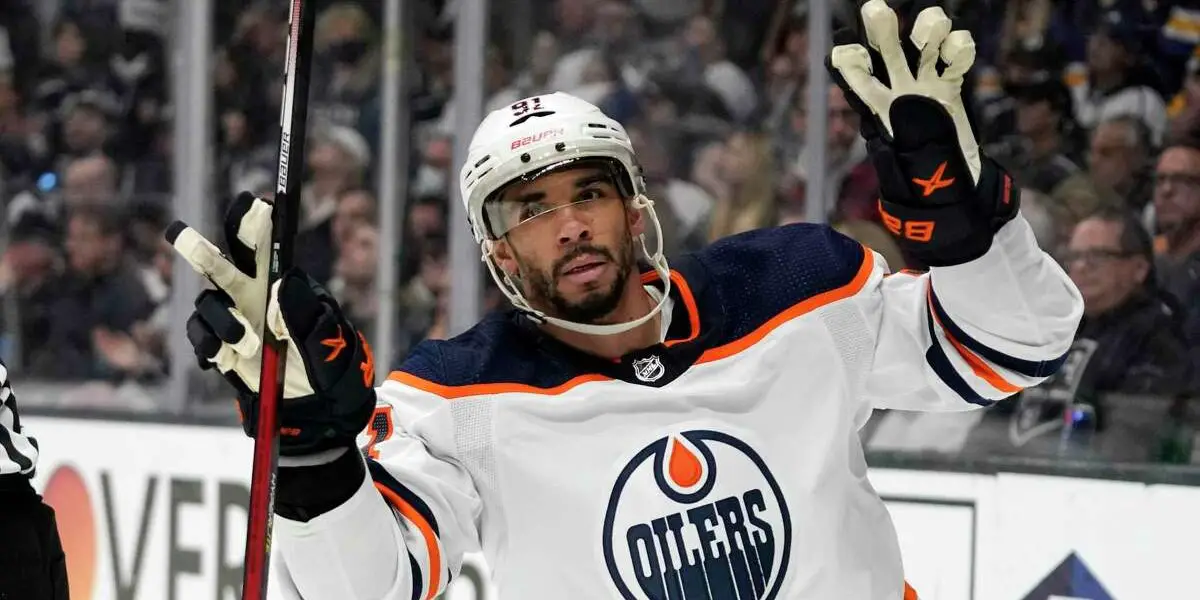 With no Oilers games on all week, it does give us a chance to revisit a signing that came with controversy just a year ago. Edmonton, holding onto the first Wild Card spot with 60 points in the standings heading into the All-Star break, finds themselves in a slightly better position than at this same time in 2022. A respectable start to the season, then midseason chaos putting them in a position where they may not have even been able to qualify for the playoffs. Frustration among players and fans grew as GM Ken Holland still came across as very patient in his approach. But when he did something, fans still scratched their heads. Admittedly, I was not too keen on the move, either.
A team already down in the dumps with loss after loss surely didn't need to add more drama in the locker room. The decision to bring in a player with such a high-maintenance history wasn't liked very much initially. His first game as an Oiler was against the Montreal Canadiens, a team struggling with their own identity shortly after reaching the Stanley Cup Finals. Edmonton was, at this point, always allowing the first goal game after game after game. Hockey games are 60 minutes long, but it's nice to build early momentum once in a while. Against the Habs, the Oil finally scored the first goal en route to a 7-2 victory, and, of course, the opening goal came from the controversial new guy. He played 43 total games for the Oilers and put up 39 points. Kane and the team's coaching change shortly after ended up being what they needed to turn their season around. He then put up 17 points in the 2022 playoffs and led the postseason in goals with 13, recording a hat trick in two separate instances. During free agency, it looked like Kane would have to look for another home again.
Even if the bankruptcy trial in San Jose went his way, he was rumored to still want the money and term that most teams weren't willing to sign. Holland could not agree to it either, then Kane eventually had an epiphany and concluded that staying in Edmonton for the contract he did get was his best and only option. His start to the new season was solid, playing 14 games and averaging a point in every game. But a scary incident in the 14th game against the Tampa Bay Lightning, when Patrick Maroon's skate made contact with Kane's wrist, forced him to miss the last two months with a very severe injury. While he can be highly skilled offensively, this was not the issue with Kane's absence because the offensive skill on the Oilers is already a blatant strength. They missed his swagger, the confidence to go into every game being harder to play against as a 20 man group. This kind of power forward showing hard skill is what the Oilers thought they were getting long-term when they signed Milan Lucic back in 2016. Sadly, career longevity was not very kind to Lucic.
New fan favorite Klim Kostin has helped with his fair share of swagger in the bottom six, but the higher pedigree in this instance goes to Kane. He came back for the last four games before the All-Star break, scoring his first goal back in the lineup on a Saturday night against the Blackhawks. In the three games prior, there were chances where, had it been the 2022 playoffs, Kane, the puck would've been in the back of the net. As time passes and the wrist feels close enough to 100%, those missed scoring chances will be a distant memory. It's not easy going a week without hockey games, but it also serves Kane's wrist well if he has more time off. Although he looked fine in his return, I would've preferred it if he had waited until next week. Connor McDavid wanted him back on the team, and you expect the face of the franchise to have a say in your GM's decision-making. When asked about Kane's first signing last year, Connor acknowledged that some people wouldn't like it. It didn't phase him, and he cared more about whether or not it would help the team win more than lose.
It's hard to forgive a human being with such a questionable past. But we also sometimes forget that a human being is still a human being after all. Kane was a young man who has now been maturing and must be learning from his mistakes. He has made due of his opportunity to make amends for how his NHL career has shaped up. He fully understands that if he can't make it work in a city with the best hockey player on planet Earth, he won't work anywhere else. One little mishap blew up, and his hockey career is over (and next time, for good). If something peculiar does happen with Kane, keep it far away from the locker room. Keep it far away from the fans and keep it far away from the media. An organization with Stanley Cup aspirations doesn't need this much smoke. Everybody deserves a second chance in life, but we're only given so many second chances. Between last year and now, he's made what might be his last second chance a pretty good one. Let's see if the last 3 1/2 years on his new contract can define him as a changed man.
Episode 55: Kevy Cooks The fellas get together and wrap up the last week of Bruins news, recap the Eastern Conference Playoff picture, Western Conference Playoff picture, ROR injuries, and Kirill Kaprizov is down and out. Thank you for listening to our show! If you like our content, please like, comment, and rate the podcast!DraftKings Sportsbook – Boston's hometown Sportsbook will be LIVE – soon – right here in Massachusetts! Bet local on all your favorite sports from the comfort of your own home with DraftKings. To celebrate, ALL new customers will receive up to TWO HUNDRED DOLLARS in BONUS bets when you sign up for DraftKings Sportsbook using code insidetherink! Soon you'll be able to bet local on money lines, spreads, props, and more with one of America's top-rated Sportsbooks – DraftKings Sportsbook!  Download the DraftKings Sportsbook app and sign up with code ITR to get up to TWO HUNDRED DOLLARS in BONUS bets to use once mobile sports betting hits Massachusetts. That's code insidetherink only at DraftKings Sportsbook.  If you or a loved one is experiencing problems with gambling, call (800) 327-5050 or visit (https://helplinema.org/) to speak with a trained specialist free and confidentially twenty four seven. 21+. Physically present in MA. Eligibility restrictions apply. Subject to regulatory licensing requirements. Eligibility and deposit restrictions apply. Opt in required. Bonus issued as free bets. Terms at draftkings.com/ma.