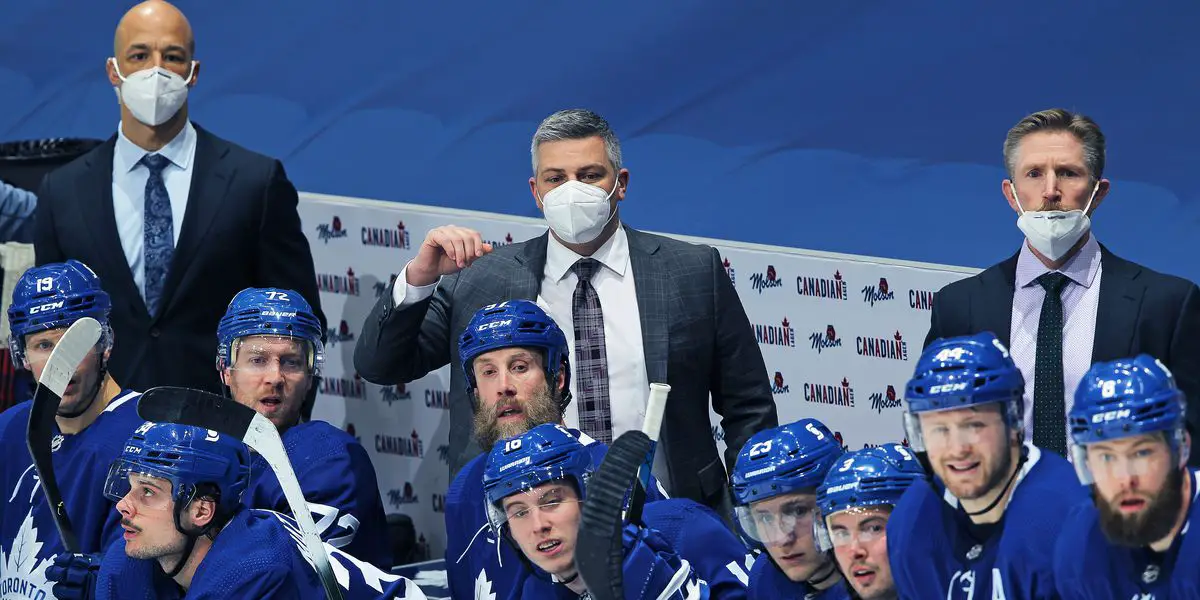 After a Game 2 loss that saw the penalty not as good as Game 1 and some bad penalties taking, Sheldon Keefe has decided to shake up the lines ahead of Game 3 in Tampa Bay. Today at practice in Tampa, we saw a few changes to the line-up, both upfront in the forward group and on the backend.
As seen above in the Luke Fox tweet, Coach Keefe has adjusted the 2nd line to try and get both Nylander and Tavares into the series a bit more than they have been, and on that 2nd line Joey Anderson has taken place for Kase, as Kase deals with a personal matter. However, he is supposed to be back in that spot with Nylander and Tavares come game-time. Nevertheless, it is good for Joey Anderson to get some work with the 2nd line at practice in case Kase cannot be available for tonight's game.
The 3rd line has also seen a bit of a change, but we are used to as Leaf fans and one that the coach of Toronto has had high praise for the entire season. Mikheyev, Kampf, and Kerfoot will also reunite on a line that's goal will most likely be more of a defensive approach and getting the energy back into the game for the team. This line has seen several different looks this year, whether Engvall, Kase, or even Nylander, that 3rd line for the Maple Leafs has been vitally important in their success this season.
Of course, with how the rest of the lineup shakes down, it means a bit of a different look on the 4th line, which now includes Jason Spezza, who has been absent from the lineup the last two games of this series. Many Leaf fans have been saying Spezza needs to be making a return to the lineup after how the last game played out, and they got their wish, as the veteran draws back in tonight alongside Blackwell and Engvall. This line will add some grit and has some skill to score and produce some good hard-fought shifts to help keep or gain momentum for the rest of the team.
On Defense, only one change has been made, and I am a bit shocked about it. The Maple Leafs are scratching Liljegren and bringing back Justin Holl for Game 3. This move doesn't excite me at all Holl is more of a shutdown-style defenseman with a big body which plays a lot of PK minutes, but he doesn't offer what Liljegren does for the team. The pairing of Giordano and Liljegren has been a stable force as the 3rd pair on the backend, and Holl has made some mistakes this season that suggests to me at least he should still be on the outside looking into rather than benching a player who has grown to be a good reliable guy for the coaching staff. There have been some theories on this change that fans could respect, and that are the following:
Maple Leafs are the road team for the next two games, and changing on the road in a playoff game can be difficult, and with Holl being more experienced than Liljegren, he draws in.
The PK wasn't great last game and allowed three goals on seven chances. Holl has been the most used penalty killer this season, logging the most minute against the opposition's best players, so shake things up on the PK he comes into help clean things up.
Holl has been sitting for just under two weeks, dating back to when he was initially scratched, and the team feels he needs to see some action before he sits out too long.
The lineup changes aren't the most significant changes to ever be made by a coach, but now as the series shifts to Tampa and is essentially a best-of-5, these next two games are significant, with at least one being a must-win, so changes were expected. As for the rest of the lineup, the top line doesn't change, and neither did the top two pairing on defense, and Campbell is the keeper of the crease. The apparent change made is it appears Toronto is going to focus more on playing their style game rather than a "borderline violent" series that they expected.