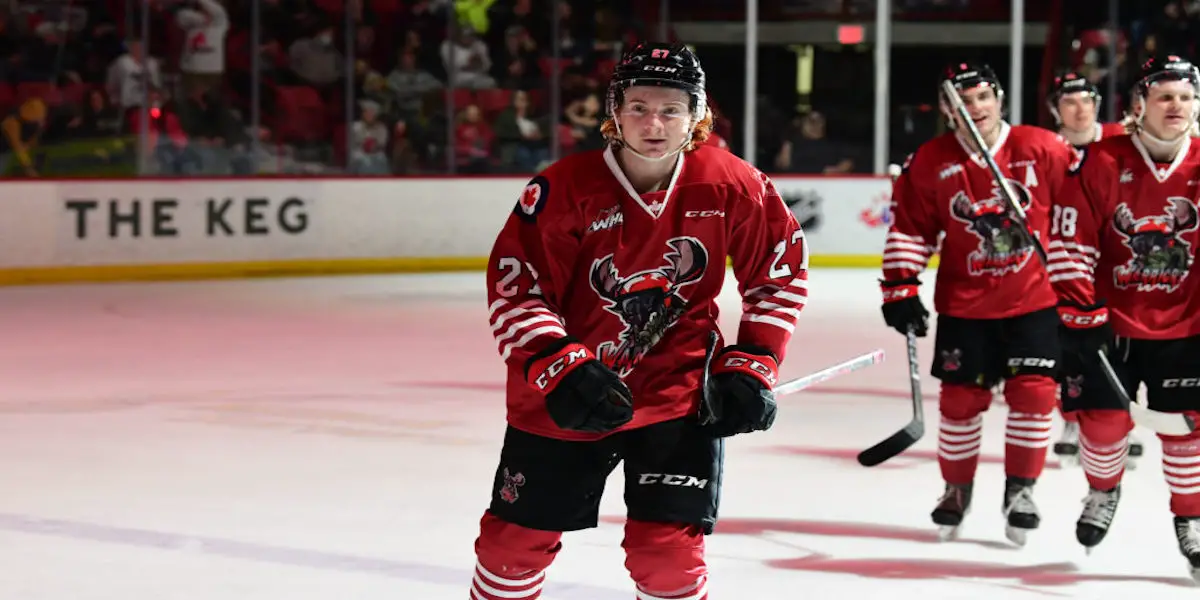 In just two seasons, the Seattle Kraken has made a name for themselves in the NHL, becoming a playoff contender. They have enjoyed a strong second season as a franchise, as they are currently second in the Pacific Division with a 28-17-5 record and 63 points. While the present is looking bright for the Kraken, so is their future, as general manager, Ron Francis has built a strong prospect pool in a short amount of time. Everyone is familiar with top prospect Shane Wright, but he is not the only one with a tremendous amount of upside.
The Kraken's number two prospect in their pipeline is Jagger Firkus, an 18-year-old right wing out of Canada. He was drafted by Seattle 35th overall in the second round of the 2022 NHL Entry Draft.
He is a one-of-a-kind player for the Kraken, as they do not have any player in their prospect pool like him. He is one of the most creative players when it comes to offensive zone play and showed he can beat goalies not just from in front of the net but also from behind. If all these skills can translate to the NHL level one day, Firkus could very well be the steal of the 2022 Draft.
Firkus is playing in his third season in the WHL and has once again been dominant, showcasing the type of offensive skills that made him a 35th overall pick. Last season for the Moose Jaw Warriors, in 66 games, he recorded 36 goals, 44 assists, and 80 points while adding another six goals and six assists in 10 playoff games. He is able to accomplish these offensive feats thanks to his ability to attack angles and get the defense and netminder to react to his movement. What is most amazing about Firkus is his ability to generate so much power despite having a very slight frame, as he's 5-foot-10 and 154 pounds.
This season Firkus has been just as good as he's tallied 28 goals, 35 assists, and 63 points for the Moose Jaw Warriors. He is showing that last season wasn't just a fluke, and his talent is for real. While he may not be NHL-ready yet, the future is bright for the 18-year-old once he rounds out his game with the focus on his defensive play.
Prior to the 2022 Draft, scouts had the following to say about Firkus:
"A central theme to Firkus' scoring game is attacking at angles and getting the defense and netminder to react to his movement. His ability to release it in-flight without first coasting to give away the game is highly translatable. Firkus also uses splendid technical abilities to generate a great deal of downward force on the shaft of his stick by connecting kinetic chains of energy from his lower body through his core, arms, and, finally, the hands and wrists. His ability to pre-load, load, and culminate the mechanics are what drives his power despite the very slight frame." -EliteProspects 2022 NHL Draft Guide
Having a prospect like Firkus is always a good sign for the future, especially when it's time to make the leap to the NHL he will be on the wing of either Matty Beniers or Shane Wright. If general manager Ron Francis can continue to hit on picks like Firkus, Seattle will be in good shape for years to come.
The boys are back after a long break but have plenty to talk about as the playoffs are in full swing. We go series by series, looking at how teams have fared so far and who will come out on top. Thanks for listening! Please rate and review our show on your favorite listening platform. Check out our partner's website at www.insidetherink.com for all your latest hockey news.