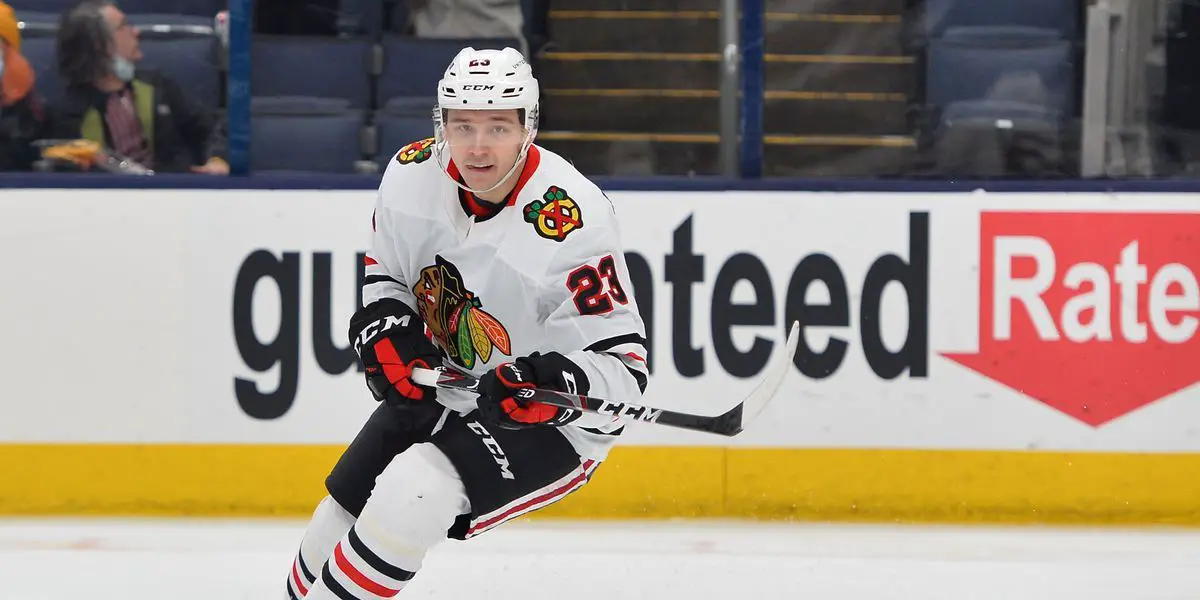 The Chicago Blackhawks have sent down Philipp Kurashev and recalled Josiah Slavin. 
Kurashev Started Off Hot
Philipp Kurashev had a strong rookie season, scoring eight goals and getting 16 points in 54 games. During his rookie season, he showed that he has a high skill base on the offensive side of the puck. Chicago even placed him on their power play at times where he collected 5 points. Kurashev has top-end hands when he is playing with confidence. His ability to score high-skill goals is something Chicago is lacking this season. Ask the Detroit Red Wings their defensemen found out about his silky mitts. Kurashev showed them some pretty incredible stuff and even landed himself on a highlight reel.
So What Happened to Kurashev?
Kurashev has not found the mojo he had his rookie season and has played horrible to start the season. -5 and zero goals in 19 games is just unacceptable, and maybe most concerning, he has not been a consistent player on the defensive side of the game throughout the season. There have been many games this season where he looks disengaged and lazy. In other games, he is giving it 100% and buzzing around the ice. He will continue to struggle to stay up on the NHL roster until he can find a way to bring it every night. I personally like Kurashev. At just 22 years old, Phillipp has a lot of room to grow. He brings the intangibles that are hard to teach. Hopefully, the trip to Rockford will wake him up and make him play with a more consistent effort every night. Kurashev needs to find the confidence and swagger that he had his rookie season.
Who is Josiah Slavin?
Welcome to the show Josiah Slavin! Hopefully, he will find his way in the lineup for his first NHL game soon. He was born in Erie, CO, USA, and brother to Carolina's Jaccob Slavin. Josiah played four seasons in the USHL, totaling 168 games and scoring 53 goals and 50 assists before going to college and playing for Colorado College starting in the 2019-2020 season. Chicago would select him in the 7th round, 193rd overall in the 2018 NHL draft. After just two seasons, he would sign his pro contract and join the Rockford Icehogs. During his first season, Slavin would play 15 games. He would start fast in the AHL and have an impressive three goals and four assists during that time. Sophomore slump? Nope, Josiah has started this year on fire. He has scored eight points with four goals in the first 15 games. +7 in the AHL this year shows he continues to grow as a complete forward. Slavin's growth has been monumental over the last 3-4 years. 
Chicago made the right choice by sending down Kurashev. He needs to find his confidence, and playing in Rockford in the top 6 should help. Kurashev should also see time on the top power-play unit where he should be able to get his offensive mojo going and bring his swagger back. As for Josiah Slavin, I'm excited to see if he can carry his momentum into the NHL and be an impactful bottom-six forward for the Blackhawks. Fans shouldn't be expecting him to come in and light the lamp like crazy.