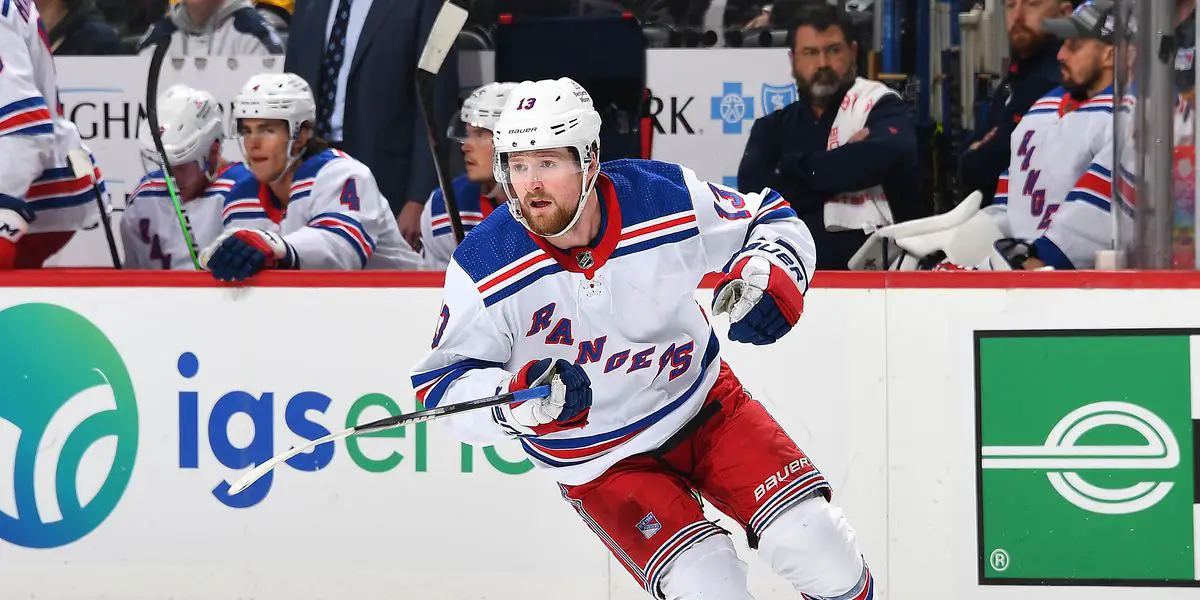 When the New York Rangers won the NHL Draft Lottery in 2020, the franchise and its fans were ecstatic.
The consensus number one overall pick was Alexis Lafreniere, who the Rangers went ahead and took with that pick. At that time, Lafreniere appeared to be a player with unlimited potential.
From the 2017-18 season through the 2019-20 season, Lafreniere dominated the Quebec Major Junior Hockey League (QMJHL). He scored a combined 114 goals and had 183 assists for 297 points in 173 games.
While playing junior hockey, Lafreniere won several awards: 
– QMJHL Most Valuable Player twice (2019 and 2020)
– QMJHL All-Rookie Team (2018)
– QMJHL First All-Star Team (2019 and 2020)
– Canadian Hockey League's Player of the Year twice (2019 and 2020)
– Canadian Hockey League Rookie of the Year (2018)
This was a player that both the Rangers and their fans were very excited about. He played with speed, finesse, had a great shot, and could obviously produce at a high level.
Unfortunately for the Rangers and their fans, Lafreniere, 21, has been disappointing. Here are his statistics since he joined the league:
– 2020-21: 12 goals and nine assists for 21 points in 56 games 
– 2021-22: 19 goals and 12 assists for 31 points in 79 games
– 2022-23: 16 goals and 23 assists for 39 points in 81 games
While it is nice that his points have increased each year since joining the league, his totals are not where they should be. For starters, he has been given plenty of chances to succeed with the club.
In his three seasons with the team, he has been put on lines with the likes of Mika Zibanejad, Chris Kreider, and Artemi Panarin. He has not had success with those players, which is surprising considering that those guys are essentially the team's three best forwards.
He has been given time on the power play. With a power play that has the guys mentioned above, along with Adam Fox, Kappo Kakko, and Vincent Trocheck, he really did not put up any significant offensive numbers.
Secondly, for someone who came into the league with a lot of offensive talent, he really has not shown any on a consistent level. Yes, we have seen him score some fantastic-looking goals, but those have been few and far between.
Lastly, after being a solid contributor in last year's Stanley Cup playoffs that saw the Rangers come within two wins of going to the Stanley Cup Final, he was terrible in this year's postseason. He had no goals, no assists, no points, and had just nine shots on goal.
It is quite clear that Lafreniere has not played up to the kind of player that he is supposed to be. The offensive production is not there, the consistency is severely lacking, and his skating certainly is not great.
I hate to give up on a first overall pick, but it might serve both the Rangers and Lafreniere better if he were to be traded. There are plenty of rumors out there, and the Blueshirts might be able to get something decent back for him.
It will be interesting to see what happens, but whether he stays on Broadway or gets traded, Lafreniere needs to become a better NHLer quickly, or he will officially be labeled as a bust.
In this weeks episode we have on Nick Morgan from Locked on Predators pod to discuss coaches Hynes and Laviolette.Thanks for listening! Please rate and review our show on your favorite listening platform. Check out our partner's website at www.insidetherink.com for all your latest hockey news.