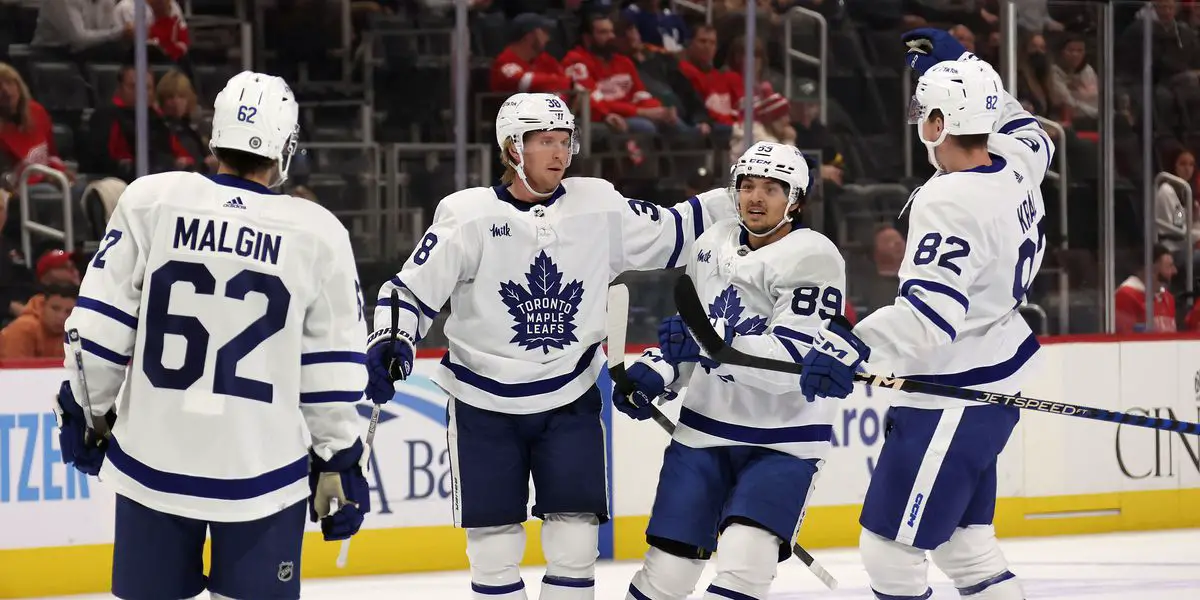 On Friday evening, the Detroit Red Wings defeated the Toronto Maple Leafs 4-2 in the opening game of a preseason back-to-back. From the Maple Leafs perspective, there was a lot to like from this game. However, the collapse of a two-goal lead is never a positive. The team played a lineup that wasn't very heavy with NHL roster talent but still lots to pull from this game with roster cuts on the horizon. 
   In the first period, all things were pointing in the direction of the blue and white as forward Nick Abruzzese scored less than two minutes in. A beautiful feed from Adam Gaudette allowed Abruzzese to walk right in and put one glove side. Then just over six minutes into the opening period, A cycling pass from Nick Robertson to the point for Rasmus Sandin as he fired the puck on goal that found the back of the net to put the Leafs up a pair. The Maple Leafs had better opportunities in the opening half of period one. Then with just over three minutes left, Detroit got on the board. A turnover from Leafs preseason surprise Denis Malgin led to Larkin finding Tyler Bertuzzi for the beautiful shot up high. 
   In the second period, the Red Wings continued their momentum early. Some key saves by Leafs newly signed goaltender Ilya Samsonov were important. However, at about the middle of the second frame, young Detroit Red Wings forward Elmer Soderblom scored his second of the preseason. He took a beautiful backhand shot up high as he walked into the slot and tied the game. After the goal, the Maple Leafs continued to push but couldn't get one in the second frame, despite outshooting the Red Wings 19-16. 
    In the third period, the Detroit Red Wings came out blazing, Peppering Leafs goaltender Ilya Samsonov with shots. Red Wings young forward Joe Veleno finally got the better of Samsonov with a shot from the outside. A beautiful wrister from a prospect who's been on the cusp for a while now. The Toronto Maple Leafs tried to find an answer late but were ultimately outmatched by a pretty NHL-level Red Wings roster. An empty-net goal by Detroit forward Tyler Bertuzzi was the dagger on Friday night. 
   The Toronto Maple Leafs will look to get back on track tomorrow with a meeting against these same Red Wings. The blue and white are projected to roll out a pretty NHL-heavy lineup, so it's likely a game you won't want to miss. Matt Murray is expected to get the nod between the pipes, and for the Red Wings, it's projected to be goaltender Ville Husso. Puck drop is scheduled for 7:00 pm live from Scotiabank Arena in Toronto!
When Bab(e) Asks To See Your Phone
–
Leafs Late Night
WELCOME BACK TO LEAFS LATE NIGHT! Presented by Inside The RinkRoscoe / Galaxy Biehn- Rodgers/Ohtani- PT-Oh He Didn't Sign?- PWHL Draft- Surely, No One Could Have Predicted ThisNEW MERCH IS AVAILABLE!JOIN OUR DISCORD!Remember to follow us on Twitter @LeafsLateNight & IG @LeafsLateNightCheck out Mike, Josh, and Nathan's articles on the Leafs + many more! insidetherink.com