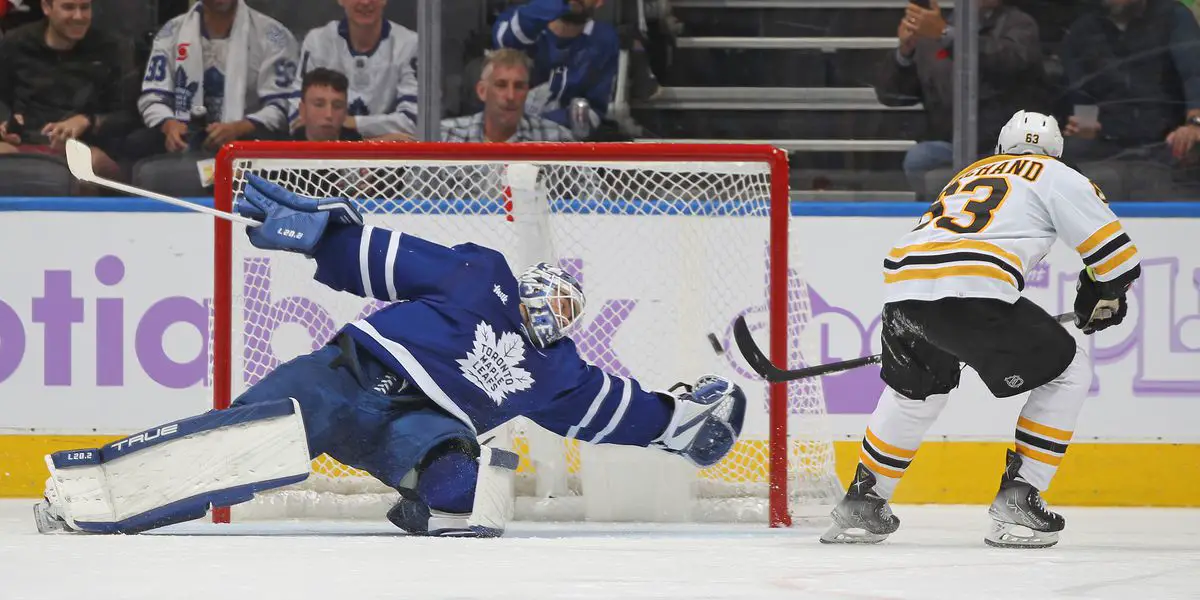 The Toronto Maple Leafs and Ilya Samsonov have finally come to terms on a contract, with the help of an arbitrator, after failing to find a middle ground on their own. The arbitrator awarded Samsonov a 3.5 million dollar contract, and the rules in the NHL CBA state that if a contract negotiation goes to arbitration, that contract may only be of a one-year term.
That's a miss by Brad Treliving.
Samsonov was a first-round pick of the Washington Capitals in 2015, 22nd overall. He joined Toronto last offseason as a UFA after playing 44 games for the Capitals in 2021-22, going 23-12-5, posting a .896 save percentage and 3.02 Goals against average, and not being issued a qualifying offer. League average goaltending was only .907 that year.
Samsonov started 42 games for Toronto in the 2022-2023 season, going 27-10-5 with a .919 save % and 2.33 GAA, saving 18 goals above expected, good for 10th in the league in that category ahead of Joonas Korpisalo and behind Alexander Georgiev. League average save% was .904 last year, just for reference. He is good, and he is young.
He was the clear number one going into the playoffs after Matt Murray went down and then went down again, but Samsonov suffered a series-ending injury himself in May against the Florida Panthers in the second round of the 2023 Stanley Cup playoffs, Leaving Joseph Woll to man the net to end the series and the Leafs playoff run.
If that hurt his value to the team, that's an absolute joke, and sure, his basic stats from the playoffs this year don't jump off the page, but they also don't show how absolutely clutch he was in big moments. Hell, he backstopped the Leafs to their first series win since 2004. That counts.
Obviously, the 3.5M price tag is fair; it was decided by an independent party. I'm thrilled with the dollar amount, no problem there, but the fact that Treliving couldn't lock up the former first-round pick to any term in a time when you know cap space is going to rise just baffles me.
Three years, or even two, just to give the team some certainty past the next contracts of the big three would have been ideal, even if the team had to fork out a few hundred grand more to lock up the 26-year-old netminder.
This is a clear no-win situation as far as the next deal goes. Samsonov either plays amazing this year, a year the Leafs are surely all in on a cup again. He costs too much next year at only 27 years old, or he plays average, or god forbid poorly in a year where the Leafs are surely all in on a cup again, and you save some money on next year's contract? Im so lost, Brad. Are you betting on a bad year? Because even then, with a higher cap, all players are asking for more. The stars and the lower-end players will all cost more.
Does he have ultimate faith that Joe Woll is the goalie of the future and is happy to have one year of Samsonov insurance?
The time is now to move Matt Murray, and there have to be other pieces going out the door to get under the cap for opening day. You can't have a backup making that much money, especially when you have a strong backup in Woll, who is not waiver exempt this coming season and carries a cap hit just a hair above the league minimum.
Samsonov is the starter for next year at least, and failing to sign and having to go to arbitration with your starting goalie in what most people consider a probation period of their new job, is not tidy work, Nor very reassuring.
Also, realizing that when you go into arbitration, the team tells you why you're bad at your job to someone who you have to fight for yourself probably isn't the best experience.
Jeff O'Neil said in a tweet earlier this week that after he went through arbitration, he never wanted to play for that team again. I'm sure it's not a fun time and not a great place to have a player you want to stick around.
I don't understand the thinking of the fans that say they are glad that Treliving took this route and that it shows a backbone that Kyle Dubas lacked. That's a tired narrative.
William Nylander's last contract had one of the highest values in the league because he performed so well, and people point to Mitch Marner's contract saying Kyle caved, and while that may be a slight overpayment, we can mostly agree we would rather have him than not. Michael Bunting was a great deal, and Jarnkrok paid dividends by scoring 20 goals on a 2.1M dollar deal.
I look forward to seeing how the next negotiations with the big guns turn out, but those arent done yet and this situation isn't that.
Treliving should have never let it get this far with Ilya Samsonov, and it's almost certainly going to come back to bite him next season.  
So Nice, It Ended Twice feat. Marty Zylstra
–
Leafs Late Night
WELCOME BACK TO LEAFS LATE NIGHT! Presented by Inside The RinkGalaxy Biehn / Marty Zylstra of Sports! Is FunCheck out Marty's Music- Lucky To Be Good, Good To Be Lucky- Mitch Marner Is Underrated- Joseph Woll Remembers.- Gregor's ArkNEW MERCH IS AVAILABLE!JOIN OUR DISCORD!Remember to follow us on Twitter @LeafsLateNight & IG @LeafsLateNightCheck out Mike, Josh, and Nathan's articles on the Leafs + many more! insidetherink.com