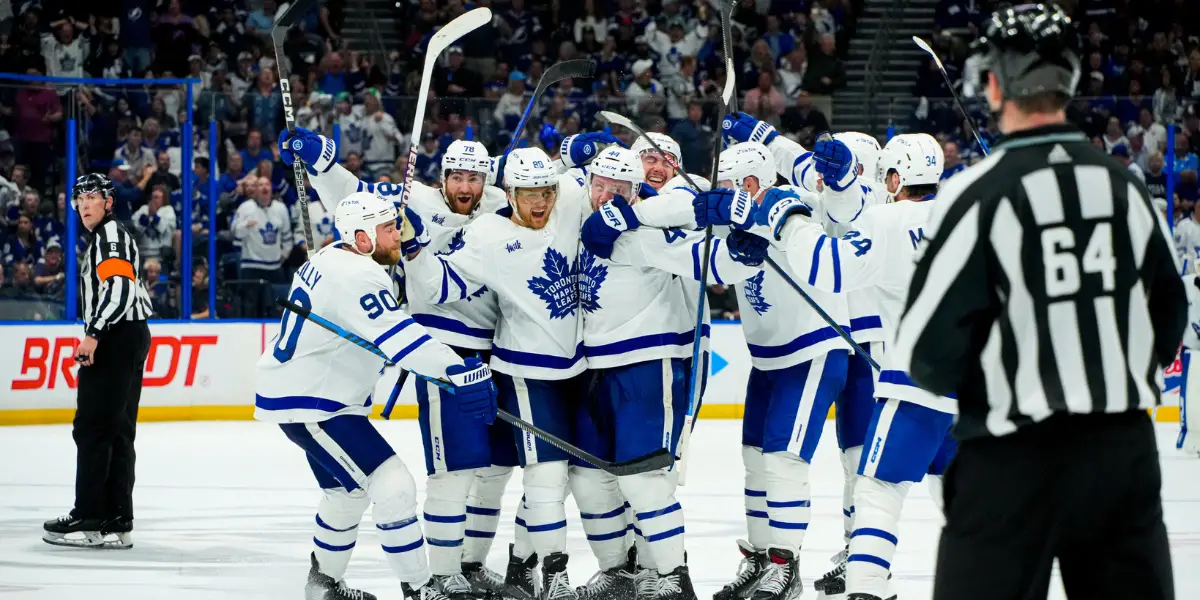 Puck drops tonight in Game 4 for the Leafs Lightning series, and Toronto currently holds a 2-1 lead largely due to the heroics of Rielly and O'Reilly. The Leafs will look to have a strong effort tonight and spend much more time dominating play rather than being dominated in hopes of leaving Tampa just one win away from the second round. Typically the Leafs would lose a game like Game 3, but they found a way to hang in and fight back and ultimately win. Leafs will have to play the possession style game they have succeeded with and keep their tempers in check as the Lightning often look to get under the other team's skin.
Leafs Projected Lineup
Once again, we aren't yet sure of the Leafs lines, but with the team getting dominated in play for much of the last game, Keefe has mentioned that lineup changes are possible. With Bunting still out, I'm guessing the same forwards will be playing unless they opt to go with 11 forwards to have an extra defenseman. Keefe doesn't want to show his hand here quite yet.
Lightning Projected Lineup
Forwards
Stamkos – Point – Kucherov
Hagel – Cirelli – Killorn
Jeannot – Paul – Colton
Maroon – Bellemare – Perry
Defense
Hedman – Perbix
Sergachev – Raddysh
Cole – Bogosian
Goalies
Vasilevskiy
Elliott
Three Things to Look Out For
Nylander
Nylander has had himself a career year, and that's largely due to him being more engaged in the plays. Nylander has elite potential, but the odd time can be caught watching or gliding. It's important for him to keep his intensity up as he is a key team member. Nylander has been contributing so far this year in the playoffs, setting up the game-tying goal last game, but it would be amazing if the Leafs weren't in a position where they needed a game-tying goal due to goals from their core players, including Nylander. Nylander will look to continue a solid post-season for himself and stay engaged in the play for all of his ice time.
Brodie
Brodie has been a key member of the Leafs back end and had an off-game last game, one of the factors that led to the puck being in their end more often than normal. Brodie is typically great at shutting down plays and breaking out of the Leafs end, but he had moments where he struggled with this last game. Brodie playing well is important for this team, so keep an eye on him tonight as he looks to rebound after a less-than-ideal Game 3.
Rielly
It seems like Rielly can often go through a regular season and receive criticism and have fans wondering if he's the best fit for this team, but then he goes on to the playoffs and comes up clutch, especially in Game 2, where he had three primary assists. He also scored the overtime winner in Game 3, giving the Leafs a series lead. Ultimately Rielly has been effective in the playoffs for Toronto and will look to continue that tonight, hopefully pushing possession in the Leafs' favor and landing on the scoresheet again.
Tonight's game starts at 7:30 PM EST on Sportsnet!
Thanks for reading! Feel free to follow me on Twitter @nathan_bondy.
WELCOME BACK TO LEAFS LATE NIGHT! Presented by Inside The RinkRoscoe / Fanalyst / Galaxy Biehn – We've Missed Some Things!- Dubas… Buddy- First Impression of Brad Treliving- Arizoner Doaner- Re-Sign or Resign?MERCH IS AVAILABLE!JOIN OUR DISCORD!Remember to follow us on Twitter @LeafsLateNight & IG @LeafsLateNightCheck out Mike, Josh, and Nathan's articles on the Leafs + many more! insidetherink.com