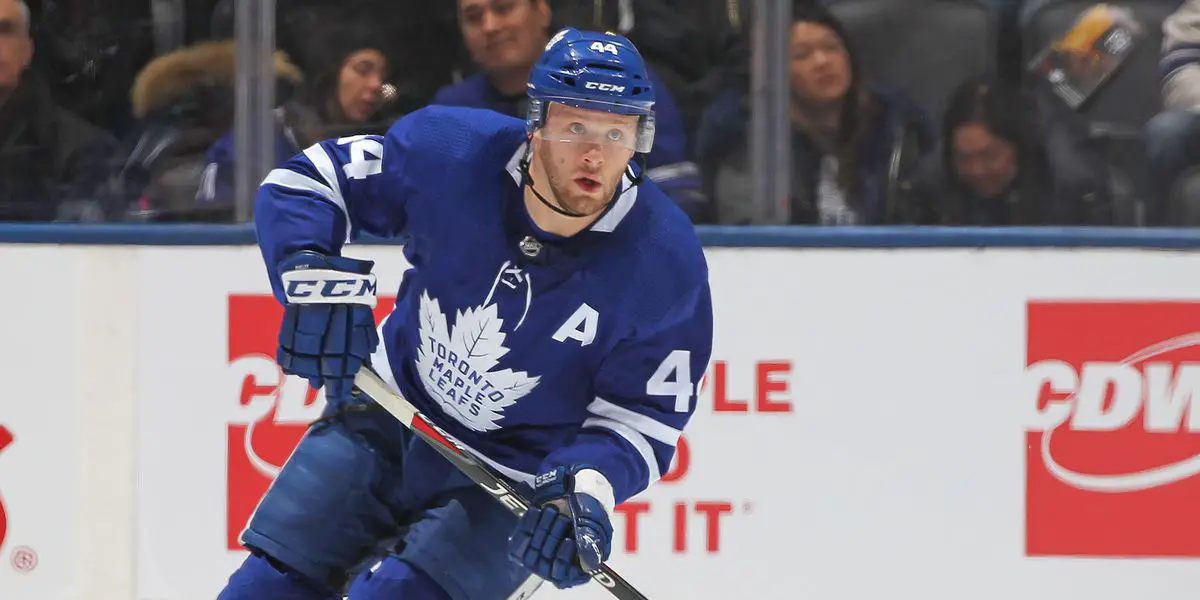 The Leafs were looking to bounce back from an embarrassing loss Tuesday night in game one. Tampa Bay ran the Leafs show the entire night during game one and walked away with a 7-3 victory to take a 1-0 series lead. Michael Bunting was issued a three game suspension for his hit to the head on Erik Cernak in game one, so Keefe had to do some line juggling. With Bunting unavailable, Keefe turned to 20-year-old rookie Matthew Knies who played just three regular season games to close out the regular season, and now he was set to make his playoff debut. This was as close to a must-win for the Leafs as you can get. There was absolutely no way the blue and white could head to Tampa down 2-0 in the series. The Leafs started game two with a goal in mind, and they absolutely accomplished it, to say the least. They dominated from start to finish tonight and tied the best-of-seven series 1-1 with a 7-2 victory. So, who were the three stars tonight? Let's get into it: 
Tonight's First Star 
Morgan Rielly – After a rocky, injury-plagued regular season, Morgan Rielly struggled to find his game and his footing all season long. Safe to say, I think he found it in this one. Morgan was an absolute force from the second the puck was dropped in this one till the final buzzer sounded. He had the primary assist on each of the Leafs first four goals in this one, and he used his strength and speed to fly all over the ice. Rielly is at his absolute best when he is using his incredible speed as his primary weapon. His first assist came just 47 seconds into this one as he set Mitch Marner up for a power play goal to give the Leafs an early 1-0 lead sending Scotiabank Arena into an absolute frenzy. At the 12:45 mark of the opening frame, Rielly went to work again off a set play following an offensive zone face-off. Tavares won the draw back to Rielly, who took the puck for a skate down the half boards. He then found a wide-open Tavares in the slot who made no mistake ripping it past Vasilevskiy; 2-0 Leafs.
 His third assist came during a delayed penalty where he fed the puck to William Nylander, who rifled it top corner past Vasilevskiy, and the Leafs took a 3-0 lead into the first intermission. His fourth assist was generated off of the rush, and John Tavares finished off the play for his second of the game to make it 4-1 for the blue and white. What a fantastic game from the longest-tenured Leaf, a statement game, if you will. 
Tonight's Second Star 
John Tavares – After game one, Leafs Twitter was an absolute dumpster fire. Several people were calling John Tavares out for his lack of leadership, his lack of leading by example, and his lack of showing up in the big moments. 
I do not think John spends his free time scrolling through Twitter to see what people are saying about him online, but boy, did he ever respond in this one. He scored his first career playoff hat trick and the first Leaf playoff hat trick since Alexander Mogilany did it way back in 2003 against the Philadelphia Flyers.
His first goal made it 2-0 for the Leafs, his second made it 4-1 Leafs, and his third made it 7-2 Leafs; simply outstanding from the captain of the blue and white. Tavares was a force at both ends of the rink the entire night, and he was also 66.7% on face-offs for the night, just a dominant game from their leader. 
Tonight's Third Star
Ryan O'Reilly – While Mitch Marner had an outstanding game, a three point night, Ryan O'Reilly had a fantastic game from start to finish. He told reporters earlier today that the group would be ready to go for tonight's game.
While he only had a single assist on the scoresheet, he was a force every time he took to the ice and led by example. I think the Leafs have found something with their newly formed third line of Knies – O'Reilly – Acciari. They were noticeable all night long at both ends of the rink. O'Reilly was relentless on the puck every shift, he did not give anyone on Tampa any time or space, and he was on the puck every time. His line did a fantastic job getting the puck deep in the Tampa zone and working the cycle, generating momentum for the next lineup for the blue and white. That is precisely what you want out of your third line: sound defensively while generating offensive chances and momentum and laying the body every chance they got; you couldn't ask for any better. 
The series now shifts to Tampa for Game 3 on Saturday night, Hockey Night In Canada! Given how the first two games of this series went, I cannot wait to see what game three has in store! 
For more Leafs news and in-game tweets, follow me on Twitter @mikethefanatic! Also, be sure to check out The Leafs Late Night Podcast wherever you listen to your podcasts!
WELCOME BACK TO LEAFS LATE NIGHT! Presented by Inside The RinkRoscoe / Fanalyst / Galaxy Biehn – We've Missed Some Things!- Dubas… Buddy- First Impression of Brad Treliving- Arizoner Doaner- Re-Sign or Resign?MERCH IS AVAILABLE!JOIN OUR DISCORD!Remember to follow us on Twitter @LeafsLateNight & IG @LeafsLateNightCheck out Mike, Josh, and Nathan's articles on the Leafs + many more! insidetherink.com