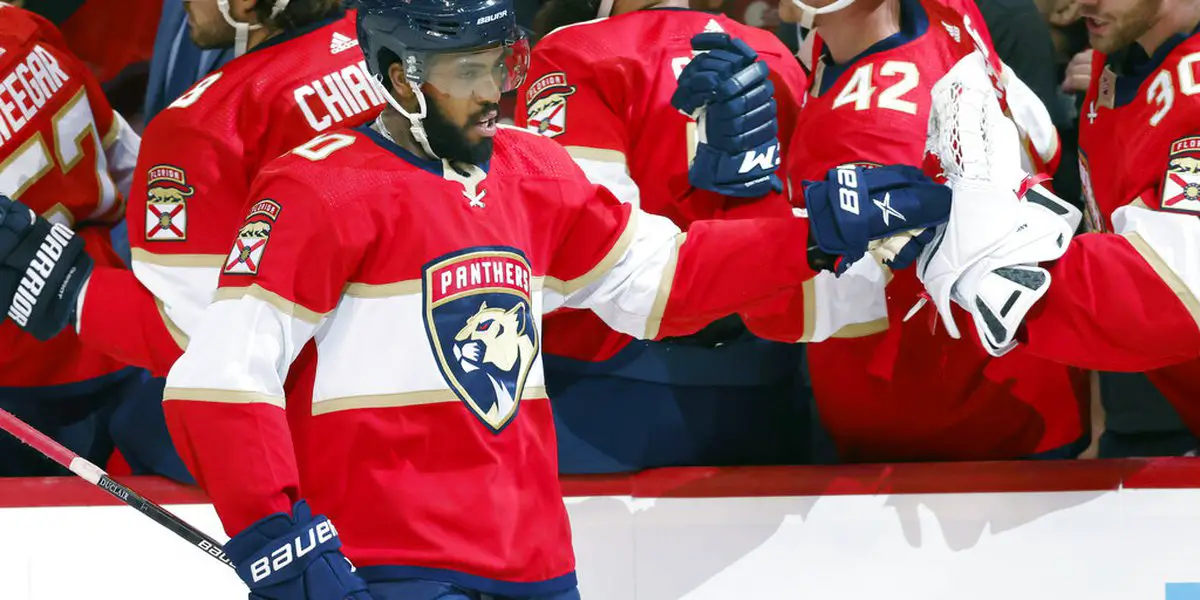 You could argue that game three was a must-win for the Leafs. They dropped the first two games at home, and with the series shifting to Sunrise for the next two games, it would be an understatement to say the Leafs had their work cut out for them. Unfortunately, we witnessed an eerily similar movie to years past. The star players were non-factors for the blue and white, and they dropped game three 3-2 in overtime. 
Game Three's 1st Star – Anthony Duclair. He was noticeable every single shift he was on the ice. He had some considerable jump, and his speed was on full display the entire night. He ended up tying the game 1-1 with a goal 2:36 into the second period. He flew through the neutral zone, and the Leafs had absolutely no answer to contain him. As a result, he went in on a breakaway and beat Joseph Woll, who was forced into the game after Ilya Samsonov left due to injury.
Duclair had a total of five shots on goal as well as a hit, and he played a total of 19:02. 
Game Three's 2nd Star – Sam Reinhart. He and his third line teammates have done a fantastic job giving the Leafs absolute fits with their relentless forecheck and shutting down whatever line they are matched against. Reinhart played a total of 20:22 and was 50% in the faceoff circle. He displayed a terrific individual effort on the game-winning goal as he carried the puck into the Leafs zone, cycled it down low, then got it back, and beat Woll with a wraparound. While it was a great effort by Reinhart, the Leafs did not do a single thing to try and stop him. They were all caught flat-footed, and Reinhart was able to do whatever he wanted as he entered the Leafs zone, simply not good enough from the blue and white. 
Game Three's 3rd Star – Sam Lafferty. He was noticeable right out of the gate in this one. He showed that he wanted this game, and he was going to do every single thing he could to try and will his team to victory. He opened the scoring just 2:26 into the opening frame, where he finished off a great pass from David Kampf during a two-on-one.
He made it his goal to always be in on the forecheck to try and get the puck back for the blue and white. His speed was also very noticeable through the neutral zone, and the Panthers had no answer in terms of slowing him down. He only played 11:11, but it felt like he played far more than that. He laid two hits, and he also went 50% in the faceoff dot. 
Honorable mention to David Kampf, who was a beast the entire night as well. He won 92.9% of his faceoffs which is an astounding stat in itself. He played a total of 15:04, and he took every key face off for the blue and white. 
The Leafs now begin an incredible uphill battle as they try to accomplish something that only four teams in NHL history have accomplished; coming back from being down 3-0 in a series. It has already been determined that Ilya Samsonov will not be available for game four due to injury. As a result, the Leafs are turning to their rookie goaltender, Joseph Woll, with their season on the line. Woll posted a 0.927 save percentage and won 16 of his 21 games with the Marlies in the AHL this year. He also posted a 0.932 save percentage and won six of his seven games with the Leafs at the NHL level. Those are some pretty impressive stats from the 24-year-old kid. Let's see what he's got in game four. 
For more Leafs news and in-game tweets, follow me on Twitter @mikethefanatic! Also, be sure to check out The Leafs Late Night Podcast wherever you listen to your podcasts!
WELCOME BACK TO LEAFS LATE NIGHT! Presented by Inside The RinkRoscoe / Fanalyst / Galaxy Biehn – We've Missed Some Things!- Dubas… Buddy- First Impression of Brad Treliving- Arizoner Doaner- Re-Sign or Resign?MERCH IS AVAILABLE!JOIN OUR DISCORD!Remember to follow us on Twitter @LeafsLateNight & IG @LeafsLateNightCheck out Mike, Josh, and Nathan's articles on the Leafs + many more! insidetherink.com