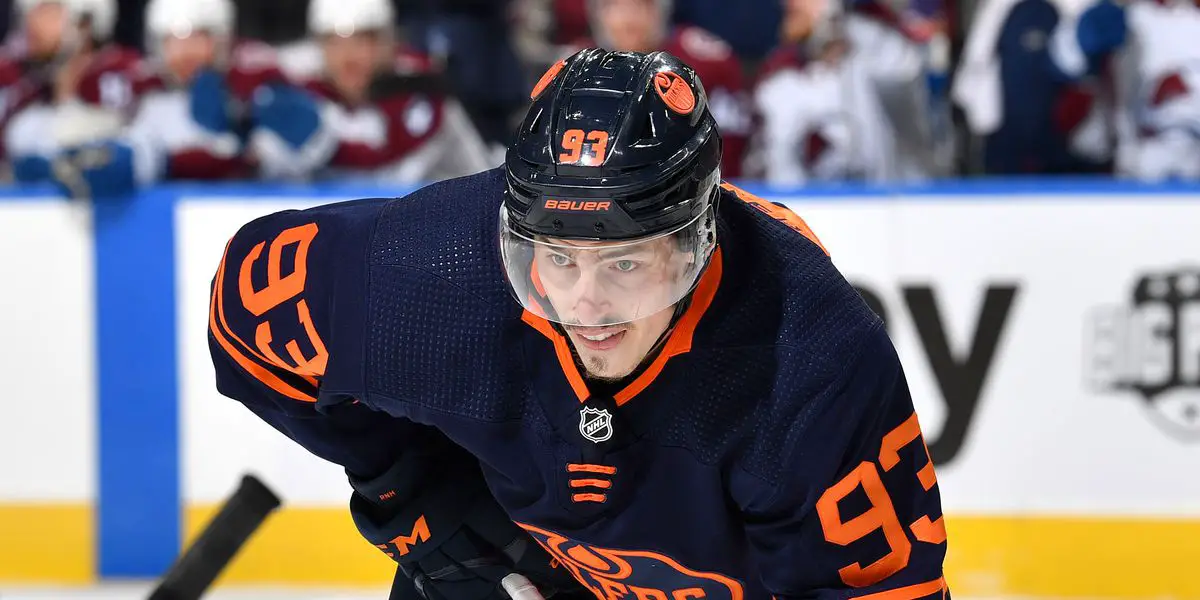 With pre-season right around the corner and opening night not much farther away, the Oilers will finally have a look at the new faces on the team. Players such as Dylan Holloway and Philip Broberg will likely be on the opening night roster for the Oilers, and newly signed goaltender Jack Campbell will be looked upon to give the Oilers more stability between the pipes. Something that remains to be seen is how the Oilers' depth will hold up, something that the Oilers have consistently had problems with for quite some time.
Let's look at who will fill the bottom six roles and what to expect from them.
Dylan Holloway
A lot of fans have been eagerly awaiting is 2020 14th overall pick Dylan Holloway will handle the NHL. It's not worth looking at game four against the Avalanche, as Holloway only played 3:27 in the entire game. That said, opening night will likely see a drastic change in TOI for the rookie. Dylan Holloway has a great skill set that could change the look of whatever line he is on in the bottom six. He brings excellent offensive ability. With his agility, vision of the ice, slick hands, strong wrist shot, and forechecking solid ability, he'll make up for the much-needed speed and skill for the Oilers' depth.
Holloway will most likely be put with Derek Ryan and Warren Foegele, and it's safe to say his offensive ability will be a welcomed addition to that line.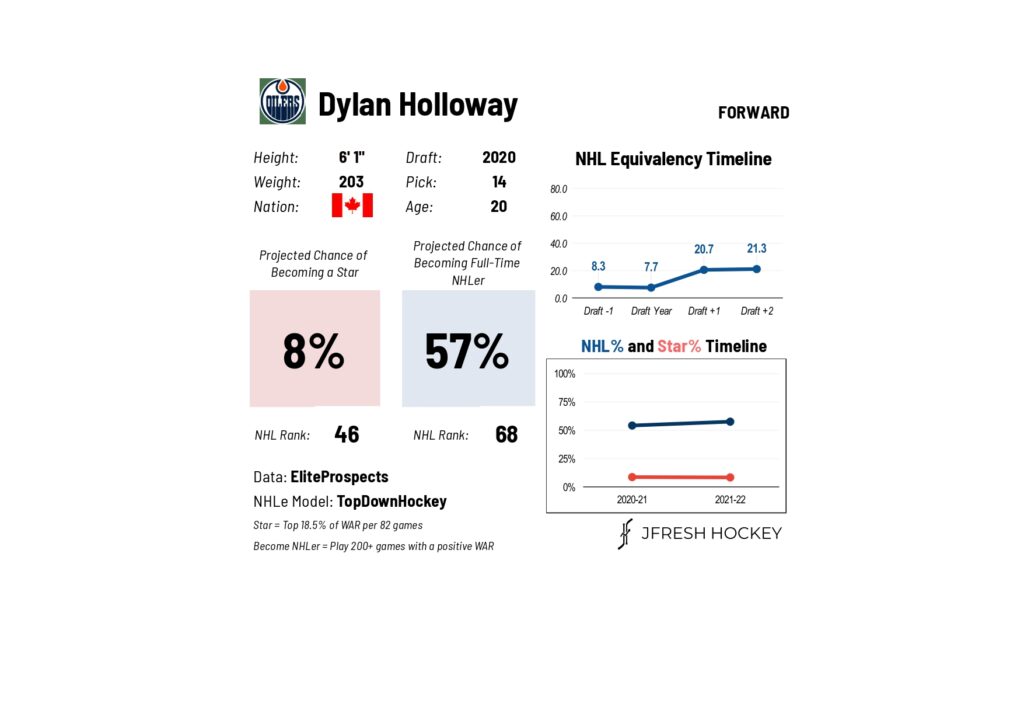 Ryan Nugent-Hopkins
Lately, some Oilers fans have had mixed opinions on the Oilers' 2011 first overall pick, as his goal scoring has been rough for the Nuge in the past two seasons, only scoring a combined 27 goals in 105 games. Although RNH has been snake bitten on the goal-scoring side of things, he is still a very valuable asset for the Oilers, as he is a swiss army knife for the team. Anwerplay, Penalty kill, down by one at the end of the game, or trying to hold the lead, RNH is always there.
Any and every situation for the Oilers, Nugent-Hopkins plays in. The 5v5 play will need to see improvement from the Nuge this season, and Oilers fans believe it will improve, as he will finally have some good options on his wings this coming season. It's safe to say that an entire season with Ryan Nugent-Hopkins will see him score 50+ points, as he finished with 50 points last season in 63 games.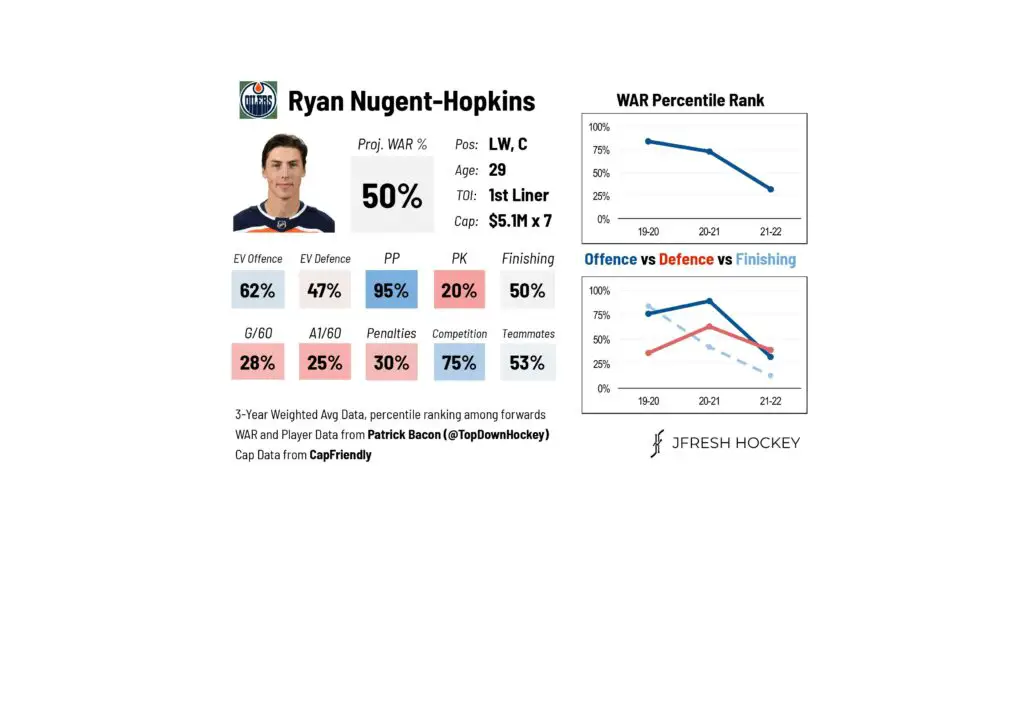 Kailer Yamamoto
Fresh off a two-year, $3.1 million dollar deal, Kailer Yamamoto will look to have a more consistent season with the Oilers, as the 2021-22 campaign was a bit of a roller coaster ride for the young Oilers forward. Through the first 41 games of the season, Yamamoto put up a measly eight goals and 16 points, a very slow first half that found Yamamoto in trade talks. The last half was much more vital for Yamamoto, as he scored 13 goals and 24 points.
There is some cause for concern with Yamamoto, as most of his points in the last half of the season came from playing with McDavid and Kane, but that's not to say he can't improve under new linemates in the bottom six. It's safe to say that Yamamoto is suitable for 30+ points.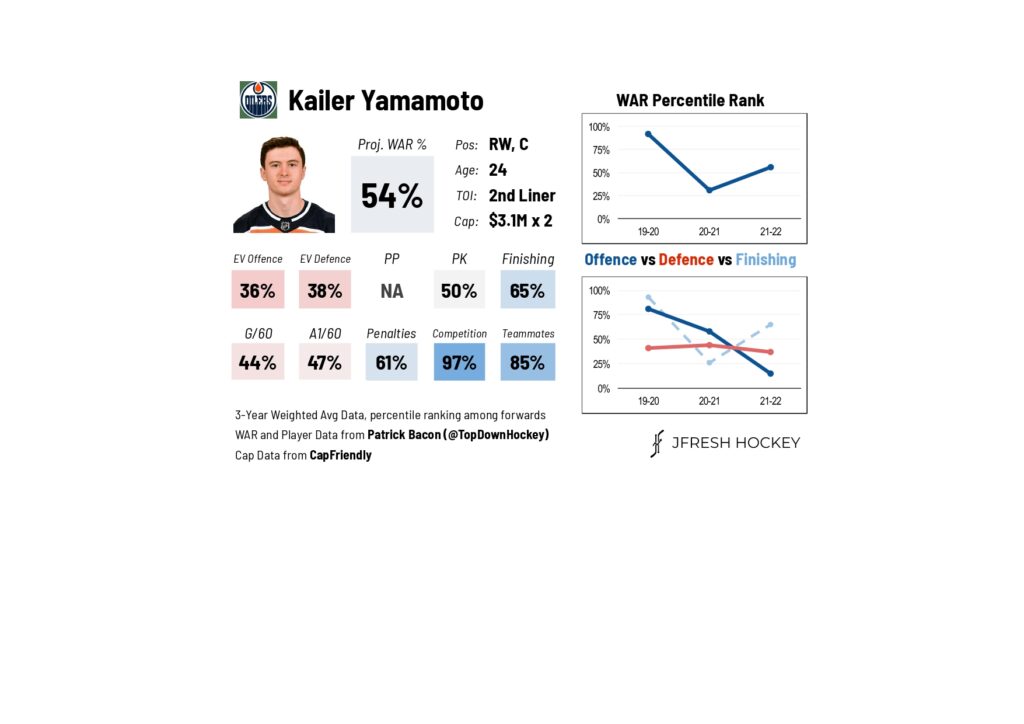 Derek Ryan
Much different from the rest of the depth players, as Ryan's expectations didn't come from his offensive abt his defensive ability. Known as a solid defensive forward option, Ryan filled a nice hole for the Oilers in the d-zone once Woodcroft got control of the team. That being said, under Tippett, he struggled. Under Tippett, Ryan scored only six points in 40 games; this took a good turn under Jay Woodcroft. As in the next 41 games, 16 points, still low but a much better pace than Tippett.
This isn't to take away from Derek Ryan, as he is still an essential player to the Oilers' second unit on the PK. The expectations for Ryanhouldn't be very high, as he will likely be the Oilers' fourth-line center. An entire season under Woodcroft could see Ryan hit 30 points, but there is a better chance he finishes in the 20-25 range. This isn't to take away from Derek Ryan, as he is still an essential player to the Oilers' second unit on the PK.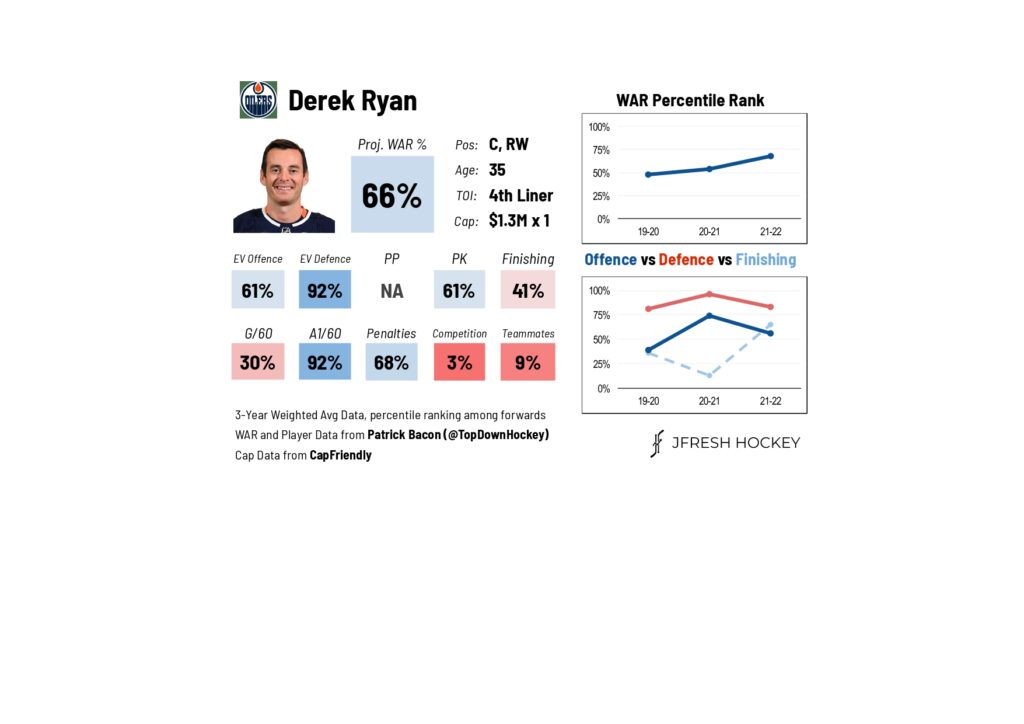 Warren Foegele
Coming to the Oilers off of a trade that sent Ethan Bear to Carolina, Foegele had high expectations from fans, as most saw him as a much-needed player to the 3rd line. Although Foegele did spend most of his time on the 3rd line, unfortunately, he took a step back as he struggled under the coaching of Dave Tippett. Through the first 40 games, Warren Foegele scored five goals and 15 points. Although the hiring of Woodcroft would benefit most players, Foegele was not one of those. As in the last 41 games, Foegele scored six goals and 11 points.
Unfortunately for Foegele, this found him on the trade block for the Oilers, and while most want him traded, an entire season under Woodcroft could help Foegele find his game and get back to the player he was in Carolina. I would expect a peak of 30 points for Foegele, as he will most likely spend a good portion of his time on the 4th line.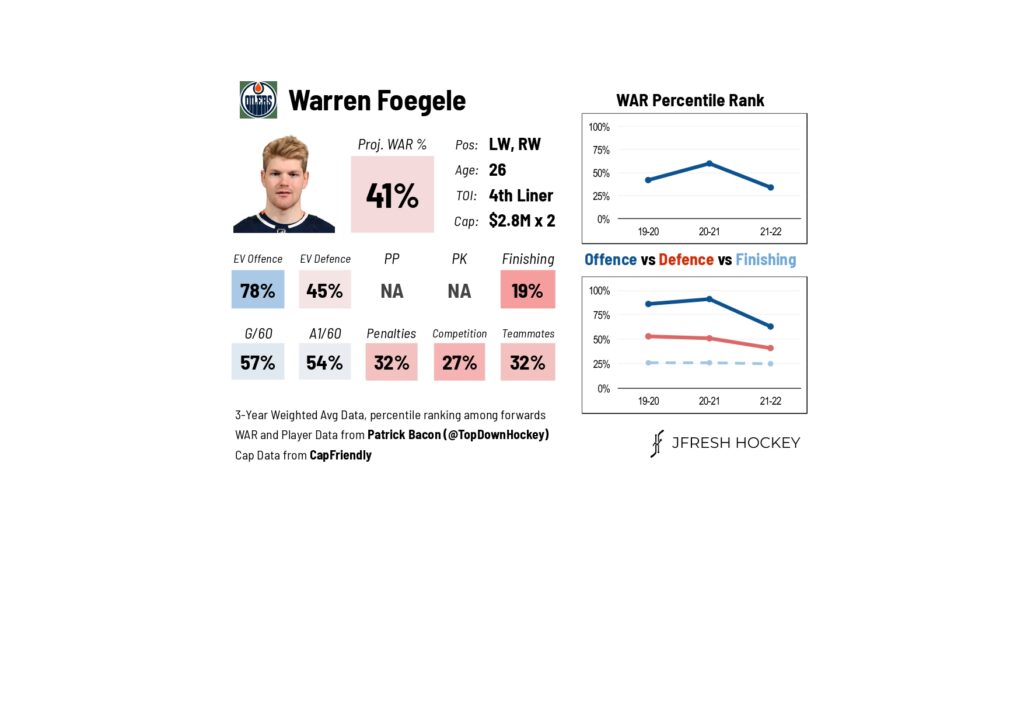 Ryan McLeod
In his first full season in the NHL, Ryan McLeod brought speed and some great defensive play to the Oiler's bottom six. McLeod was yet another player who struggled under Tippett, as through 33 games, he scored five goals and eight points and took a positive turn under Woodcroft, as he would score four goals and 13 points in the remaining games.
McLeod will most likely center the third line, moving Nugent-Hopkins to the left wing. It's hard to imagine that Jay Woodcroft would slot Ryan McLeod into the fourth-line center spot, as that job is probably going to go to Derek Ryan and see Dylan Holloway on the fourth-line wing.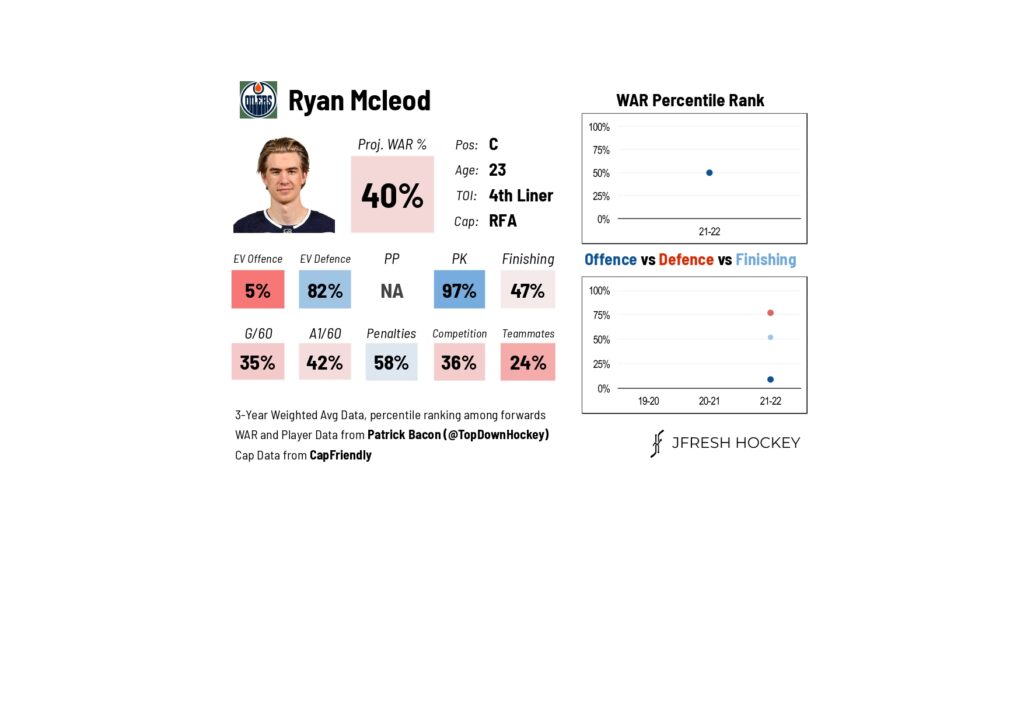 All In All
On paper, the Oilers are a better team on the depth side of things compared to previous seasons. As of now, it is up to the players and Jay Woodcroft to show they are a better depth team and push the Edmonton Oilers into a true contender for the Stanley Cup.
The boys squeak in an episode before Jake heads off to Florida. They touch on the Bruins' recent milestones, especially Bergerons 1000 points. They head over to the metro to see can Pittsburgh and Washington turn things around before heading out west to take Shane Wright and the Seattle Krakheads.Thanks for listening! Please rate and review our show on your favorite listening platform. Check out our partner's website at www.insidetherink.com for all your latest hockey news.