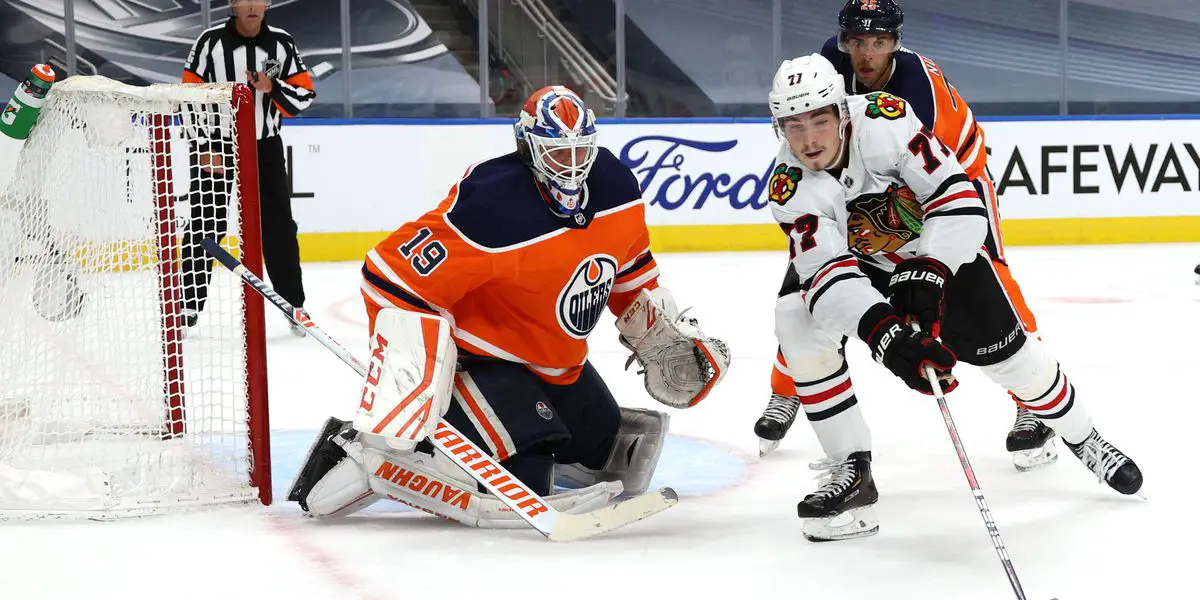 In 2018, former Oilers GM Peter Chiarelli signed Koskinen to a one-year, 2.5 million dollar deal. It was a safe bet, as he was only asked to play as a backup to Cam Talbot. During the season, that changed, and Koskinen ended up taking the job from Talbot, as he went on a six-game home winning streak. This left Talbot as the odd man out, and the Oilers traded him to the Philadelphia Flyers for goalie Anthony Stolarz. As the season progressed, and the Oilers were once again out of a playoff spot, the Oilers would fire Chiarelli, but not before he handed Koskinen a very wealthy extension. Koskinen's new contract was three years and held a cap-hit of $4.5 million. Many were not happy with the deal, and for a good reason, because Koskinen's save percentage wasn't the greatest at that point of the season. Koskinen was playing his worst hockey with the Oilers during January, only posting a .890 save%. Also, his numbers that whole season were not worth it, as his GAA was 2.78, but his save% was .911. Koskinen would finish the season with 2.93 GAA and a .906 save%.
The Finnish Wall
The Oilers would release Stolarz and sign 37-year-old Mike Smith to a 1-year deal worth $1.5 million during the off-season. The plan was to have a 1A-1B plan, where both goalies would play close to the same amount of games. Although there were worries about how Koskinen played last season, especially with his brand new contract, those would be put to rest. Koskinen played better than any could've expected, myself included. Through 34 games, Koskinen posted a 2.75 GAA and a .917 save%. Those numbers were among the top 15 goalies in the league and made his 4.5 million dollar cap-hit look like a steal. Koskinen was a goalie the Oilers could rely on that season, something that they hadn't had since 2016-17 in Cam Talbot. Sadly, the season was cut short to covid, and even though the Oilers finished 2nd in their division, the NHL would make them (and other teams who weren't in a playoff spot) play in a qualifying round. The Oilers would be facing Chicago, and even though the Oilers were the heavy favorites, that would not matter as they would lose in 4 games. It was a very disappointing ending to what was a great season, and the Oilers would head into the off-season, where it would also be announced that Oilers' top d-man, Oscar Klefbom, would be out for the whole 2020-21 season.
The Not-So Finnish Wall
Before the 2020-21 season started, the Oilers were already struck with bad luck, as goalie Mike Smith was injured in training camp. This left the Oilers in a tough spot, as their next goalie was rookie Stuart Skinner. With Smith placed on LTIR, the Oilers would have to rely heavily on Mikko Koskinen, and that is an understatement in itself. Koskinen would start the season and play the first ten games in 17 days. Mikko would get a break for one game, and then play the next 2, as Mike Smith would finally return for February 8th against the Sens. With Smith being out that long and Koski playing that much, he was not able to get a proper foothold on the season, and would go 5-7-0 during Smith's injury, and put up a 0.889 save%, and 2.36 GAA. Although it wasn't the most fantastic start, Mikko's play would improve after Smith returned, going 7-7-0. Through those 14 games, Koskinen posted a .910 save% and a 2.42 GAA. It's clear that he can be a solid goaltender, given a proper workload. Although the Oilers would make the playoffs, Koskinen would not play, and the Oilers would get swept 4-0 by the Jets.
So What About Now?
Right now, the main discussion this past week has been on Koskinen. So far, people have been quick to jump on Koskinen and his poor play, but those numbers don't tell the whole story. This season has been average at best for Koskinen statistically, as he has got a .900 save% and a 3.19 GAA. During this season, the Oilers have been among the worst defensive teams in the league. On top of that, recently, the Oilers haven't scored four or more goals in over a month, and in Koskinen's last six games, the Oilers have only scored seven goals. While Koskinen needs to be better, and he has acknowledged that the Oilers need to give him more support. Another thing to remember is Koskinen's start, where Smith got injured long-term again. Koskinen's first couple of games without Smith went well, and then as time went on, his play decreased. This time though, he got support sooner in the form of Stuart Skinner, who played phenomenal in Smith's absence. My point here is that we should take it easy on Koskinen and look at other reasons why he's struggled as of late. As it shows in the chart below, the Oilers expected goals-against average has grown to almost 3, and their 5v5 goals for expectancy have taken a slight decrease as well. Those things show that the Oilers' play has not been as strong as others think.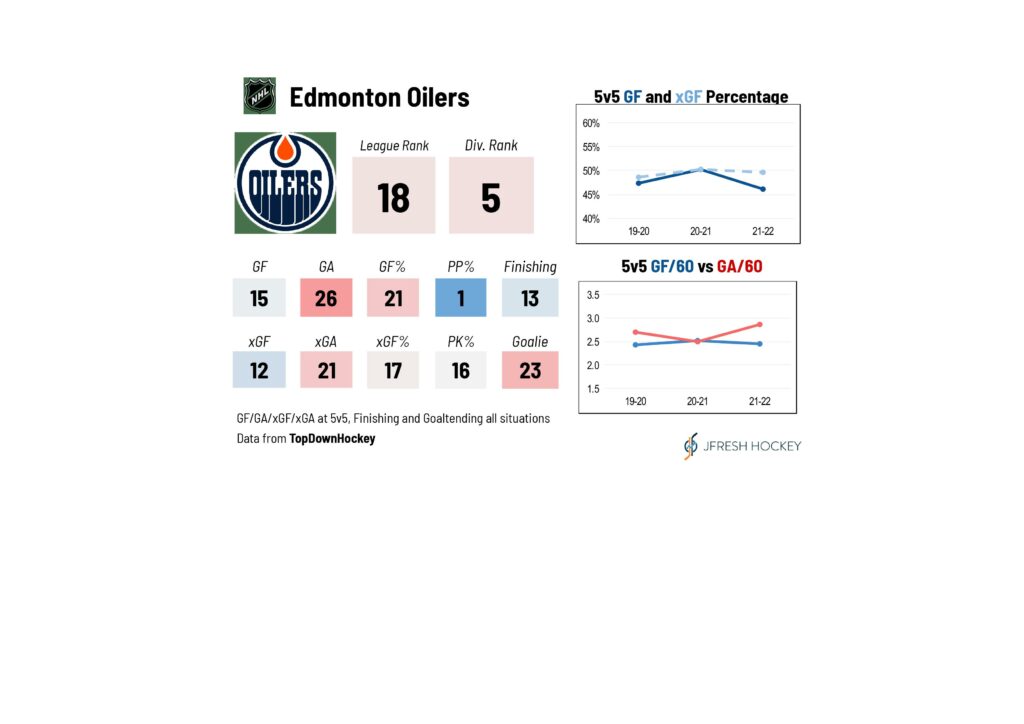 Recently, Dave Tippett said in a post-game interview that the Oilers lost 4-1 to the New York Rangers that "our goaltender wasn't very good…". Early in the game, Koskinen went out to play the puck and mishandled it, thus resulting in the Rangers scoring the game's first goal. It was a bad play that had the Oilers chasing early, something that the Oilers are getting used to. After the game, Tippett was also asked about the play and said: "It was a brutal mistake. It's a brutal mistake, what are you going to do? Call it what it is. We're playing well. It's a brutal mistake.". While some Oilers fans thought it was justified, others thought it was unprofessional and one-sided to say.
While what Tippett said was talked about quite a bit on social media, it didn't take long for Mikko to defend himself. Koskinen said, "It doesn't feel nice to be thrown under the bus, but I had no big emotions about the things coach said. One just has to keep on going next game.". Koskinen also pointed out the team's play in his recent games, saying, "…I want to also say that in all those six games I lost, our team was able to score seven goals. I am not able to score, so it is not only up to the goalie if the team wins or loses. We need to play better as a team.". Some of Edmonton media tried to twist it and make it sound like Koskinen was attacking Tippett for what he said when he was actually defending himself.
All In All
At the end of the day, it all comes down to the team as a whole. The Oilers have been struggling in every part of their game since December 1st. Since Smith has been back, he's allowed 14 goals in 3 games, the Oilers have not been scoring enough, their defense has been lackluster at best, and they're 1 point from being out of a playoff spot. It isn't one player causing this. It's the team as a whole.