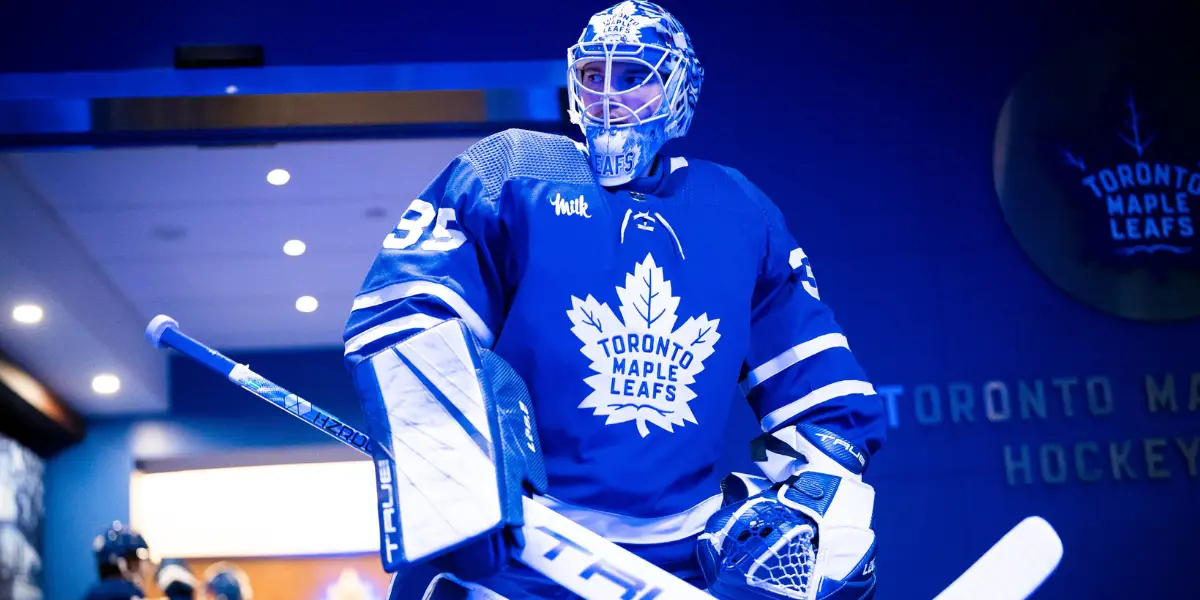 The Leafs face the blues tonight as they look to pick up two points back on home ice after a road trip that seemed long. They met the blues just last week, but since then, both Tarasenko and O'Reilly have been injured. This Blues team is already struggling to pull into a playoff spot, but some significant injuries make things even tougher. There is no excuse for the Leafs tonight. They need to compete for 60 minutes and prove they can win against teams that aren't fully healthy. Tonight is also crucial, as it's the first time the Leafs have had their top eight defensemen all healthy at the same time. This will raise the competition levels on the back end as underperforming players likely will end up sitting in the press box.
Leafs Projected Lineup
The lines are projected to be the same upfront while Sandin draws in, and Timmins comes out on the back end. Samsonov is back between the pipes after two games off. Rielly and Brodie are reunited tonight, with Sandin slotting back beside Liljegren.
Blues Projected Lineup
Forwards
Buchnevich – Thomas – Kyrou
Saad – Schenn – Barbashev
Neighbours – Acciari – Leivo
Toropchenko – Alexandrov – Pitlick
Defense
Mikkola – Parayko
Leddy – Faulk
Rosen – Bortuzzo
Goalies
Binnington
Greiss
Three Things to Look Out For
1. Brodie
Brodie finds himself back to playing on the right side tonight after being on the left for an extended period of time. I figure that it won't take too long for him to adjust as he is playing with his former partner, Rielly. The Leafs know what they have in Rielly-Brodie, and due to strong play from Holl, they now have three pairings that they know can eat minutes. It will be interesting to see what happens with the backend this season, but having a healthy back end is a huge boost to this team. Look for Brodie to help elevate Rielly's game by enabling him to focus more on offense.
2. Samsonov
Samsonov has had a stretch of weaker games lately, but he will be back on track before too long. He is coming off two games of rest and has had time in practice to refocus. Even with these recent struggles, he still sits at 9-0 on home ice and will look to help support the team to improve that to 10-0 at home. Samsonov is still young and continually developing, and the team believes in him. Look out for him to be a difference maker, and we'll see the Sammy Smiles again.
3. Matthews and Marner
Matthews and Marner are both on the edge of the 500-point milestone, sitting at 499 and 497 points, respectively. Both of these players have gone through a lot together, and even though they aren't on the same line currently, I'm sure the prospect of them both hitting 500 points on the same night would be special. Even with the milestones in sight, the focus remains on winning games though. This kind of maturity is great to see, similar to when Marner was looking for the point streak record but was still quick to pass instead of shooting at an empty net from afar. This is the type of attitude a successful team needs, and it's great to see the increased maturity in the group. I'm sure regardless that the 500-point milestones will come for both of them very soon, if not tonight.
Tonight marks the first game of 2023 for the Leafs, and it can be watched on Sportsnet at 7:00 pm EST!
Thanks for reading! Feel free to follow me on Twitter @nathan_bondy.
Appreciation in Leafs Nation – RD2 GAME 5
–
Leafs Late Night
WELCOME BACK TO LEAFS LATE NIGHT! Presented by Inside The RinkRoscoe / Fanalyst / Galaxy Biehn / Marty From Keswick- We Didn't Want Florida- Rielly Robbed- Roscoe vs. Fanalyst: What Was The Deciding Factor?- Does The Regular Season Matter?- Leafs Nation Stays *mostly* PositiveMERCH IS AVAILABLE!JOIN OUR DISCORD!Remember to follow us on Twitter @LeafsLateNight & IG @LeafsLateNightCheck out Mike, Josh, and Nathan's articles on the Leafs + many more! insidetherink.com